Found June 18, 2013 on Fox Sports West:
PLAYERS:
Dwight Howard
,
Gregg Popovich
,
Tim Duncan
,
Manu Ginobili
,
Tiago Splitter
,
Boris Diaw
,
Matt Bonner
,
Chris Paul
,
Blake Griffin
,
Donald Sterling
TEAMS:
Los Angeles Lakers
,
San Antonio Spurs
,
Los Angeles Clippers
The Dwight Howard sweepstakes reached the apex of their annoyingness late last week. This may prove untrue in a week, when intrepid journalists start rummaging through Dwight Howard's trash for clues as to his impending free-agency decision, but I'm going to go ahead and say it anyway. It might be a quiet kind of annoying, a subtle kind, but it's the worst. It's the worst because we've brought it upon ourselves. It's the worst because for once, it has little, if anything, to do with Howard's machinations or lack thereof. This time, it's on journalists, the same group that loves nothing more than to pontificate about Howard's indecision, bad decisions, lack of a decision you get the picture. This time, it's a matter of twisted information. It's a matter of people who should know better putting out numbers that ignore certain facts. It's a matter of a lack of recognition that the general public has not, in fact, memorized the NBA's collective bargaining agreement and salary cap information or perhaps it's a matter of intentionally capitalizing off of that. Any casual observer of the NBA knows that at this point, there's a short list of teams with which Howard might sign: the Lakers, Rockets, Mavericks and Hawks. Maybe another will emerge, but it's unlikely. More serious observers know the ins and outs of how he will sign, that the Lakers can pay him more, 118 million over five years, that other teams can offer just 88 million over four. Anyone with third-grade math skills can do the division and see that comes out to 23.6 million per year in Los Angeles, 22 million elsewhere, and then, of course, there's the fact that in Dallas and Houston, Texas's lack of state income tax would erase that discrepancy. It all seems pretty simple, right? More money some places, more years one place, now pick a team. It all seems pretty simple, but it's not. The biggest problem in the discussion of Howard that's arisen lately is that it's fudging its way into the nuances of the CBA and salary cap, not even that far, but far enough that reasonably outlandish ideas are forming. It's partly for shock value, for a new story as the overall Howard narrative gets ever more stale, and partly because sometimes, numbers are complicated. The NBA's CBA can at times read like one giant loophole, one of those "choose your own adventure" children's books that routes you back to the same spot over and over again. There are clauses contingent on what came before, too many exceptions to make sense of and a million and a half ways to get around most anything, it can seem. Still, that's no excuse for what went on last week, and will likely continue up to and beyond July 1. Last week, in what appeared at first to be a parallel universe, there was a small faction of Twitter speculation involving the words "Dwight Howard" and "San Antonio," two things that should only be associated with the sentence Dwight Howard will never plan in San Antonio because Gregg Popovich and Tim Duncan would rather trade themselves to the Bobcats than see that happen." (It was enough chatter, in fact, to warrant a somewhat incredulous blog post from the San Antonio paper.) One tweet (from a writer I won't identify but who is affiliated with a respected publication and has upwards of 14,000 Twitter followers) put forth a list of teams with which Howard could potentially sign: Houston, Dallas, Atlanta, San Antonio, Los Angeles (the Lakers, I presume) and Brooklyn. As you can see, one of these things is very much not like the others. The second tweet piggybacks off the list and goes into the San Antonio "situation." (That had to be in quotes, because really, think about it.) It read: "San Antonio has just 32.8 million in salary commits and could have as much as 26 million in capspace (sic) in July." There are several flaws in this information. First of all, that 32.8 million number accounts for neither Manu Ginobili nor Tiago Splitter, two free agents who will more than likely return (and with decently high price tags). It also ignores that Boris Diaw has a nearly 5 million player option that he'll probably exercise and that Matt Bonner's partially guaranteed deal even exits. In reality, the Spurs are on the books for close to 42 million next season, before accounting for the Splitter and Ginobili contracts, which will likely add another 15 million to the team's payroll if Ginobili chooses not to retire. Even if the guard does bow out after this season, the Spurs will still have close to 50 million in salary obligations. The NBA salary cap is 58.5 million. Call me crazy, but Dwight Howard is not signing for whatever change the Spurs have left over, and putting aside the fact that he is maybe the last player who should ever put on San Antonio's gray and black, money talks. That's not all. Last Friday, a good portion of country woke up to a report that Dwight Howard and Chris Paul had been texting about wanting to team up next season, and that Atlanta and the Clippers could make that happen. It was like a free agent news bonanza, with one distinction: it's highly improbable, if not close to impossible. Long story short, and barring some major roster slash-and-burn, in order for the Clippers to pair the two, they'd have to get rid of Blake Griffin in a sign-and-trade with the Lakers. In order for the Hawks to do it, either Paul, Howard or both would have to take a pay cut. Neither of those things is happening, for reasons as varying as the Lakers not wanting to complete a sign-and-trade, Donald Sterling's love of Griffin and the unlikelihood of either player taking a pay cut. I feel like I'm launching into cranky, get-off-my-lawn journalism at this point, but it has to be said: free agency is the worst time to blindly believe anything numbers-related. Just because a team's cap obligations are published and technically correct doesn't mean they're all-encompassing, especially this time of year. They might not account for pending free agents whom the team will do anything to re-sign, team options, player options or players coming from overseas. There's so much grey area in all of this, so many possible trades and too many eager people dragging names into the online trade machine. But remember this: Technically, Dwight Howard could sign with the Bobcats for their 2.5 million mid-level exception. Keep that in mind any time a new rumored team, or deal, or superstar pairing arises. Could vs. will, or even might, is a big difference.
Original Story:
http://www.foxsportswest.com/nba/los-...
THE BACKYARD
BEST OF MAXIM
RELATED ARTICLES
Kobe Bryant and Dwight Howard may have had a contentious relationship during the regular season, but make no mistake about it: Kobe understands the importance of Howard to the Los Angeles Lakers. During an interview with 710/ESPN Radio LA on Wednesday, Bryant was asked if he has talked to Howard about free agency. Bryant said [...]
Any team looking to get into the Dwight Howard sweepstakes will have to sign him on their own, because the Lakers will be unlikely to agree to a sign and trade of their All Star big man. ESPN.com is reporting that the Lakers, who are aware that they could lose Howard to the Rockets, would rather save Howard's cap space for 2014, the Summer of Lebron, than agree to a sign and trade...
We aren't exactly sure how many baby mamas Dwight Howard has (at least 5 we know), but he is expecting another one. Congratulations to Dwight & Christine on the birth of their baby boy! Bray has a baby brother!
I am always interested to see whether NBA players continue watching the playoffs even after their team has been eliminated from contention. You always find some that are adamant about not watching the Finals at all and according to TMZ you can include one Dwight Howard in that category. Dwight was leaving a restaurant last night and when asked by TMZ if he was watching the game inside...
LOS ANGELES Its only an opinion, but its Kobe Bryants, so were listening. In a radio interview on ESPNLA 710 Wednesday afternoon, Bryant spoke at length about the free agent sweepstakes that are raging in Los Angeles this summer. Asked about his teammate, Dwight Howard, and the Clippers Chris Paul, Bryant didnt mince words: "I think at the end of the day, everybody stays,...
Metta World Peace, who used to be called Ron Artest, is quite a character to interact with.  When he first went to the Lakers, he made an attempt to interact [...]
Dwight Howard will likely determine most of what happens with the entire NBA free-agent market this summer, and those in league circles have little clue which team he will choose. Howard, who was traded from the Orlando Magic to the Los Angeles Lakers before the start of this past season, is an unrestricted free agent, able to sign with any team. The Lakers have the ability to...
As many of you know, Kim Kardashian and Kanye West welcomed their first child into the world earlier this week. What you may not know is that her plan for the delivery of the baby did not go as smoothly as planned. Get this — Dwight Howard reportedly stood in the way. According to TMZ, [...]
Mark October 9 on your calendars, Magic fans. It marks the official opening of the 2013-14 season. Orlando will host the New Orleans Pelicans at the Veterans Memorial Arena in downtown Jacksonville in their preseason opener, the team announced. The game will be at 7 p.m. and the rest of the preseason schedule will be released later on. This will mark the Magic's third...
NBA News

Delivered to your inbox

You'll also receive Yardbarker's daily Top 10, featuring the best sports stories from around the web. Customize your newsletter to get articles on your favorite sports and teams. And the best part? It's free!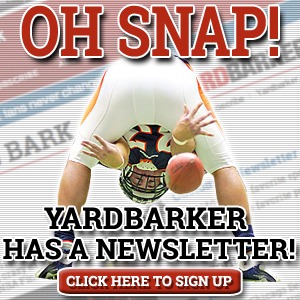 Latest Rumors
The Backyard

Today's Best Stuff

For Bloggers

Join the Yardbarker Network for more promotion, traffic, and money.

Company Info

Help

What is Yardbarker?

Yardbarker is the largest network of sports blogs and pro athlete blogs on the web. This site is the hub of the Yardbarker Network, where our editors and algorithms curate the best sports content from our network and beyond.