Found March 02, 2012 on SportySexyCool:
According to a NY Post report, Allen Iverson is just fine financially. Gossipers can apparently take that to the bank.

According to a New York Post report, rumors of ALLEN IVERSON being busted and broke are unfounded. Post columnist PETER VECSEY (yeah…the NBA's Snoop Dog because when it comes to ball players, no one's more nosy than this guy) claims he has firm knowledge that Iverson is in fact financially healthy, with a bank account worth well over $32 million.
According to Vecsey's source, Iverson is prohibited from touching this money bag until age 55, or eight years from now. In the meantime, he is allowed an annual allowance of $1 million.
On top of that, AI will be eligible to start drawing on an $8,000 per month NBA pension fund at age 45, or less than a decade from now.
So being garnished of over $859,000 for an unpaid jewelry bill by a Georgia judge recently apparently isn't going to effect Iverson's bottomline at all.
His issue is more about being blackballed by the NBA than about being broke and busted, apparently.
SOURCE: NYPOST.COM
Share this:
Original Story:
http://vlsportysexycool.com/2012/03/0...
THE BACKYARD
BEST OF MAXIM
RELATED ARTICLES
Hold the fort. It was fun to make fun of Allen Iverson for blowing all of his money, and it's still fun to rip on him for blowing through more than $100 million in such a short span of time. Contrary to popular belief, however, it would now appear as though A.I. is not broke. Iverson was probably able to pay off his $850,000 jewelry debt with relative ease considering someone in...
QUESTION THE ANSWER
Despite the rumor that the former MVP is strapped for cash, a recent report by Peter Vecsey claims that that is simply not the case.
According to a report from The New York Post, Allen Iverson may not be broke after all. A person with a firm grip on the situation informs me Iverson has an account worth $32 million, a principal he is prohibited from touching until 55. In the meantime, it feeds him $1 million annually.   We have more on this here.
A few weeks back, we were introduced to the song "Allen Iverson" (right at the height of the latest drama surrounding A.I.). We loved the track and posted it on the site for our readers to check out. Shortly after dropping that post, we had the opportunity to catch up with Memphis-bred artist Don Trip [...]
There was once a player in Philadelphia named Allen Iverson.  You remember him right? Tough little scoring guard with a mean crossover.  Well of course AI has been gone from Philly for a minute, but this next highlight took me back to a time when the "Answer" was shaking cats up without regard for human life! Don't get me wrong, I'm not comparing...
NBA News

Delivered to your inbox

You'll also receive Yardbarker's daily Top 10, featuring the best sports stories from around the web. Customize your newsletter to get articles on your favorite sports and teams. And the best part? It's free!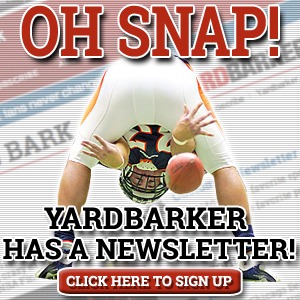 Latest Rumors
The Backyard

Today's Best Stuff

For Bloggers

Join the Yardbarker Network for more promotion, traffic, and money.

Company Info

Help

What is Yardbarker?

Yardbarker is the largest network of sports blogs and pro athlete blogs on the web. This site is the hub of the Yardbarker Network, where our editors and algorithms curate the best sports content from our network and beyond.