Posted June 14, 2012 on AP on Fox
PLAYERS:
Kevin Durant
,
Chris Bosh
,
David Stern
,
George Shinn
,
Sam Presti
,
Russell Westbrook
,
James Harden
,
Serge Ibaka
,
LeBron James
,
Dwyane Wade
,
Derek Fisher
TEAMS:
Oklahoma City Thunder
,
Miami Heat
,
New Orleans Pelicans
Oklahoma City was once just a temporary stop for the NBA. Needing a home after being displaced by Hurricane Katrina, the New Orleans Hornets came to play in a city that was desperate for a major sports franchise of its own. The Hornets eventually went back home, but now Kevin Durant and the rest of the young Thunder might make Oklahoma City an annual summer destination. With a young core and smart management providing a chance for lasting success, there's a good chance this isn't the last time the NBA Finals will be here. And the Heat might be one of the teams frequently coming back. ''Everybody's saying it's a dream finals,'' Miami's Chris Bosh said. ''I was like, dang, let's keep it going, give the people what they want to see.'' It's not quite that simple. Tough decisions will have to be made - tougher now, with new spending rules - and players who seem content in this quiet city now may feel differently in a few years. So the Thunder, who brought a 1-0 lead into Thursday night's game, weren't counting on another chance if they didn't take advantage of this one. ''We can't think too far down the line,'' Durant said. ''Of course, everybody else is going to think that since we're a young team. But we don't want to use that and say that we can give this one away because we're going to be there in the long run. We've got to take advantage of these opportunities. They're not guaranteed. We've just got to come out and be us, man, and have fun with the game. That's all we really want to do is have fun and also play smart.'' That's what the Thunder have been doing while quickly creating one of the NBA's most passionate fan bases. Oklahoma, previously known mostly as home to some big-time college programs when it came to sports, wanted to have the professional game in its capital city, and NBA Commissioner David Stern remembers the first time Mayor Mick Cornett approached him about bringing a team here. ''I said, `You really ought to pursue another league,''' Stern said. But the commissioner was impressed with all the construction that was being done within the city and its recovery from the 1995 terrorist bombing at a federal building. And when the Hornets needed a place to go after their city's tragedy, Stern recommended Oklahoma City to former Hornets owner George Shinn. The Hornets departed after a two-year stay, but the NBA was back just two years later after owner Clay Bennett moved the Seattle SuperSonics to his home state. General manager Sam Presti constructed a contender through the draft, with Durant, Russell Westbrook, James Harden and Serge Ibaka all 23 or younger. The Heat have gone another route, aiming for free agency in 2010 and coming out a big winner, signing LeBron James and Bosh while keeping Dwyane Wade. They've reached both NBA Finals since. ''It was interesting as a fan to watch that team being constructed, the Big Three and those around it, and it's very interesting to see the Thunder and the way they've been constructed,'' Stern said. ''And it's also interesting to see the way the state of Oklahoma has taken to these Oklahoma City Thunder. It's very rewarding that the NBA could play a part in really the growth and literally the excitement that this city that has suffered so much is seeing and having.'' Durant and Westbrook, plus the Heat's Big Three, all have long-term deals. The trick for the Thunder will be re-signing both Harden and Ibaka, who can become restricted free agents this summer, which became more difficult with the terms of the collective bargaining agreement that was signed to end the lockout. The NBA didn't get the hard salary cap it sought, which would have prevented teams from exceeding the cap limit, but did get a much more severe luxury tax which could make it too penal for all but perhaps the highest-profiting teams to go over that threshold. Similarly, the Heat will face salary considerations as they try to tinker with the pieces around their All-Star trio. ''I think there are tons of unintended consequences when you're trying to put together an agreement the size of the one we tried to work out. That was for sure one of our big concerns for any team, small market or large market,'' said the Thunder's Derek Fisher, the players' association president. ''In particular, fans and communities over time develop relationships with certain guys and love to see certain guys on certain teams. ''So, as you build up, I guess, impediments to teams being able to remain the same over time, it makes it difficult.'' So, neither team is willing to look too far into the future James wouldn't envision himself becoming a regular June visitor here, though he did express his admiration for what the Thunder have developed in Oklahoma City. ''I think it's a great city,'' he said. ''They have unbelievable fans. You see a lot of Oklahoma City Thunder T-shirts and banners and things. So it's great.'' And it looks like it will be great for a while. --- AP Sports Writer Jeff Latzke contributed to this report. --- Follow Brian Mahoney on Twitter: http://www.twitter.com/Briancmahoney
Original Story:
http://msn.foxsports.com/nba/story/Ok...
THE BACKYARD
BEST OF MAXIM
RELATED ARTICLES
OKLAHOMA CITY (AP) -- Not many know much about the guy who dominated Game 1 of the NBA Finals other than he's pretty good. Kevin Durant is a mystery even to some of the players trying to beat him. "It's one of those things where I respect his game, but I don't know him, either. I know probably just as much as you guys know," Miami's Dwyane Wade said Wednesday...
// google_ad_client = "ca-pub-7180957052612181"; /* ad 6 */ google_ad_slot = "0647442956"; google_ad_width = 550; google_ad_height = 50; // // // Late thursday night, after the Thunder lost 100- 96 to the Miami Heat in game two of the NBA Finals, star forward Kevin Durant was a little stubborn at the podium. As the press conference started, Durant...
The Miami Heat are going to feel good about this, about what happened here in the NBA's loudest arena, about beating back the surge from Kevin Durant and turning this best-of-7 series into a best-of-5. Yes, it's all even after the Heat's 100-96 victory in Game 2 of the NBA Finals, after they survived a fourth quarter that seemed to hang in the balance with every possession...
OKLAHOMA CITY (AP) -- Kevin Durant scored 17 of his 36 points in the fourth quarter, Russell Westbrook added 27 points and 11 assists, and the Oklahoma City Thunder rallied from a 13-point deficit to beat the Miami Heat 105-94 on Tuesday night in Game 1 of the NBA Finals. LeBron James, still chasing his first NBA title in his third MVP season, shined through three quarters and blew...
For Heat forward LeBron James, this NBA Finals meeting with Thunder forward Kevin Durant has practically seemed inevitable, based on their friendship and their standing in the league. "Our relationship has been growing since he was in high school, all the way through Texas and all his years in the NBA," James said of taking Durant under his wing before the Thunder, behind...
Dirk Nowitzki has set the mold for big guys that can shoot from the outside. He's going to go into the Hall of Fame as one of the greatest shooters of all time, and he's 7 feet tall. Last year he took over during the NBA Finals and this year he has to pass off the torch to another tall guy who can light it up from the outside. Kevin Durant isn't quite a 7-footer, unless you're...
1. Durant dunks on Duncan -The Oklahoma City Thunder needed a victory in game 3 if they wanted any hope of beating the San Antonio Spurs in a 7 games series. Well, the Thunder brought there A-game as the destroyed the Spurs 102 to 82. The highlight of the night came when Thunder superstar Kevin Durant threw down a monster dunk. Late in the 1st quarter Russell Westbrook...
With game three of the NBA finals taking place on Sunday in Miami, I'd like to know who you have winning the style war so far. Lost? Not up on your NBA postgame fashion? Let's take a quick look at what HE wore for the Heat's victory over the Thunder – their first home loss [...]
The Miami Heat played a wonderful first half and did just enough in the fourth quarter to hold of a momentous rally and send thousands of Oklahoma City fans home shaking their heads. Shane Battier might have been the MVP of that game if SF LeBron James did not steal the show and prove himself in the Durant vs. James argument with an identical point line and better numbers...
Well, so far, this years NBA Championship series is actually living up to the hype surrounding it. The build has been all about Kevin Durant vs. LeBron James and after 2 games you can say that neither has disappointed. The Miami Heat held off the Oklahoma City Thunder late Thursday night, 100-96. The Thunder did erase a 15 point lead in the 2nd half, but couldn't come all...
Those who witnessed game one of the NBA Finals on Tuesday night, watched as a team evolved and matured before their eyes, from a squad that played tentatively during the first 12 minutes of action, to a team that dominated both ends of the court during the final period, leading to their winning the contest. Perhaps, the Oklahoma City Thunder were a bit overcome with the size of...
Hello Cougar Nation.  A tremendous Friday to all of you! Well, yesterday was some day.  In case you missed it, Sutra debuted our new series "Three Questions," with Brock Huard serving as our inaugural Special Guest star. Check it out if you haven't already. Then, later in the day, Chris Hansen rallied an estimated 6,000 folks at Occidental Park in Seattle yesterday for...
NBA News

Delivered to your inbox

You'll also receive Yardbarker's daily Top 10, featuring the best sports stories from around the web. Customize your newsletter to get articles on your favorite sports and teams. And the best part? It's free!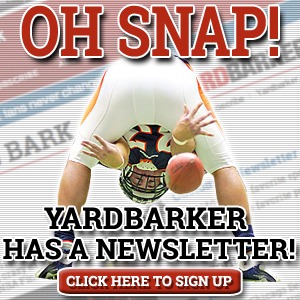 Latest Rumors
The Backyard

Today's Best Stuff

For Bloggers

Join the Yardbarker Network for more promotion, traffic, and money.

Company Info

Help

What is Yardbarker?

Yardbarker is the largest network of sports blogs and pro athlete blogs on the web. This site is the hub of the Yardbarker Network, where our editors and algorithms curate the best sports content from our network and beyond.