Found September 30, 2013 on Fox Sports Detroit:
PLAYERS:
Andre Drummond
,
Josh Smith
,
Chauncey Billups
,
Allen Iverson
,
Charlie Villanueva
,
Ben Gordon
,
Brandon Jennings
,
Kentavious Caldwell-Pope
,
Tony Mitchell
,
Peyton Siva
,
Lawrence Frank
TEAMS:
Detroit Pistons
,
Charlotte Hornets
AUBURN HILLS -- Andre Drummond noticed it immediately. Josh Smith and Chauncey Billups promised it is going to continue. There's something strange in the air at the Pistons practice facility -- optimism. "As soon as I walked in here today, I noticed that everyone is excited," Drummond said at Media Day. "I'm always excited, so that doesn't mean anything, but I didn't see this last year. We've got new young guys and new veterans, and there's a lot to beexcited about." Billups left the Pistons early in the 2008-09 season in the ill-fated Allen Iverson trade that set the franchise back by five years. Monday, he couldn't keep the smile off his face as he looked down at the familiar red-white-and-blue No. 1 jersey. "When they gave me my jersey at the press conference a couple months ago, I took it home, and practiced wearing it," he said. "I've never done that before, but, as all of you know, this jersey means a little more than anything else I've worn." Even during his five-year absence, Billups has followed the fortunes of the Pistons, and he knows how bad things have gotten since he was traded -- a move that led to the cap-wrecking signings of Charlie Villanueva and Ben Gordon. Detroit hasn't won aplayoff game since he left and has dropped from the league's top attendance to 29th and 28th in the last two seasons. With Smith and Brandon Jennings coming to Detroit, plus the additions of Kentavious Caldwell-Pope, Tony Mitchell and Peyton Siva in the draft, Billups promised the fans that they won't keep watching the same terrible basketball they've seen in the pastfew years. "There's nothing better than the Palace when it is rocking, and we're going to bring that back," he said. "I can't promise that we're going to jump right back to where we were when I was here before, but we're going to play much better basketball thanthey've seen in the last two or three years." Smith was willing to go even bigger. "There's no question in my mind that this is a playoff team -- my only question is what seed we're going to get," he said. "I thought this was a playoff team before we added Chauncey and Brandon, and now it's not even an issue. "We've got a great frontline with Greg (Monroe), Andre and I, and we've got two guards like Brandon and Chauncey. That's a lot of talent, and a lot of guys who know how to win in this league." As one of the NBA's best post defenders and a shot-blocking specialist, Smith thinks that playing with Drummond -- another player with the same qualities -- will make both of them more valuable. "I've never been able to play defense with someone like Andre behind me," he said. "That is going to give me a lot of freedom to make plays, because I won't be the last line of defense. We're going to make things very tough for teams inside." New coach Maurice Cheeks agreed that defense is, as always, going to be the focus of the Pistons. "I'm looking at a group of players that can get steals, block shots and get out into the transition game," he said. "That's the kind of team that I think we've got here -- an athletic group that can run." Cheeks also said that he's not going to treat Drummond with the same kid gloves as Lawrence Frank, who limited him to just 20.7 minutes a game as a rookie. "I want Andre to be on the floor -- my plan is to have him on the floor as much as possible," he said. "He's only 20, so he shouldn't have a problem with getting tired, and I can't think of any way that we'll be a better team with him on the bench. "He'shere to play basketball at a very high level, which he has already shown he can do. He's not here to sit." There were the usual strange moments at a Media Day -- Jennings played down his "minor altercation" at his birthday party with rapper "The Game", while Drummond happily agreed that his actress girlfriend, Jeanette McCurdy is "adorable", but most of thefocus was on winning basketball games. That alone makes a nice change in Auburn Hills.
Original Story:
http://www.foxsportsdetroit.com/nba/d...
THE BACKYARD
BEST OF MAXIM
RELATED ARTICLES
The revamped Detroit Pistons' journey back to the playoffs gets under way in less than a month. With all the dreaded time finally dwindling away, it's time to make some bold predictions about the Pistons upcoming season: Kentavious Caldwell-Pope will assert himself as shooting guard of the future It won't matter whether or not Caldwell-Pope cracks the starting lineup on opening...
As we continue our trend of keeping up with Detroit Pistons big man Andre Drummond Instagram account, he decided to do a little bit of photobombing. The Detroit Pistons mob squad was doing their photoshoot at the Palace of Auburn Hills and check out Andre just walking into one of their shoots: *** Andre Drummond image courtesy of Getty Images
Just when you thought we had run out of social networking videos to post of Detroit Pistons big man Andre Drummond, he creates another interesting one only an hour ago. Check out Andre being hooked up to an EKG machine and walking on a treadmill for the test: We can rebuild him….faster….stronger… *** Andre Drummond image courtesy of Getty Images
Dumars, out of desperation retooled his entire roster
Detroit Pistons power forward Andre Drummond performed a genuine act of kindness recently when he gave away a pile of arcade tickets to a grateful young boy. Video via Vine (Andres Salinas). H/T TNLP. Visit us at holdoutsports.com and follow us on Twitter @HoldoutSports.
With Brandon Jennings going to the Detroit Pistons as a free agent, I can completely understand if Milwaukee Bucks center Larry Sanders was a little salty at his former teammate. However, Sanders decided to provide an epic burn of Jennings during the Bucks Media Day back on Monday. Check out the below tweet from Fox Sports Wisconsin's Andrew Gruman: Larry Sanders when asked for...
Just like Chauncey Billups promised at media day Monday there he was today directing the show during a brief full-court scrimmage at Detroit Pistons practice. He was paired with Brandon Jennings who was playing off the ball. The sight doesn't mean that Billups will be the primary decision-maker at point guard. Jennings will get plenty of run there — plus Will Bynum and Rodney...
Jennings was in a giving mood off the court last season with the Bucks but Sanders says that's where it ended. After his departure from the Milwaukee Bucks, point guard BRANDON JENNINGS had a few parting words for his former teammates. Looking at the revamped front court line-up with his new team in Detroit, Jennings said that he's now playing with better bigs with the Pistons...
After a successful off-season of bringing in talent, the focus of the Pistons under new head coach Maurice Cheeks is now how they manage and maximize the talent they have brought in. Brandon Jennings, Josh Smith, Greg Monroe, and Andre Drummond will be starters, but who grabs that fifth spot? The Pistons shooting guard situation ...The post Pistons Shooting Guard Search Has Options...
NBA News

Delivered to your inbox

You'll also receive Yardbarker's daily Top 10, featuring the best sports stories from around the web. Customize your newsletter to get articles on your favorite sports and teams. And the best part? It's free!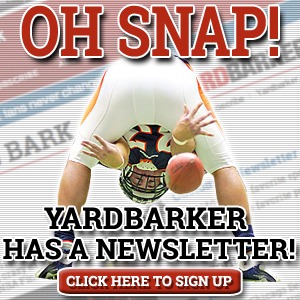 Latest Rumors
The Backyard

Today's Best Stuff

For Bloggers

Join the Yardbarker Network for more promotion, traffic, and money.

Company Info

Help

What is Yardbarker?

Yardbarker is the largest network of sports blogs and pro athlete blogs on the web. This site is the hub of the Yardbarker Network, where our editors and algorithms curate the best sports content from our network and beyond.