Posted December 15, 2011 on AP on Fox
PLAYERS:
Darren Collison
,
David West
,
Chris Paul
,
George Hill
,
Danny Granger
,
Paul George
,
Tyler Hansbrough
,
Roy Hibbert
,
Frank Vogel
,
A.J. Price
TEAMS:
Indiana Pacers
,
New Orleans Pelicans
Darren Collison understands better than anyone what David West's addition could mean for the Indiana Pacers. Two years ago, Collison was West's point guard in New Orleans while Chris Paul recovered from an injury. With West as his top scoring option, Collison averaged 18.8 points and 9.1 assists in 37 starts as a rookie. West averaged 19 points and 7.5 rebounds and 3.0 assists that season, one of the best of his career. The combination was so good that it launched Collison's career and helped him land as the starting point guard for the Pacers the next year. Now that they are reunited, Collison expects the Pacers to improve immediately. ''We struggled in late-game situations last year,'' Collison said. ''I don't think they're going to be much of a problem this year, adding him on the team.'' Collison also is excited about the draft-night addition of guard George Hill. ''He can shoot the ball and he can bring the ball up while I run the court too,'' Collison said. With those options added to Indiana's young core of Danny Granger, Paul George, Tyler Hansbrough and Roy Hibbert, Collison is looking forward to the season. ''It's great,'' he said. ''As a point guard, you want to have as many options as you can, and you never want to be limited in the options you have on the team. I think with this team, we're very versatile.'' Collison said West will help the Pacers as a scorer, distributor and leader. ''He can be a closer for us, but he can also make sure that we're in the right positions at all times,'' Collison said. ''His ability to pass out of the post and be a good passer, period, is definitely a key that can help us as well.'' West, back after having ACL surgery on his left knee late last season, practiced with the Pacers on Tuesday. ''We threw him in there last night on the fly,'' Pacers coach Frank Vogel said. ''I taught him our entire offense in about seven minutes, which is the beauty of having a simple offensive playbook.'' West said he doesn't expect to play in Friday's preseason opener against Chicago, but he expects to be ready for the start of the season. Vogel said West's knee looked fine in practice, but he needs to get into game shape. ''He's going to take a little time,'' Vogel said. ''His knee is very strong, but because he was a free agent, he hasn't been doing a lot of full-court playing, so it's going to take a little time to get him up to speed with his conditioning level, up to speed with all the nuances of our offensive and defensive package. Once he's really ready to go, he's going to really help us.'' Vogel said West's approach to the game should help the entire team. ''He plays the style of play that we are trying to implement. He fits in with our identity of physicality, playing through the post, crashing the glass, attacking the basket.'' Hill can play the point guard and shooting guard spots. He doesn't mind if Hill takes some minutes at the point, along with A.J. Price. ''You've got to think, it's a 66-game season,'' he said. ''If a guy gets hurt, you've got another guy coming off the bench that's very talented. It's actually good problems to have.'' Collison also worked on becoming more versatile this offseason. The ultra-quick guard primarily is known as a slasher and distributor. ''I definitely tried to work on my 3-point shot, tried to extend my range out more so teams will have to not only respect my drive, but you have to respect my shot, too.'' Collison said the team has the right approach, even with all the new pieces and the expectations that come with them. ''I think you're going to see a young and scrappy team,'' he said. ''I think we understand that nothing has come easy. Just because we made it to the playoffs last year doesn't mean we're going to make it to the playoffs this year. We're going to fight for every game that comes our way.'' -- Follow Cliff Brunt on Twitter: www.twitter.com/cliffbruntap
Original Story:
http://msn.foxsports.com/nba/story/Pa...
THE BACKYARD
BEST OF MAXIM
RELATED ARTICLES
Twenty minutes. That's all the time new Indiana Pacers power forward David West needed to get over the fact that he tore the anterior cruciate ligament in his left knee during a game March 25. West had surgery on his knee on a Tuesday in April and started the rehabilitation process three days later.
INDIANAPOLIS (AP) - New Pacers forward David West is one of the few players who benefited from the NBA lockout.Last season, he averaged 18.9 points and 7.6 rebounds before tearing the anterior cruciate ligament in his left knee in a victory at Utah on March 24. The 31-year-old West had ...
Over the course of his often-brilliant 14 NBA seasons, Vince Carter has learned to move. As one of the legendary skywalkers in the game's history, he knows how to move up, of course. But as a star-in-twilight preparing to perform for his fifth NBA team, one of the newest Dallas Mavericks also knows how to move out. "I travel light,'' Vince tells FOX Sports Southwest...
DIAPER DANDY?
While David West entertained a press conference with all of two media members regarding his free agent deal Tuesday, the real story coming out of Indianapolis is the Pacers apparent signing of five-month old Jarrid Famous. Or at least that's what the Pacers official web site's roster says (or said by the time you read this). First off, awesome name. Though that's a lot...
INDIANAPOLIS - New Pacers forward David West is one of the few players who benefited from the NBA lockout. Last...
The good news is that the Indiana Pacers signed power forward David West on Tuesday. The bad news is that they missed out on two opportunities to add some extra scoring punch.
Last week, the Celtics were dangling the contract of Jermaine O'Neal in a trade for David West. The team was willing to give up its lone experienced center for a two-time All-Star who would have helped bridge the gap between the present and future.
Our resident NBA nerd David Kay is on vacation this week; in a much warmer place. However, being out of the country hasn't stopped him from being on top of the news. He's got a lot to say on what's been going on with the league this week. Los Angeles Clippers claim PG Chauncey Billups Billups was a casualty of the NBA's amnesty rule as this move needed to be made in order...
GMTR's Top 150 Player List has been updated to reflect all the latest free agent movement and trades, including Chris Paul to the Clippers, Tyson Chandler to the Knicks, David West to the Pacers and latest Blazers' signing of Jamal Crawford. In addition Baron Davis has officially been amnestied by the Cavs and apparently has a serious back injury that will keep him off the court...
2010-11 record: 37-45 Head Coach: Frank Vogel Key Departures: Josh McRoberts, T.J. Ford, Mike Dunleavy Jr. Key Additions: David West, George Hill Best case scenario: The Pacers build on their spirited 1st round performance against the Bulls, seamlessly integrate David West and George Hill into their frontcourt and backcourt, and ride the momentum they began…
Last season: 46-36, tied with Memphis but on a tiebreaker drew the Lakers in the first round, which got them knocked out. Head Coach: Monty Williams, entering just his second season at the head of an NBA team. Key Departures: Chris Paul, who is now throwing lobs to Blake Griffin, and David West, who left…
NBA News

Delivered to your inbox

You'll also receive Yardbarker's daily Top 10, featuring the best sports stories from around the web. Customize your newsletter to get articles on your favorite sports and teams. And the best part? It's free!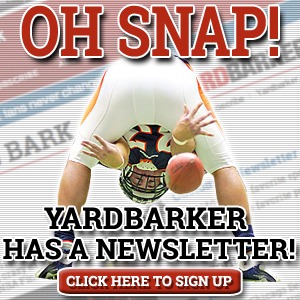 Latest Rumors
The Backyard

Today's Best Stuff

For Bloggers

Join the Yardbarker Network for more promotion, traffic, and money.

Company Info

Help

What is Yardbarker?

Yardbarker is the largest network of sports blogs and pro athlete blogs on the web. This site is the hub of the Yardbarker Network, where our editors and algorithms curate the best sports content from our network and beyond.