Found November 15, 2012 on Metta Chronicles:
Bynum got a new Dew: This just went viral a few hours ago, although I had seen this coming for awhile. Andrew Bynum, formerly of the Lakers and currently on the sidelines for the 76ers, recently got a new hair cut:   Now, for those who aren't familiar with his hair evolution, please check out this diagram provided by SportsCity. I found myself surprised by his constant changing, is he trying to become the new Rodman for basketball hair? Just think what his teammates thought when he rolled at the game, wearing the suit and hanging out on the sidelines. Did they even recognize him? Maybe it would help if he was actually playing and helping out this depleted Philly team. One must ask the question of whether they will resign him after this season, I figure they must. They didn't give up a TON to get him (although loosing your best defender and veteran won't help a team rebound [get it rebound]), Doug Collins has the opportunity to have a top-3 true center. If he returns in December, he would help Philly move up in the standings (currently 8th in the East), but if he returns later in January (like I suspect), he won't have as much impact as the team had hoped. Regardless of when he returns, his game and his hair will have a huge impact for the 76ers. Packers Corner Back Tramon Williams Admits to Being a Robot:   While most NFL fans have referred to Detroit Lions WR Calvin Johnson as Megatron (since the 2007 release of the Michael Bay flick Transformers), there has been a shocking development for the Lions rival. Green Bay cornerback Tramon Williams recently stated that he is Optimus Prime, the hero of the Transformers series and arch-rival to one Megatron. Without secondary leader Charles Woodson, Optimus errr Williams has decided to take hold of the Autobots to lead Earth to safety from the Decipticons: I'm definitely Optimus Prime… I'm the leader of the Autobots. I'm the leader of the young guys right now and when it comes down to the tough battles, I'll lead those guys out there… That's what's going down on Sunday — me going against Calvin. He's going to make some plays and I'm going to make some plays. We'll see who wins the battle in the end. Williams held Johnson to just 4 receptions and 49 yards in their 1st meeting of 2011, but got burned for 11 receptions, 244 yards and a TD in the week 17 shootout of the same season. I'm not gonna make any predictions, but I would hedge closer towards the week 17 line for both players. They call Johnson Megatron due to his advanced size, strength and speed. I just hope they won't call Tramon a robot due to clunkiness. Megatron vs Optimus Prime, should be an interesting battle.    
Original Story:
http://mettachronicles.com/packers-co...
THE BACKYARD
BEST OF MAXIM
RELATED ARTICLES
Andrew Bynum's health has prevented him from playing this season, but his hair has managed to keep him in headlines. The Philadelphia 76ers center was spotted watching his team play on Wednesday while sporting the 'do you see above. I really don't even know how to describe the thing. Like Black Sports Online, I am just at a loss for words. Earlier this season, he was sporting...
Tweet Philadelphia 76ers center Andrew Bynum hasn't been quite the same since that hard foul he planted on J.J. Barea in the NBA playoffs back in 2011. Since then Bynum has stated that he'll play anywhere because "there's a bank in every city", shot an ill-advised three-pointer in the second quarter (with time left on [...]
Philadelphia 76ers center Andrew Bynum said on Friday he's had another setback in his recovery from knee problems, the Philadelphia Inquirer reported. Bynum said an MRI exam conducted Tuesday indicated cartilage swelling in both knees and a bone bruise in his left knee. Previously, Bynum had been diagnosed with a bone bruise in his right knee only. Bynum also visited orthopedic...
With a loss last night to the Toronto Raptors, you would think Sixers fans have nothing to laugh at….or do they? Andrew Bynum took a trip to the beauty salon to give his Afro a Perm before the game last night, and it became evident that he needs some tips. Please never do this again…
Andrew Bynum has suffered another setback that pushes his December debut with the Sixers back. Initially it was his right knee that was causing all of the problems but now there's swelling in his left knee oh and a bone bruise as well. "I had a little bit of a setback," Bynum said. "Just working [...]
Coming off the best season of his career, a lot of folks predicted that Bynum would continue to evolve and mature into a full-blown NBA superstar this year – so far he has yet to even get on the floor. The good thing about doing nothing, though, is that it leaves you with plenty of [...]
Andrew Bynum's return has been delayed three times since September.
TNT's "Inside the NBA" does some brilliant photoshop work on their shows, but the image above may have topped them all. That's analyst Charles Barkley sporting the Andrew Bynum hairstyle that's affectionately been named a "YOLO fro." So how wore it better? Chuck, or Bynum? I think that's a good look for Chuck. He should think about getting a wig styled that way...
NBA News

Delivered to your inbox

You'll also receive Yardbarker's daily Top 10, featuring the best sports stories from around the web. Customize your newsletter to get articles on your favorite sports and teams. And the best part? It's free!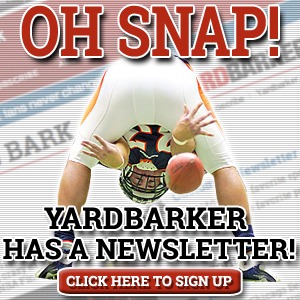 Latest Rumors
Best of Yardbarker

Today's Best Stuff

For Bloggers

Join the Yardbarker Network for more promotion, traffic, and money.

Company Info

Help

What is Yardbarker?

Yardbarker is the largest network of sports blogs and pro athlete blogs on the web. This site is the hub of the Yardbarker Network, where our editors and algorithms curate the best sports content from our network and beyond.