Found August 20, 2012 on Fox Sports Ohio:
PLAYERS:
Dwight Howard
,
Steve Nash
,
Pau Gasol
,
Derrick Rose
,
Stephen Curry
,
Andrew Bogut
,
Kyrie Irving
,
Blake Griffin
,
LaMarcus Aldridge
,
Ricky Rubio
,
Andrew Bynum
TEAMS:
Los Angeles Lakers
,
Orlando Magic
,
Chicago Bulls
,
Golden State Warriors
,
Cleveland Cavaliers
,
Los Angeles Clippers
,
Portland Trail Blazers
,
Minnesota Timberwolves
,
Philadelphia 76ers
Now that Dwight Howard has been traded and solved the summers biggest riddle, theres really only one question left:Hows the back, big fella?That seems to be something most fans and media would prefer to ignore. If not ignore, at least talk about a lot less than the fact Howard is now a member of the Lakers joining forces with Kobe Byrant, Steve Nash and Pau Gasol to form the NBAs latest (and possibly greatest) super team. With Howard, the Lakers are to basketball what The Avengers are to saving the universe. Or so it seems.But this superhero could have a kryptonite, and its called back surgery. Its what ended Howards season as a member of the Orlando Magic in late April, a herniated disc causing too much pain to carry on.Since then, Howard has received treatment and continued to rehabilitate the injury, and is said to be coming along quite well. At 26 years old, it certainly shouldnt be too much to overcome in the long-term. But no one is sure how it might impact the here and now.And the Lakers arent alone in wondering when, and how well, one of their star players might return.Chicagos Derrick Rose blew out his knee.Golden States Stephen Curry (ankle) and Andrew Bogut (back) are also medical mysteries.Clevelands Kyrie Irving (hand) should be ready for training camp but it seems too soon to say for sure.Thats not all, as the list of major question marks entering the season seems to be at all-time high.Doubts also surround everyone from the Clippers Blake Griffin (knee) to Portlands LaMarcus Aldridge (hip) to Minnesotas Ricky Rubio (knee) to Houstons Jeremy Linn (also knee).Remember, none of these aforementioned are considered run-of-the-mill role players. Theyre all, at the very least, the engines that makes their teams go.But perhaps none are bigger than Howard or Rose. With them, the Lakers and Bulls are considered title contenders. Without them, the Lakers will still be pretty good and the Bulls well, they were eliminated by Philadelphia in the first round of the playoffs, despite entering as the Easts top seed.Now, the 76ers are adding guys like Andrew Bynum (from the Lakers), and the Bulls are hoping guys like Rose will be ready to suit up by March.Its those type of situations that are tempering realistic expectations, and ultimately, reshaping the league.Of course, should Howard and the others return to form (or something close), then its business as usual.The Lakers will be considered among the favorites to emerge from the West, if not the favorite. The Warriors, Timberwolves and Cavaliers will continue to be considered teams on the rise. The Bulls will likely play their best when it means the most.But a lot of things will have to go right. A lot of bones and ligaments will have to heal in a timely fashion. A lot of players will have to sustain good health and happiness.Thats a lot of ifs, and if the history of injuries in sports has taught us anything, it rarely works out that way. Especially when youre talking about multiple injuries to a number of key athletes.Now that Howard has found a home, however, thats pretty much all thats left to talk about and the results could mean the difference between some teams continuing to progress, or even becoming great, and just trying to survive.In the case of the upcoming season, we may not know the answers until April. And in the case of the upcoming season, some teams and fans may find out that the truth isnt the only thing that hurts.
Original Story:
http://www.foxsportsohio.com/08/20/12...
THE BACKYARD
BEST OF MAXIM
RELATED ARTICLES
If you hadn't heard, Metta World Peace and his daughter made an appearance on a recent episode of Yo Gabba Gabba!, the hit children's show on Nick Jr. What shouldn't come as a shock to anyone is that Metta World Peace's star turn on the show was very…Metta World Peace-y, which is about the only to [...]
IN 15 MINUTES
Los Angeles Lakers guard Kobe Bryant scored 68 points in 15 minutes at the Chinese celebrity game. Via Kobe Bryant Facebook: The Sprite China 2nd Annual Charity Basketball game was a ton of fun. We played two 15 min halves with a running clock. I watched from the bench for the first half. We were trailing by 9 when I was notified that fans via text can choose a t eam to add...
If you are a Los Angeles Lakers fans, you will love this. If you are an Orlando Magic fan, then this will only fuel your dislike for Dwight Howard. Howard took to his official Facebook page and uploaded a drawing of him following in the line of past Laker great centers such as Jabbar and Chamberlain. Brace yourself Magic fans because this might sting a bit (h/t Orlando Sentinel...
Ladies and gentleman, basketball fans alike we have been duped.Ladies and gentleman, basketball fans alike we have been duped. The world told us Mitch Kupchak was an incompetent, bubbling, puppet, who was incapable of rebuilding the Los Angeles Lakers into a championship team. Oh how we were all wrong. Los Angeles Laker fans have created petitions and online websites denouncing...
It didn't take long after the Olympics for Kobe Bryant to get back on the hardwood. Bryant was on hand for the second annual Sprite China Charity Basketball Game in Shanghai, and his competitive juices promptly started flowing. The Lakers star sat on the sideline as his team fell into a nine-point hole. At that point, the fans (as a result of some wacky rule) decided 20 more...
ESPN Eight days after he helped lead the U.S. to Olympic basketball gold, Kobe Bryant put on a dazzling show in China in dropping 68 points in 15 minutes at a charity exhibition game. "I wanted to play it cool but what the heck, the place was packed with fans who'd sang an early happy birthday to me and really wanted to watch me go to work," Bryant said in a post...
How many championship banners would be hanging in the American Airlines Center rafters had the Mavericks traded for Kobe Bryant in 2007? That may seem like a far-fetched idea but Mavs owner Mark Cuban said Tuesday morning that it was almost a reality in the summer of 2007. "When I was doing Dancing with the Stars, I was taking breaks because I was talking to Kobe's agent...
Kobe Bryant and Nike took their talents to China for a seventh time this past week in support of The Swoosh's "Find Your Greatness" campaign.The post Starting Lineups: Nike And Kobe Bryant Embark On Their 7th Tour Of China appeared first on The Sports Fan Journal.
On a new NER...Mr. Wesley observes Raider Fan outside of his natural habitat; why Augusta National shouldn't be allowed to celebrate adding two women to its membership; the guys from Da Jungle stop by to chat about Dwight Howard and the Lakers; and it's time to stop worrying about what Rihanna says. Click here for the show.
Partial Source: The Wrestling Observer – As noted earlier here on the website, WWE has begun talking about potential names for the 2013 WWE Hall of Fame induction ceremony in April 2013 at Madison Square Garden. So far the names being discussed all have connections to the Garden and New York City. One of the names being discussed is Mick Foley, who is from New York and has talked...
Trash talking is apart of the game and will remain, but sometimes players can sound bitter when they try to throw shade. Case and point, Chauncey Billups of the Los Angeles Clippers was asked about the what the Lakers and their latest moves trading for Dwight Howard and signing Steve Nash; "They are trying to stack the deck over there, but I tell you what I'm very pleased with...
NBA News

Delivered to your inbox

You'll also receive Yardbarker's daily Top 10, featuring the best sports stories from around the web. Customize your newsletter to get articles on your favorite sports and teams. And the best part? It's free!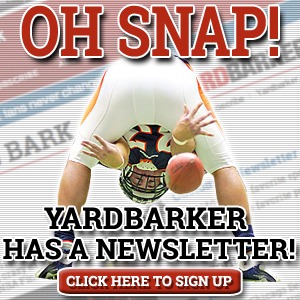 Latest Rumors
The Backyard

Today's Best Stuff

For Bloggers

Join the Yardbarker Network for more promotion, traffic, and money.

Company Info

Help

What is Yardbarker?

Yardbarker is the largest network of sports blogs and pro athlete blogs on the web. This site is the hub of the Yardbarker Network, where our editors and algorithms curate the best sports content from our network and beyond.