Found June 04, 2012 on The Windy Apple:
PLAYERS:
Fab Melo
,
Omer Asik
,
John Jenkins
,
Kyle Korver
,
Ronnie Brewer
,
J.J. Redick
,
Luol Deng
,
Derrick Rose
TEAMS:
Chicago Bulls
,
Orlando Magic
,
Syracuse Orange
,
Vanderbilt Commodores
,
Oregon State Beavers
While teams around the league have been showcasing their pre-draft workouts to the media, the Bulls have been quietly active in the same process. In our first addition of Bulls pre-draft workout prospects, we profiled Scott Macahado, Andrew Nicholson and Tu Holloway.  Machado and Nicholson were in attendance for a very long workout at the Berto Center on Friday.  The Bulls will hold an additional workout today with Tu Holloway and a new slew of NBA hopefuls:
Fab Melo | 7'0" Center – Syracuse – Sophomore
Fab Melo's highest quality is his size which reflects in his defensive. His 7 ft. stature and 7'3" wingspan make him an automatic threat in the paint for the opposing team and he showcased that averaging 2.9 blocks a game this past year.  He averaged 7.8 points and 5.8 rebounds in 25 minutes a game – at 7 ft, 5.8 rebounds is a bit alarming. His weaknesses  make him a mirror image of Omer Asik – he bobbles many passes and tends to bring the ball low after grabbing the offensive rebound.  His character may be a question for the Chicago Bulls: he has a domestic violence charge and he was abruptly suspended from the NCAA tournament for academic ineligibility.
Judgement Call:
Fab Melo doesn't seem a fit for the Bulls unless something happens where they cannot hold on to Omer Asik.  Melo will be drafted because of his size and potential.  He is not a go-to guy, but his size will benefit him on the defensive end.  His rebounding numbers are what stand out to me – so I don't know if the Bulls, who name rebounding as one of the three components to winning a basketball game, will take the gamble.
John Jenkins | 6'4" SG – Vanderbilt – Junior
Mock Draft: Pick 29 (Bulls pick)
Is something the Bulls desperately need, a pure shooter.  Outside of Kyle Korver, the Bulls lack someone who is a go to shooter that can space the floor. Like Kyle Korver, Jenkins can spot up or take the shot off a dribble pop.  However, also like Korver, he lacks the ability to create off the dribble.  He averaged 19.9 points on 47% shooting as a Junior. Was also a 43.9% 3-point shooter this year but didn't put up any standout numbers in assists (1.2) or rebounds (2.9).  Would fit the character card the Bulls are working as he has a high reputation for his strong work ethic.
Judgement Call:
With Kyle Korver and Ronnie Brewer's fate up in the air, the Bulls are thin at the shooting guard position.  Pure shooters are hard to come by and John Jenkins was one of the best shooters in the country during his time at Vanderbilt.  Outside of shooting, his contributions are questionable which may be a deciding factor for many teams.  While the Bulls need a shooter, it would be nice to see a pick made that has more to offer – NBADraftNet compares him to J.J. Redick….  But with that said, his name has come up a lot in Bulls draft talks and we could very well see his name called 29th on draft night.
Jared Cunningham | 6'4" SG – Oregon State – Junior
Has elite athleticism as a 6'4 shooting guard and is known for his quick first step and ability to run in transition resulting in some above the rim awe-striking plays (17.9 ppg).  The Bulls have talked about their need to get "easy baskets" and Cunningham is someone who could do that off a good defensive stop.  Is known as a great defender – was named to the Pac-12 All-Defensive team – and can steal the ball with ease (2.5 per game).  He struggles in knocking down a 3-pointer with consistency (34%), despite taking over 4 a game.
Judgement Call:
The Bulls will get defensive tenacity and a floor runner with Jared Cunningham.  His shown weakness will probably be the fact that he has declared for the draft as a junior after not showing much improvement between his sophomore and third year at Oregon State.  His basketball IQ has been scrutinized and he is prospected to be a player who needs to develop an NBA level game, therefore not seen as someone who can make an immediate impact.  With that said, the Bulls are likely to pick someone who is NBA ready and can make an impact as the start of the season they will be without their All-Stars and top scorers Luol Deng and Derrick Rose.  Cunningham's future isn't likely in Chicago.
Tanner Smith | 6'5" SG – Clemson – Senior
Mock Draft: Unlisted
Plays a nice overall game – as a senior brought his numbers up in every category.  He averaged a respectable 11.1 points, 4.1 assists and 5 rebounds – while shooting 46% from the field.  He's not listed on any draft boards, his skill set shows he could be an option for the Bulls.  Being in one of the best college conferences, the ACC, Smith was tasked with guarding the opposing teams best perimeter player – which is what likely caught the eye of Chicago scouts.   While putting up all-around numbers in the box score, Smith is a player who does the intangibles – comparable to a Ronnie Brewer.
Judgement Call:
Has high character on and off the court, he founder Tanner's Totes in grade school, a charity program to help children who have cancer. Consider's himself "one of the hardest workers I know" (NBA Draft Blog).  In describing his strengths, Tanner also told NBA Draft Blog: "I love making other players better when I play with them.  I am very competitive, make good decisions, can play multiple roles, and I am still getting better."  His consistent improvement over his college career make his potential very valuable and he may be the diamond in the ruff that the Bulls are looking for.
Original Story:
http://feedproxy.google.com/~r/TheWin...
THE BACKYARD
BEST OF MAXIM
RELATED ARTICLES
The Chicago Bulls' season went up in smoke when Derrick Rose collapsed to the ground at the end of Game One, the very first playoff of the entire season, with a torn ACL. Chicago was game, but hardly the top seed in the East without its spark plug in Rose. No one could carry the offensive load and the 76ers advanced. ACLs are not the devastating injuries they used to be, but...
ALL POINTS BULLETIN
With their MVP point guard Derrick Rose currently recovering from a torn ACL, the Chicago Bulls may go after a big name veteran point guard to run the show in the interim.
Grade:  B+ Season Averages: 10.2 PPG, 9.8 RPG, 2.5 APG, 1.4 BLKPG Season Highlight:  On February 22, Joakim Noah became the third big man in Chicago Bulls history to record a triple-double.  He had 13 points, 13 rebounds, and 10 assists in a win against the Milwaukee Bucks.  With the Bucks sticking by the "double Rose" game plan, Joakim Noah became the go to guy and was...
June 4:  Ronnie Brewer, the least safe player on the Bulls roster for next year, was spotted sporting the team's threads while working out at his alma mater, the Arkansas University Razorback's facility.
  As unlikely as it will be for the Phoenix Suns to re-sign Steve Nash, the rumors are flying speculating where the veteran point guard will land. It comes as no surprise — with Derrick Rose still in rehabilitation from his ACL surgery last month and needing anywhere from 8 months to one full year [...]
June 2: C.J. Watson partying at Marquee in his hometown of Las Vegas.
The Bulls reportedly are looking to upgrade at point guard due to the expected absence of Derrick Rose.
In an article written by Comcast Sports Net's Bulls Insider Aggrey Sam yesterday, it was reported that the Bulls are going to make a run at Jason Kidd and Steve Nash this off-season to fill in for the injured Derrick Rose. The hope is that one of these two savvy veterans bite on the sales pitch that they would have a great chance to win a championship in Chicago, as the Bulls likely...
Had Derrick Rose not gone down with a devastating knee injury in the first round of the playoffs, things would likely look a lot different in the Eastern Conference right now. The Celtics are the obvious beneficiaries, having drawn home court advantage against the Sixers in the second round rather than having to face the top-seeded Bulls. With Rose's recovery expected to extend...
June 4: Rip Hamilton was spotted spending some leisure time in the Golden State of California. Props to @ChrisDJC4!
June 5: Carlos Boozer wears another interesting choice of clothing as he poses with @Jedimindtrikz, a Miami Heat fan, in Florida.
NBA News

Delivered to your inbox

You'll also receive Yardbarker's daily Top 10, featuring the best sports stories from around the web. Customize your newsletter to get articles on your favorite sports and teams. And the best part? It's free!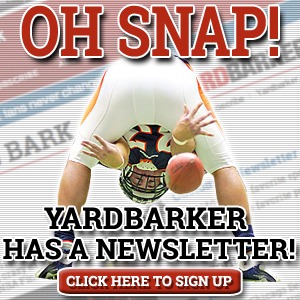 Latest Rumors
The Backyard

Today's Best Stuff

For Bloggers

Join the Yardbarker Network for more promotion, traffic, and money.

Company Info

Help

What is Yardbarker?

Yardbarker is the largest network of sports blogs and pro athlete blogs on the web. This site is the hub of the Yardbarker Network, where our editors and algorithms curate the best sports content from our network and beyond.