Found January 29, 2013 on Fox Sports West:
PLAYA VISTA, Calif., Playing on a first-place team with a couple of all-stars and a roster full of veterans isnt something the Clippers are used to. When they take their show on the road these days, they know opponents are keenly focused on beating them. So they dont expect to have the easiest road swing when they start their annual Grammy trip Wednesday night in Minnesota. They play eight games in 13 nights, and although only two are against teams with winning records, no one is thinking this is going to be easy. The Clippers arent expected to have either of their two injured guards, Chris Paul or Chauncey Billups, back for the beginning of the trip, although Billups took part in some contract drills during practice Tuesday and might get clearance from trainer Jasen Powell to return. But thats still to be determined. Its going to be a tough stretch, especially still missing Chris and Chauncey, forward Blake Griffin said. Weve shown were capable of doing it, but we have to come out and have that intensity that started in practice today. Paul has missed seven of the Clippers past nine games because of a bruised right kneecap, although the team is 4-3 during his absence. Billups, who has missed all but three games because of a delayed start resulting from a torn Achilles and then tendinitis in his left good, might get an OK as soon as this week. Coach Vinny Del Negro, asked about the possibility of Billups returning Wednesday, said, Theres a chance, but I dont expect that. Ill talk to Jasen and talk to Chauncey, but weve got to give him some time to get some practice in and see how he responds. That wasnt the plan before practice; I dont expect it to be the plan now, but I need to get more information from my trainer before we make those decisions. The Clippers know their newfound success makes them a target when theyre on the road, although it has also won them some fans. In the past, it was rare to see someone wearing a Clippers T-shirt or jersey on the road. Now, its almost commonplace. We have a larger fan base on the road, which is cool, Griffin said. With all this, it kind of brings a bulls eye on our back. Its just like when we play at home and the Celtics come to town, you see a lot of Celtics jerseys. We dont like that. We take that to heart. Im sure other teams are doing the same thing. Theyre used to not seeing a single Clippers jersey in the stands and now theres four or five. It makes a difference. The Clippers currently have one of the best road records in the league at 13-8. They have every reason to believe they can improve on that mark because only two of their opponents on the trip the Miami Heat and New York Knicks currently have winning records. The Boston Celtics would join the Heat and Knicks as Eastern Conference playoff teams, but theyre two games under .500 and lost point guard Rajon Rondo last weekend because of a torn anterior cruciate ligament. The key to playing well, Griffin said, is to really try to come out and make an impact in the first quarter. You cant necessarily win a game in the first quarter, but you can lose a game in the first quarter. You dont want to get too far behind and let the crowd get into it. If you can get in early and keep the crowd at bay a little bit and steadily go from there, it helps a lot. Really, its about making a good first impact. The Clippers gave themselves some momentum Sunday night when they defeated the Portland Trail Blazers, 96-83, at Staples Center, ending a four-game losing streak that matched their longest of the season. Their chances for a successful trip will surely improve if Paul or Billups return, but thats something that wont be determined until the day of the game. After playing the Timberwolves on Wednesday, they face Toronto on Friday before a back-to-back series against the Celtics and Washington Wizards beginning Sunday. It was good to have Chauncey out there today, Del Negro said. He makes a difference when hes out there just with his leadership. He seemed pretty good so well see how he responds.
Original Story:
http://www.foxsportswest.com/01/29/13...
THE BACKYARD
BEST OF MAXIM
RELATED ARTICLES
There still is no set date for the return of injured Clippers point guard Chris Paul, head coach Vinny Del Negro said Sunday. "Day to day, no timetable," Del Negro said of Paul, the team's star playmaker who is out because of a bruised right kneecap. "With a bone bruise it's just a matter of letting it calm down," and then the Clippers have to wait ...
The first game of the Clippers' longest road trip this season got off to a dreadful start in Minnesota. Chris Paul and Chauncey Billups sat again with injuries. No surprise there. But forward Matt Barnes, whose temper is frequently his worst enemy, was ejected in the second quarter for a flagrant 2 foul just 3 minutes into the second quarter. The game had the makings of a disaster...
Eric Bledsoe has started eight games due to an injury that has Chris Paul sidelined.
With their All-Star point guard banged up, the Los Angeles Clippers have struggled on the road lately. Perhaps it's not the best time for their longest trip of the season. They open the eight-game swing against the Minnesota Timberwolves, who have had to deal with their own injuries and adversity during a long slump. The Clippers try to avoid a fourth straight road loss Wednesday...
Eric Bledsoe is probably looking around the Staples Center and saying, "What about me, ya'll?" All right, so Bledsoe may not have the All-Star credentials of Chris Paul but with the latest news on Paul from the Los Angeles Clippers, head coach Vinny Del Negro is going to have to continue to throw confidence and playing time Bledsoe's way for sure. On Monday, Del Negro...
LOS ANGELES -- This time, the Los Angeles Clippers finished what they started. One night after surrendering the final 10 points of the game in an excruciating loss to the Portland Trail Blazers, the Clippers reversed the result in a 96-83 victory over Portland at sold-out Staples Center. In the process, the Clippers halted a four-game losing streak despite playing without star...
LOS ANGELES -- This time, the Los Angeles Clippers finished what they started. One night after surrendering the final 10 points of the game in an excruciating loss to the Trail Blazers, the Clippers reversed the result in a 96-83 victory over Portland at sold-out Staples Center. In the process, the Clippers halted a four-game losing streak despite playing without star guard Chris...
On Sunday, after a double-overtime win over the Miami Heat, Boston Celtics star Paul Pierce learned of Rajon Rondo's season-ending injury on live television. The expression that crossed his face, and the "Oh my God" he muttered as a first reaction, was what it looks like when a great team's present and future come crumbling down. This is the end for the Boston...
The Super Bowl brings out easily the most prop bets of any sporting event of the year. Exclusive to the Super Bowl are cross-sport prop bets, featuring performances from the NFL's championship game against stars in other sports during their games on Super Bowl Sunday. Here is a look at some of them available against NBA games for Super Bowl XLVII at Bovada. One such prop is the...
NBA News

Delivered to your inbox

You'll also receive Yardbarker's daily Top 10, featuring the best sports stories from around the web. Customize your newsletter to get articles on your favorite sports and teams. And the best part? It's free!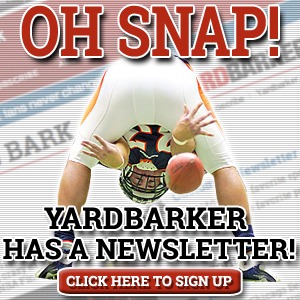 Latest Rumors
The Backyard

Today's Best Stuff

For Bloggers

Join the Yardbarker Network for more promotion, traffic, and money.

Company Info

Help

What is Yardbarker?

Yardbarker is the largest network of sports blogs and pro athlete blogs on the web. This site is the hub of the Yardbarker Network, where our editors and algorithms curate the best sports content from our network and beyond.