Found September 13, 2012 on Fox Sports North:
MINNEAPOLIS Seven pounds looked like a lot more on Nikola Pekovic.You wouldn't think that losing so little weight off a 300-pound frame would amount to much, but the Pekovic who worked out at the Timberwolves' practice facility on Thursday boasted a dramatically altered frame. It likely appeared to be more weight than it was because of the amount of muscle the center added (remember, guys, muscle weighs more than fat), and Pekovic continued to lift the frighteningly large weights he tossed around last season.Instead of analyzing the weight loss too much, Pekovic preferred to put it in simpler terms. When asked where the weight went, he didn't need to elaborate:"To muscles."In reality, Pekovic realized that recovering from May surgery to remove bone spurs from his ankle might lead to weight gain, and he made a concerted effort in the procedure's aftermath to lose weight. A friend in Montenegro is a nutritionist, and the center relied on his help and increased activity to get in better shape.Pekovic also said that his ankle feels much better. He's finished with his follow-up appointments and will not need to see a doctor unless the injury flares up again."I don't feel anything," he said. "All this bother I got at the end of the season, it was really bad. It was bothering me a lot. I could play like I was playing (earlier) in the season. For now, it's great. Hopefully it'll stay like this all the time." Tolliver present: Free-agent forward Anthony Tolliver was present at Brandon Roy's Thursday workout, along with former Timberwolves player Troy Hudson, Pekovic and Chase Budinger, among others. Tolliver has been based in Minneapolis all summer and has been working out in the Timberwolves facilities despite having not yet inked a deal. "Even though I'm a free agent, they still act like I'm a part of the team," he said of David Kahn and the team's willingness to let him use the facilities.It was a lot of they, they, they in Tolliver's speech on Thursday. These are their offseason improvements, their new guys, their upcoming season. Tolliver is still very much in limbo, and he said that he's continued conversations with the same teams with which he spoke all summer. Those clubs include Indiana, Chicago, Atlanta, Washington and of course Minnesota. The Timberwolves are currently unable to sign Tolliver to anything more than a veteran's minimum deal, and he's likely holding out for more. He did say that "conveniently," he'd like to stay in Minnesota but that this is above all else a business decision."I hope it's sooner than later," Tolliver said. "Obviously training camp's right around the corner."And don't count on another "Decision" video mocking LeBron James' and echoing the one Tolliver made when he signed with the Timberwolves two years ago. Making another video will depend how he feels whenever he decides where to sign, Tolliver said, and he's getting a bit fed up with the lingering uncertainty."If it would have happened a couple weeks ago, I would still be excited about it," Tolliver said. "Now I'm kind of getting to where I'm just like, you know, I just want to get it over with and move forward."Other nuggets from Thursday:- Will Conroy, Roy's former college teammate, will join the Timberwolves again in training camp this year, Roy said. Conroy was also with the team last December in camp but did not make the team. He did, however, tell Roy that Minnesota would be a good place for him to explore making his comeback. Obviously, Roy took that suggestion to heart. - Timberwolves player development coach Shawn Respert will be inducted into the Michigan State Athletics Hall of Fame next Thursday, Sept. 20. He's the school's all-time leading scorer and one of the biggest basketball names in its history. Look for a longer story about Respert next week. - Tolliver on the Timberwolves chances next season: "They've done a great job. I think they have a team that can compete next year immediately, you know, as long as everybody just plays as a team. They have the time of character guys that will blend together I think very well. A lot of good, seasoned veterans and also some young guys that are veteran-type guys too, like Chase (Budinger) and guys like that." - Single-game tickets for the Timberwolves' 2012-13 season will go on sale on Sept. 21 at 10:00 a.m. All games except six matchups (against the Thunder on Dec. 20 and March 29, Lakers on Feb. 1 and March 27, Heat on March 4 and Celtics on April 1) will be available. Past buyers, WolvesWire subscribers and social media followers may begin purchasing tickets in a pre-sale beginning Sept. 17.Follow Joan Niesen on Twitter.
Original Story:
http://www.foxsportsnorth.com/09/13/1...
THE BACKYARD
BEST OF MAXIM
RELATED ARTICLES
Brandon Roy says he has not had any setbacks with his troublesome knees as he starts ramping up workouts to prepare for Minnesota Timberwolves training camp. Roy worked out with several of his new teammates Thursday and says his body feels better than it has in years. The former Portland Trail Blazers All-Star had his contract cleared through the amnesty clause before last season...
When Brandon Roy and the Minnesota Timberwolves reached a verbal agreement back in early July that the all-star guard would return to the game after spending last season in retirement mode, many pundits around the league wondered what Roy would look like once he got back on the court. After five seasons in the league and the chronic knee problems, there still are a lot...
It's been more than a year since Ricky Rubio signed with the Minnesota Timberwolves and began the evolution from European teen sensation to NBA star. After his abbreviated season in which he established himself as one of the best rookies in the league, it's easy to forget that across the Atlantic, the 21-year-old Rubio is still something more than a basketball player. He...
Andrei Kirilenko and Alexey Shved have been basking in the success of Russia's bronze medal in the Olympics just about long enough. They both say they're ready to come to Minnesota to join the Timberwolves. Kirilenko and Shved both signed with the Wolves in the offseason. They teamed up on the Russian team that captured bronze in London and will be headed to Minnesota in...
GAME WITHIN A GAME
Minnesota Timberwolves PG Ricky Rubio tore the anterior cruciate ligament in his left knee back in March, causing the onslaught of out-of-nowhere T-Wolves viral videos to slow to a crawl. The good news today is twofold — Rubio is targeting a December return from injury, and he's already started working on those viral videos. His first effort: playing the classic vertical...
Everyone's favorite Spanish superstar, Ricky Rubio, played 'Connect Four' with basketballs on the Spanish talk show El Hormiguero. Check out the video in all its awesomeness below: The video is in Spanish and I can't understand a lick of what they are saying, but it speaks for itself. And lol at the host's terrible strategy with his second...
Over the years, we posted some pretty classic videos featuring NBA players but this one featuring Minnesota Timberwolves guard Ricky Rubio might be one of the best.Ricky was recently on a Spanish talk show and got the chance to play a game of Connect Four basketball with the host.Check it out all the amazing Connect Four action in the below video:(Courtesy of Slam Online)
William Buford most recently played for the Minnesota Timberwolves at the Las Vegas summer league.
I hate to put an NBA offseason review up right when football is starting and the baseball playoffs are right around the corner. The fact of the matter is; not many people give a rat's ass about the NBA right now. However, as well-rounded sports aficionados it's important to be well-versed in all arenas. This morning we're going to take a 20-second timeout and look at the five...
Herald  Wolves' Brandon Roy: 'So far I haven't had any setbacks' Lakers say Dwight Howard won't be ready for start of camp Globe  Roster focus: Jason Collins Celtics Green  Celtics Invite Rob Kurz to Training Camp NBA Interview with Bill Russell on His Health, the Olympics and Today's NBA Player Profiles - Fab Melo Celtics Life Video: Rajon Rondo "Glad You...
NBA News

Delivered to your inbox

You'll also receive Yardbarker's daily Top 10, featuring the best sports stories from around the web. Customize your newsletter to get articles on your favorite sports and teams. And the best part? It's free!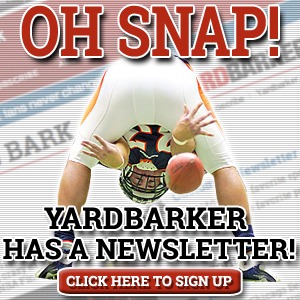 Latest Rumors
The Backyard

Today's Best Stuff

For Bloggers

Join the Yardbarker Network for more promotion, traffic, and money.

Company Info

Help

What is Yardbarker?

Yardbarker is the largest network of sports blogs and pro athlete blogs on the web. This site is the hub of the Yardbarker Network, where our editors and algorithms curate the best sports content from our network and beyond.