Found November 16, 2012 on Fox Sports:
PLAYERS:
Carmelo Anthony
,
Mike Woodson
,
LeBron James
,
Dwight Howard
,
Jerry Sloan
,
Raymond Felton
,
Jason Kidd
,
Tyson Chandler
,
J.R. Smith
,
Rasheed Wallace
TEAMS:
New York Knicks
,
Miami Heat
,
Los Angeles Lakers
,
San Antonio Spurs
The San Antonio Spurs on Thursday night learned firsthand one of the most surprising truths of this still-early NBA regular season: The team that Carmelo Anthony wrought by sheer will, ego and self-interest is a force to be reckoned with. In battling back from an 11-point, fourth-quarter deficit, on the road and against one of the league's best teams, Anthony's Knicks cemented the fact that their start -- now 6-0 -- is no mirage. The Knicks' 104-100 win in San Antonio was their best of the season despite having won every other game by at least 10 points, including a 20-point drubbing of Miami to kick off the season. That's right: Carmelo Anthony, having spent the past two seasons turning two teams upside down in order to refashion them in his own image -- an image in which he is the star, the shooter, the bright light around which all others orbit -- has shown those like me who scoffed at his need for control and his my-way-or-no-way-at-all sensibility, that perhaps he knew exactly what he was doing. Anthony forced his way out of Denver despite the presence of one of the league's best head coaches -- a deal that gutted the Knicks, a team one would presume he would want loaded with talent if he were to go there. But, no, Melo has shown he need be the only talent that matters. Once in New York, it didn't take long for Anthony to turn his unwillingness to embrace Mike D'Antoni's offensive approach into more drama. By last season, D'Antoni was out as head coach. He was replaced by Mike Woodson, someone ready to run the team the Carmelo Anthony way. In related news, the Linsanity phenomenon that had robbed much of the spotlight from Anthony during that season got squashed and sent far away to Houston. With an assist from Amar'e Stoudemire's aching body, which has been injured this season, Melo had finally succeeded in forging a team with only one star (Carmelo Anthony) and a head coach who understands just what that star wants (a hire blessed, you would think, by Carmelo Anthony). The result? The Knicks are now 6-0 for only the second time in team history, and in dispatching the Spurs on the road, they've made it mean something. This team is tough, united and dangerous. This team is for real. Most shocking of all was how they won. Melo scored just nine points, but he pulled down 12 rebounds, and his passing and defense was light years ahead of th mopey style that hampered him during last season's Linsanity madness. This is a league in which stars often dictate their futures and dominate their teams in most every way. LeBron James did it in Cleveland. Dwight Howard was able to get just what he wanted -- an exit from Orlando and a spot in one of our biggest, brightest cities. Deron Williams forced his way out of Utah and in effect pushed Jerry Sloan into early retirement. So maybe Melo, having finally gotten his own wish list fulfilled, finally is showing us that he can win once he's on a team calibrated to his own liking. In fact, as Melo rebounded and played defense Thursday, the Knicks scored with balance: Five players scored 10 or more points, and two players scored nine. So many things about this team seem different, starting with the fine guard play. Raymond Felton went off for 25 points Thursday night while dishing seven assists and limiting himself to just two turnovers. Jason Kidd notched 14 points behind three fourth-quarter 3-pointers -- including a dagger with just over a minute left in the game. Tyson Chandler was his usual excellent self with 13 points and 11 rebounds. J.R. Smith, twice as accurate from the 3-point line as he was last season, came off the bench for 17 points, and the suddenly ageless Rasheed Wallace provided 10 points during 15 minutes of solid, gritty play. But maybe the biggest star so far for the Knicks this season, outside of Carmelo Anthony himself, is the head coach Melo foisted upon New York. Since replacing D'Antoni, Woodson has led the Knicks to a 24-6 regular-season record. Woodson's leadership got them into the playoffs last season, and it has them undefeated this season and boasting a newfound defensive sensibility that brought them into San Antonio averaging fewer points allowed a game than any other team in the NBA. That's a stat that can translate into championships. There will be problems to face going forward. When Stoudemire returns, so will the fact he and Melo do not fit together when they're both on the floor. This is Melo's team, and that team -- in terms of pure basketball terms, as well as what Anthony almost certainly desires -- has little place for Stoudemire. The other problem will be the Miami Heat, who may be dealing with a bit of a post-championship hangover right now but remain the undisputed class of the Eastern Conference. There's also age. The Knicks are old, historically old, and nagging injuries, fatigue and betting on a team with an average age of 32 could all become keys to New York's basketball narrative. Another factor is the fear that the individual parts making up this suddenly synced excellence will return to the mean and make the Knicks once again average. Smith said Thursday that he's playing better because he's giving up the New York nightlife; will that last? Melo has been playing better defense and investing in a more complete game, but can that be a lasting fact, particularly if the team keeps getting big wins in games in which he only scores nine points? Felton has been excellent, but he is a Knicks point guard, and recent historical trends seem stacked against him. And Woodson, for all the signs that he knows exactly what he's doing, has a very small sample size on which to assess his ability to handle an 82-game season and a two-month-long playoffs in which every single play becomes weighted with pressure and expectation. Whatever happens, it will happen because of Carmelo Anthony. Players always have recognized the remarkable talent bursting from Anthony's game, but few playing alongside him at the NBA level have seen that translate into real, lasting excellence. Whether this is the year that changes will become clear later. For now, the New York Knicks are an improbable 6-0 because, just as improbably, all of Carmelo Anthony's machinations to make the team solely his own has actually worked. You can follow Bill Reiter on Twitter or email him at foxsportsreiter@gmail.com.
Original Story:
http://msn.foxsports.com/nba/story/nb...
THE BACKYARD
BEST OF MAXIM
RELATED ARTICLES
In the early goings of this NBA season, the Knicks are off to what is their strongest start in years. The team's new winning ways can be largely attributed to Carmelo Anthony, who has emerged as an M.V.P. candidate while representing one of the league's very top scorers.On Thursday night, Anthony displayed other reasons as to why this is truly his year, aside from his ability...
The biggest question in the NBA that begs to be answered right now is 'are the New York Knicks for real?' Seriously. We know they were one of the better teams in the Eastern Conference, but are they one of the best teams in that group? The difference as slight as it might be is giant in scope.  Please Click Here To Read This Story
By the middle of the third quarter, Carmelo Anthony and the Knicks seemed to be focusing as much of their energy at the officials as they were at the opposing players. Every time the Grizzlies got the ball, they were intent on pounding the ball at Anthony in the post, victimizing the de facto power forward with one of their twin big men, Marc Gasol or Zach Randolph. This was the...
The Knicks are currently off to their best start since the 93 season. Their current record is 5-0 with their latest victory taking place against the magic, 99-89. It was a tight first half but the Knicks pulled away in the fourth led by Carmelo Anthony's 25 points and J.R. Smith came off the bench [...]
New York Knicks guard J.R. Smith says he partied too much last season.   "I'm not going to lie, the New York City nightlife pretty much got to me," Smith said via the New York Post Thursday morning before scoring 17 points to help the knicks defeat the Spurs 104-100.. "I was going out pretty much every other night and not focused on the task at hand." Smith added that...
Click here to view the embedded video. The Knicks — yes, the New York Knickerbockers — are 6-0, which is the most surprising record early this NBA season. How are they doing it? Well, Carmelo Anthony, unencumbered by sharing touches with Amar'e Stoudemire, is scoring more and back to grabbing rebounds at a career-high level — he had 12 Thursday night against a formidable...
If I told you New York Knicks star forward Carmelo Anthony finished a game with nine points, three assists, and two turnovers on 3-of-12 shooting, one would assume the Knicks would have probably been blown out. That's why that is an assumption, in the past the Knicks might have been defeated with a low performance from "Melo", but on Thursday in the AT&T Center, Raymond...
The KnicksJournal.com team was in Orlando to watch the Knicks and Magic rumble at the Amway Center on Tuesday night.Coincidentally enough, the most rumbling came from Magic fans, who were seemingly very excited that their team stayed in the game as long as they did.As fate would have it though, New York fans came out in force as the Amway Center seemed like a sea of orange and...
Every morning, we will give you five things from the night before in the NBA to start your day. 1: Knicks go down New York was not going 82-0. That is virtually impossible with the way the NBA schedule is constructed. Going 6-0 was surprise in itself for a team that seemingly lacked offensive fluidity and was nominally good at defense, but hardly elite. In the first weeks of...
Here's your soundtrack for this one. Play in the background, or not. Tonight in Memphis, the New York Knicks did something they haven't done all year, and something that every other team has done already. They lost, for the first time, and while the result wasn't in any way surprising (they were on the down slope of a back to back, they had extended a lot of energy...
The Knicks undeafeted season has come to an end as they lose to the Grizzlies 105-95, last night at the FedEx Forum. New York falls short of going 7-0. The last and only time they went 7-0 was back in the 1993-1994 season, where they made the NBA Finals. Their record stands at 6-1 and there really isn't any negative thing to say about this team as of right now. It's...
NBA News

Delivered to your inbox

You'll also receive Yardbarker's daily Top 10, featuring the best sports stories from around the web. Customize your newsletter to get articles on your favorite sports and teams. And the best part? It's free!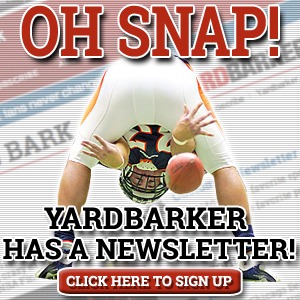 Latest Rumors
The Backyard

Today's Best Stuff

For Bloggers

Join the Yardbarker Network for more promotion, traffic, and money.

Company Info

Help

What is Yardbarker?

Yardbarker is the largest network of sports blogs and pro athlete blogs on the web. This site is the hub of the Yardbarker Network, where our editors and algorithms curate the best sports content from our network and beyond.