Found November 09, 2012 on Fox Sports West:
PLAYERS:
Phil Jackson
,
Jim Buss
,
Jerry Buss
,
Mitch Kupchak
,
Lamar Odom
,
Brian Shaw
,
Kobe Bryant
,
Antawn Jamison
,
Steve Nash
,
Pau Gasol
,
Steve Blake
,
Rick Adelman
,
Mike D`Antoni
,
Nate McMillan
TEAMS:
Los Angeles Lakers
,
Los Angeles Clippers
EL SEGUNDO, Calif. It is easy to paint the firing of Mike Brown just five games into the second season of a four-year, 18 million contract as an overreaction of Steinbrenner-like proportions. It wasnt. The firing of Brown was simply an acknowledgement by Jim Buss, the son of Lakers owner Jerry Buss, that he never should have hired Brown in the first place. Read into the Princeton offense, the hard-driving practices, the absent defensive intensity of the early season all you like, but they were simply symptomatic of a problem that should have been apparent the first time Jim Buss sat down with Brown. He isnt a big picture guy. Brown is, as general manager Mitch Kupchak noted in opening his press conference Friday, a genuine and decent man, and it would be hard to find a coach who devotes more of himself into the job. That might have been fine in Cleveland, and it might have been fine with the Clippers, but the Lakers are a different animal from any place else in the NBA. The Lakers are the Knicks with expectations, a franchise where players have had their own reality shows (Lamar Odom) and their own realities (Metta World Peace), and where the expectations are outsized only by the size of the big top. Its a place where, when the coach dates the owners daughter, everyone just shrugs. All of which is a way of saying that Buss should swallow his pride again the way he did Friday in acknowledging one mistake and correct another by bringing back Phil Jackson. Jackson wasnt just allowed to retire after the Lakers failed run at another three-peat in 2011. Its as if he were told to take all his belongings with him, too. Buss did not have a conversation with Jackson at any time during his final season, and Brian Shaw, his top assistant who had a long and close relationship with Kobe Bryant, was passed over. There was also a purge of the training, scouting and equipment staff, a moved that stood out in a franchise that had prided itself on family. If the Buss family chafed at having to pay Jackson 12 million a year he took a pay cut to 10 million in his final season theyll now pay Brown about 13 million to walk away. The reason Jackson was worth every penny is that he understood what was really important and he carried a strong enough personality and, yes, 11 championship rings to stand behind his beliefs. If the Lakers were lackadaisical in a loss, Jackson wouldnt berate them. Hed simply write on the dry-erase board, Bus at 11, and let the players decide when they wanted to stop being embarrassed. This sort of approach gave Lakers players a sense of calm during the turbulent moments the Lakers typically endure, especially during the playoffs. If you think players are naturally impervious to this, then you did not see 36-year-old Antawn Jamison emerge from the shower and enter the locker room after the opening night loss to Dallas, his first game as a Laker. He was stunned by the sight of about 50 reporters. Wow, he said. Ive never seen anything like this. Any discomfort in reuniting with Jackson, now 67 and recovered from knee replacement surgery last March, should be finessed away easily enough. At least easier than his second run with the Lakers, which came after he published a memoir calling Kobe Bryant uncoachable. Kupchak acknowledged that the Lakers will at least have a conversation with Jackson. When theres a coach like Phil Jackson, one of the all-time greats, and hes not coaching, I think you would be negligent not to be aware that hes out there, Kupchak said. Where Steve Nash would fit with a triangle offense is a question that could be easily resolved, and so many of the Lakers core Pau Gasol, Bryant, World Peace, Steve Blake are already familiar with that offense. The one sticky matter could be how long Jackson expected to return and how it would impact Dwight Howards decision to re-sign when he becomes a free agent this summer. The Lakers, who might not have been in this circumstance had they hired Rick Adelman two years ago, are fortunate to have some other capable coaches on the market, the place Kupchak said they were most likely to look. Mike DAntoni, who has a strong relationship with Nash and has worked with Howard and Bryant on Team USA, would certainly be an improvement. And Nate McMillan is a strong defensive coach who has a good relationship with Bryant from the last two Olympics. I love Nate, Bryant said in 2011. Hes a no-nonsense guy. It is also likely that the Lakers would ask Indiana for permission to speak with Shaw, whose easy demeanor and ability to talk frankly with the strongest personalities would serve him well. But for the Lakers, if they are as all in as their summer had suggested, there is one call to make. Its one that would re-energize the locker room, as well as the fan base, and put someone on the bench who can see not just what is happening on the court but what is going on down the road. The Lakers corrected one mistake Friday. They know how to fix another.
Original Story:
http://www.foxsportswest.com/11/09/12...
THE BACKYARD
BEST OF MAXIM
RELATED ARTICLES
Back in the early 2000's, the rivalry between the San Antonio Spurs and Los Angeles Lakers was at epic proportions. Both teams had to go through one another en route to the NBA Finals as they competed for Western Conference supremacy. There was no love lost between the two squads and when they did meet in the playoffs, it was sure to be a series for the ages. It was Kobe...
The Los Angeles Lakers have spoken to 11-time NBA champion coach Phil Jackson about returning for a third stint on their bench. The Lakers confirmed the discussions with Jackson on Saturday on their website. Los Angeles fired coach Mike Brown on Friday after a 1-4 start to a season of enormous expectations. Interim coach Bernie Bickerstaff led the Lakers to a blowout win over Golden...
  If you're into conspiracy theories, you'd have to believe that the Lakers had reached out to Phil BEFORE they fired Mike Brown Friday morning. In any case, Yahoo is reporting that the Zen Master is back for his third go round with the Lakers. Jim Clemmons and Kurt Rambis are said to be joining [...]
Tweet Reports are pointing to the Los Angeles Lakers bringing back Phil Jackson, saying there is a 95% chance Jackson will return for his third stint as their head coach. The Lakers coaching vacancy was created when the team fired Mike Brown after a disappointing 1-4 record to begin the season. Jackson led the Lakers [...]
The Lakers have officially met with Phil Jackson, and he walked away without the head coaching position with Los Angeles. The Lakers haven't made Jackson an official offer, but it's been made clear the job is his if he wants it according to Mike Bresnahan from the Los Angeles Times. Los Angeles is making plans if Jackson rejects their offer. Mike Dunleavy, Mike D'Antoni and...
LOS ANGELES -- The L.A. Times is reporting that former Lakers' coach Phil Jackson met with team management Saturday, and is reportedly ready to take over the team for a third stint following Friday's unexpected dismissal of Mike Brown. However, a source close to the Lakers tells FoxSportsWest.com that while Jackson is definitely at the top of the list, there is no guarantee...
. Ok, not breaking news any more re. Mike Brown being fired, and I guess it's no surprise that the rumor mill is firing up massively as to who will be his replacement.  ESPN reports that Phil Jackson is open to a return to the NBA, Lakers general manager Mitch Kupchak told reporters Friday afternoon that the team's brain trust -- Kupchak along with Lakers owner Dr. Jerry...
Lenny Wilkens on Fox Sports Tonight talking about the firing of Mike Brown, where the Lakers stand, and the speculation of Phil Jackson coming back.
Like just about everybody else, Gary Payton believes Phil Jackson would be the best fit for the Los Angeles Lakers' coaching job. But the future Hall of Famer doesn't see Jackson wanting to come back. "Because he'd be going back into a situation where they blasted him when he left," Payton said in a phone interview with FOX Sports Florida, referring to Jackson...
After starting the season with one win out of their first five games the Los Angeles Lakers have decided it was time to move on from the Mike Brown era according to Yahoo! Sports. This morning coach Brown was removed from a meeting and informed that he was relieved of his duties. The Lakers this season were implementing a new offensive system that was partially to blame for their...
A day after Jim Buss and Kobe Bryant both came out in support of Lakers head coach Mike Brown. It's been announced that Brown has been fired. The Lakers who went 0-8 in preseason and also lost in the second round of the playoff last year are currently in the midst of their worst start [...]
NBA News

Delivered to your inbox

You'll also receive Yardbarker's daily Top 10, featuring the best sports stories from around the web. Customize your newsletter to get articles on your favorite sports and teams. And the best part? It's free!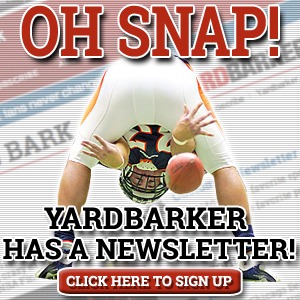 Latest Rumors
The Backyard

Today's Best Stuff

For Bloggers

Join the Yardbarker Network for more promotion, traffic, and money.

Company Info

Help

What is Yardbarker?

Yardbarker is the largest network of sports blogs and pro athlete blogs on the web. This site is the hub of the Yardbarker Network, where our editors and algorithms curate the best sports content from our network and beyond.