Found June 30, 2012 on Fox Sports Florida:
PLAYERS:
LeBron James
,
Hakeem Olajuwon
,
Tyson Chandler
,
Blake Griffin
,
Serge Ibaka
,
JaVale McGee
,
Timofey Mozgov
,
Kobe Bryant
,
Dwight Howard
,
Mike Woodson
,
Scott Brooks
,
Vinny Del Negro
TEAMS:
Miami Heat
,
New York Knicks
,
Los Angeles Clippers
,
Oklahoma City Thunder
,
Denver Nuggets
,
Los Angeles Lakers
,
Orlando Magic
It turned out quite well for LeBron James. Now, some other top NBA players hope it works for them. Hall of Fame center Hakeem Olajuwon, who tutored James last summer before his regular season and Finals MVP season with Miami, said Saturday that New York big men Amar'e Stoudemire and Tyson Chandler will work out with him in August in the Houston area and he's optimistic of Clippers forward Blake Griffin also enlisting his services. Olajuwon also said he'll try to get Oklahoma City forward Serge Ibaka in for a summer session and that Denver will be sending three or four big men to work with him, two he anticipates being JaVale McGee and Timofey Mozgov. McGee is a restricted free agent but the Nuggets expect to re-sign him. "The bottom line is the impact that I see from players (after having worked out with him)," Olajuwon said by phone from Amman, Jordan, where he spends half the year, the other half being at his ranch outside Houston, where the workouts are held. "I see how it takes these guys to another level." Olajuwon has previously worked out with Lakers guard Kobe Bryant and Orlando center Dwight Howard. He tutored James on post and other moves over four days last August, and James has given much credit to Olajuwon for expanding his game before a season in which he won his third MVP and first NBA title. Olajuwon said the workouts with Stoudemire and Chandler were set up by New York coach Mike Woodson, Olajuwon's Houston teammate from 1988-91. Olajuwon starred with the Rockets from 1984-2001. Stoudemire is coming off a trying season with the Knicks, his scoring average having fallen from 25.3 to 17.5. But Olajuwon believes he can take Stoudemire's game to another level. "He's comfortable facing up now," Olajuwon said of Stoudemire, a Lake Wales, Fla., native who makes his offseason home in Southwest Ranches, just north of Miami. "So, I'm going to expand all his face-up moves, and I'm going to teach other moves to him, and post-ups. So he can see that he will have more offensive skills So, all of a sudden, he'll go from one or two moves to up to 20 moves." Olajuwon, who has met Stoudemire a few times, said the priority will be work on the court. But Olajuwon, known for his calm demeanor, believes if a comfortable relationship is cultivated, his tips could expand to other aspects of Stoudemire's life. Olajuwon was asked if perhaps he could help Stoudemire's temperament. An upset Stoudemire bashed his hand on the glass surrounding a fire extinguisher following a lopsided loss at Miami in Game 2 of the first round of last spring's playoffs. The injury knocked him out of Game 3 and hampered him for Games 4 and 5 in the 4-1 loss to the Heat. "First of all, you just try to see his frame of mind at the time and you try to understand where he was coming from," Olajuwon said. "With the players that come in, I don't want to be judgmental. I want them to be very comfortable and be themselves If you gain their trust and respect, then they will take advice But the priority is the work on the court." Olajuwon also believes he can expand the offensive game of Chandler, who doesn't have much of one. Chandler, the NBA Defensive Player of the Year, averaged 11.3 points last season, the second-best mark of his career. "I look at Chandler, and he's a good finisher," Olajuwon said. "He has a great work ethic and he has the timing to catch lobs. So he already shows his agility right now. So we're going to put moves with that agility." The workout with Stoudemire and Chandler will be in late August because that's when Chandler is expected to be back after likely playing for Team USA in the Olympics. Around that time, Stoudemire is hopeful of also having a session with Griffin, who also could play in the Olympics. Olajuwon said there was talk with Clippers coach Vinny Del Negro about bringing Griffin in last year but it didn't work out due to the NBA lockout. But Olajuwon is optimistic about being able to tutor Griffin this offseason. "He needs it so bad because he has tremendous talent and his skills are so good," Olajuwon said. "So you give him opportunities and you give him ways to do that. It would be amazing what he could do with all the skills and talent (Griffin has) You saw in the playoffs, most of his points were more opportunity baskets. With the talent he has, I know it will be easy for him to be a different player." Olajuwon also wants to bring in Ibaka, runner-up for Defensive Player of the Year. Olajuwon plans to contact Thunder coach Scott Brooks, once his teammate in Houston, to stress the importance of Ibaka having a session. "He needs it," said Olajuwon, who believes the athletic Ibaka has the ability to be a much better offensive player. Sessions with Olajuwon run three or four days. Although he worked with James for a charitable donation, Olajuwon is usually compensated, with a player's team covering a cost he wouldn't reveal. Olajuwon, who was named MVP in 1994 and won titles with the Rockets in 1994 and 1995, is well versed in teaching post moves, but he stressed there's so much more to his sessions. "It's not just the low-post game, it's working on a scoring mentality," said Olajuwon, who does the teaching although he's assisted by some workout partners. "We work on face-ups It's not the same moves taught for every player. You look at every player and you see what their comfort level is and then you expand from that comfort level What I like is that you see a different player the next season. I want to see an instant impact." One thing is for sure. There have been no complaints from James about the impact Olajuwon had on him. Chris Tomasson can be reached at christomasson@hotmail.com or on Twitter @christomasson
Original Story:
http://www.foxsportsflorida.com/06/30...
THE BACKYARD
BEST OF MAXIM
RELATED ARTICLES
JOIN US
LeBron James took to Twitter Thursday evening to relay a discussion he had with his son about the potential of Ray Allen joining the Miami Heat.
  We all remember "The Decision" and Dan Gilbert's ad that called LeBron James as a selfish coward. Also, Mr. Gilbert proclaimed the Cleveland Cavs would win a championship before the Miami Heat. Well, the 2012 NBA Champions were certainly not the Cleveland Cavaliers, but the Miami Heat and LeBron James is discusses Dan Gilbert on [...]
LeBron James was arguably the greatest free agent to ever test the open market in professional sports. A player nearing the apex of a generational career available to all suitors. But a poorly executed public relations event that will go down in infamy as The Decision tarnished his stellar reputation. It was not the fact that he actually left his home town in order to chase rings...
The Boston Celtics have been a constant road block for LeBron James. He's had a personal rivalry with Paul Pierce for years and he's seen his playoff hopes dashed by the Celtics enough to make his distaste for anything Green understandable. And last night on Twitter, after the Celtics selected Ohio State's Jared Sullinger with the 21st pick of the draft, LeBron made...
Check out Luol Deng (Team Great Britain) and Lebron James (Team USA) in the new McDonalds commercial titled "Rivals" – fitting! -promoting the 2012 London Olympics.  
Team USA's basketball's roster for their men's team is not written in stone. Some feel that it has but after Players View spoke with Team USA's media rep Craig Miller, we found out that indeed the roster spots are still very much up for grabs. Please click the link below to read this feature that predicts Team USA's final roster of 12.
What type of reputation has been earned? Victor who deserves his spoils? Or villain who is worthy of nothing? Arrogance or assertiveness? Maturation or regression? These are all questions that seem to arise when talking about LeBron James. Two distinct camps. Each standing staunchly at opposite ends of the spectrum, sharing only an intensity of belief. Those who hate and those who...
LeBron James and the Heat have been on a media tour since winning the NBA title last week. The Heat's trio of stars made an appearance on "The View," and also did an interview with Oprah Winfrey that will air on Sunday. One of the clips from the interview was released to Fox Sports Florida to get the public interested in watching. In the clip, LeBron says the nasty letter...
MIAMI -- Miami star LeBron James didn't want to talk about his former team after his Heat won the NBA title June 21. But he was willing to shortly thereafter with Oprah Winfrey. In an interview with Winfrey that will be broadcast Sunday, James admitted it was "hurtful" when Cleveland owner Dan Gilbert wrote a letter blasting him after James had bolted the Cavaliers...
Often blinded by the athleticism of the likes of LeBron James, Kobe Bryant and the current crop of stars, many NBA fans will fail to realise that earlier eras of the National Basketball Association were stacked with athletic talent and razzamatazz too.  As you'll see in this highlights video, the 1960s had its fair share of flashy passes and high-flying dunks. There are too...
Cleveland Cavaliers owner Dan Gilbert proved to be a bitter and resentful man following the departure of LeBron James two years ago. Gilbert went out of his way to make sure James and Cavs fans were aware of his displeasure. Danny boy took business personal by taking out an ad in a local paper, labeling LBJ23 as a selfish coward. He didn't stop there as you may recall...
The Miami Heat are expected to pursue Ray Allen in free agency and LeBron James began the recruitment process during the Draft.
NBA News

Delivered to your inbox

You'll also receive Yardbarker's daily Top 10, featuring the best sports stories from around the web. Customize your newsletter to get articles on your favorite sports and teams. And the best part? It's free!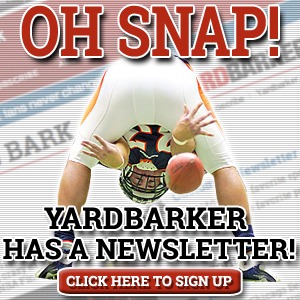 Latest Rumors
The Backyard

Today's Best Stuff

For Bloggers

Join the Yardbarker Network for more promotion, traffic, and money.

Company Info

Help

What is Yardbarker?

Yardbarker is the largest network of sports blogs and pro athlete blogs on the web. This site is the hub of the Yardbarker Network, where our editors and algorithms curate the best sports content from our network and beyond.