Found November 30, 2012 on Fox Sports Carolinas:
CHARLOTTE, NC For most of Friday night, the Charlotte Bobcats were done in by their defense; their not-so-good defense. Call it lackluster, call it weak in the paint, call it strategic miscommunication. Whatever it was, the Philadelphia 76ers took advantage in a 104-98 victory over the home team at Time Warner Arena. It didn't have to be that way, however. Bobcats coach Mike Dunlap called at least two timeouts to talk to his team about their defense, but the first one didn't really work and the second one had a small effect. He tried some zone and various looks in the man-to-man, but not until late in the third quarter did the Bobcats offer much resistance, especially in the paint. Dunlap's emphasis when he took over last spring was to focus first on defense. He wanted the team's energy to first be geared toward defense. He wanted the culture to change to where teams struggled to score against the Bobcats. If it meant lower-scoring games because the offense struggled as a result, so be it. Defense is a mindset, and that's obviously something that hasn't been fully entrenched in the organization's culture yet in his 15th game as the head coach. Dunlap wasn't going to publicly dump on his team, but it was clear defense was the issue Friday night. How else can you explain the 76ers getting 66 points in the paint? "We can be better," Dunlap said when asked about the defense. It was all he said in response to a question about those points in the paint. He then sat there as silence filled the postgame press conference room. The media was mum, too, perhaps unsure of what to ask next. Philadelphia converted 55.8 percent of its field goal attempts by halftime and 51.2 percent on the night. There was a drop off in the second half, but not much of one. "I just thought we could have greeted them a little earlier at three-quarter court and force their sets to start up a little higher," Dunlap said. Even with the surprising start the Bobcats are now 7-8 with the loss it must be remembered where this team is coming from and what Dunlap and the organization are trying to instill. He sees the positives and growth through the losing, and that the team tied it at 81-81 is an example of when its fight finally caught up with where it needed to be, the Cats were able to push the 10-6 Sixers. It also required significant help from the bench. With respect to Ben Gordon, who scored 19 points off the bench and drained three 3-pointers on the night, perhaps the most important substitution Dunlap made was inserting Bismack Biyombo into the game for 7-foot veteran Brendan Haywood in third period. The 6-9, 245-pound Biyombo is 13 years younger than Haywood and was quicker defending the Sixers' interior. But it wasn't just Philly's bigs, it was the others who got into the lane. Biyombo, who averages just 3.5 points and 5.2 rebounds in 19.8 minutes per game showed some flashes of what the brass thinks will eventually be more of a consistent thing from him. He finished with 14 points, seven rebounds and three blocked shots in 24 minutes versus the Sixers. It was his best all-around game of the season. "The main thing going on with Bis is he's improving," Dunlap said. "He's 20 years, so he's getting a nice bite of the apple, so that's one thing that is happening. Two is, I think that we've been very consistent about throwing him the ball, even though sometimes that's been a little dicey. So he knows that regardless of the storms in the early days of his development, we're going to keep going to him. "And three is he has a physical prowess and power about him. He's a banger, He works to get the ball, and either defense or offense, he's just an active player. We still have to be patient with him, but he's growing for us before our very eyes." And that's what ultimately matters with this team and franchise. The hot start may have presented the delusion t some that Charlotte is playoff bound, but that's just not likely. Instead, this is a process, and Dunlap will keep that drumbeat going even if nobody is listening. This isn't a one-year proposition. This is a roll-up-your-sleeves and sink your teeth into the future of the franchise deal. So the Bobcats may have lost Friday night, and Dunlap may not be pleased with a lot of what he saw, but he still can place a value on what he did like. And that by itself moved the organization forward.
Original Story:
http://www.foxsportscarolinas.com/11/...
THE BACKYARD
BEST OF MAXIM
RELATED ARTICLES
The Charlotte Bobcats have surprised everyone with a solid start to the 2012-13 NBA season, sitting at 7-7 and for the moment holding the eight and final playoff spot in the Eastern Conference. Whether or not that spot holds 68 games from now is anyone's guess, but trade talk is going to swing around eventually. [...]
SMOOTH MOVE
Kemba Walker helped the fans who attended Friday's game win tickets to an upcoming Charlotte Bobcats game. See how he did it.
As Brendan Haywood quietly sits with ice packs on both knees, legs bent and sore, his eyes dart around the visitor's locker room searching for a connection. The question concerns his frontcourt running mate, Byron Mullens, an unorthodox big man whose game Haywood is having trouble to compare, flickers of similarities and differences visibly going off in his head. He's only...
We're in December now, and as I flipped my 2012 Bobcats wall calendar to reveal Matt Carroll as this month's pinup, I noticed a disturbing trend.  The six featured players in this year's calendar were Stephen Jackson, Carroll, Shaun Livingston, DJ Augustin, Gerald Henderson, and Tyrus Thomas.  In other words: traded, traded, traded, traded, injured, [...]
We really need to get the conference room cleaned up... You know, here at Trade Street Post, we strive to give you every game recap, any interview we can score, and any news nugget that we can find about our beloved Charlotte Bobcats.  Other times we do not share emails that we all have back and forth among one another, when we decide to start discussing articles.  We typically...
Here's NASCAR Sprint Cup champion Brad Keselowski "hooping it up" during halftime at a Charlotte Bobcats game, and I'd make more jokes about how he's terrible, but he's not much worse than the Charlotte Bobcats. (via The Nosebleeds)- Follow us on Twitter @withleather - Follow me personally @MrBrandonStroud and Burnsy @MayorBurnsy - Like us on Facebook.LinksThe 'Rock...
CHARLOTTE, N.C. -- Jason Richardson hit four clutch 3-pointers in the fourth quarter to help lift the Philadelphia 76ers to a 104-98 win over the Charlotte Bobcats on Friday night. Richardson's 3-pointer with 7:30 remaining gave the Sixers the lead for good at 86-83, then he drilled two more in the next three minutes as the Sixers pulled away and eventually led by as many as...
Hornets News

Delivered to your inbox

You'll also receive Yardbarker's daily Top 10, featuring the best sports stories from around the web. Customize your newsletter to get articles on your favorite sports and teams. And the best part? It's free!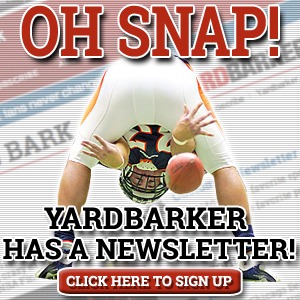 Latest Rumors
The Backyard

Today's Best Stuff

For Bloggers

Join the Yardbarker Network for more promotion, traffic, and money.

Company Info

Help

What is Yardbarker?

Yardbarker is the largest network of sports blogs and pro athlete blogs on the web. This site is the hub of the Yardbarker Network, where our editors and algorithms curate the best sports content from our network and beyond.