Found March 23, 2013 on Celtics Green ...a boston celtics blog.:
PLAYERS:
Tayshaun Prince
,
Rudy Gay
,
Avery Bradley
,
Courtney Lee
,
Terrence Williams
,
Tony Allen
,
Paul Pierce
,
Brandon Bass
,
Zach Randolph
,
Kevin Garnett
,
Marc Gasol
,
Jeff Green
,
Jason Terry
,
Chris Wilcox
,
Jordan Crawford
,
D.J. White
,
Shavlik Randolph
,
Rajon Rondo
,
Jared Sullinger
,
Fab Melo
,
Jerryd Bayless
,
Darrell Arthur
,
Ed Davis
,
Tony Wroten
,
Quincy Pondexter
,
Austin Daye
,
Dexter Pittman
,
Jon Leuer
,
Metta World Peace
,
Kurt Rambis
TEAMS:
Boston Celtics
,
Memphis Grizzlies
,
Toronto Raptors
,
Indiana Pacers
   at  Boston Celtics (36-32)  at  Memphis Grizzlies (46-22) Saturday, March 23, 20138:00 PM ET Regular Season Game #69, Road Game #35TV:  CSN-NE, SSO-MEM, NBA LP  755(BOS)/756(MEM)Radio:  WEEI, WMFSFed Ex Forum  Referees:  Bill Spooner,  Marat Kogut,  Zach Zarba The Celtics look to close out their road trip against a Grizzlies team that is playing very well.   Memphis is 12-3 since the All Star break with all 3 losses coming on the road.  They have also won 16 of 21 since the trade that brought Tayshaun Prince to Memphis for Rudy Gay.  The Grizzlies beat the Celtics 93-83 in January at the Garden. That was before the Grizzlies' big trade and it was also Avery Bradley's first game back from his shoulder injury.  The Celtics also  had both Rondo and Sully and so both teams are considerably different since their first meeting.  Both teams are also in the heat of the playoff race.  The Celtics are still in 7th half a game behind Chicago in 6th and 1.5 behind Atlanta in 5th.  They are also staying 2 games in front of Milwaukee for the 8th spot and a 1st round matchup with the Heat.   The Grizzlies are in 5th in the West  just half a game behind the Clippers in 4th and 1 game behind Denver in 3rd.  The Celtics have dropped to 5-5 in their last 10 while the Grizzlies are 7-3 in their last 10.  The Celtics are a terrible 12-22 on the road while the Grizzlies are a tough 27-8 at home.   Both teams are coming off a loss on the road and both had to travel overnight, so neither has an advantage in that area.   The Grizzlies had won 2 in a row before dropping their last game to the Hornets.  The Celtics have lost 3 in a row and really need to get a win to keep this road trip from being a total disaster.  Courtney Lee went down with an ankle injury in the Mavs game and considered day to day.    I'm leaving him in the starting lineup since he may or may not play and  I don't know who Doc would start, possibly JET or Terrence Williams, if Lee can't go.  Probable Starting Matchups Point Guard   vs  Avery Bradley vs Mike Conley Shooting Guard   vs  Courtney Lee  vs Tony Allen Small Forward   vs  Paul Pierce  vs  Tayshaun Prince    Power Forward   vs  Brandon Bass   vs  Zach Randolph    Center   vs  Kevin Garnett  vs  Marc Gasol  Celtics Reserves Jeff Green Jason Terry Chris Wilcox Jordan Crawford DJ White Shavlik Randolph Terrence Williams Injuries Rajon Rondo (knee)  out Jared Sullinger (back) out Courtney Lee (ankle)  day to day Red Claws Fab Melo Grizzlies Reserves Jerryd Bayless Wayne Ellington Darrell Arthur Ed Davis Josh Selby Tony Wroten Quincy Pondexter Austin Daye Dexter Pittman Jon Leuer Injuries Darrell Arthur (back) day to day Key Matchups  vs  Kevin Garnett vs Marc Gasol Brandon Bass vs Zach Randolph The matchup between the Celtics bigs and the Grizzlies bigs will be key in determining the winner.   The Grizzlies are strong where the Celtics are weakest and that is in the middle.  I expect KG to cover Gasol and Bass to cover Randolph because he is so physical that he'd be a tough cover for KG.  Honorable Mention Paul Pierce vs Tayshaun Prince   Prince is long and has always posed problems for Paul Pierce on both ends of the court.   Jeff Green would match up better with him and I expect to see that matchup for at least parts of the game.  Keys to the Game Defense - The team that works hardest on defense will be the team that wins.  The Grizzlies are a good defensive team and will limit the Celtics' easy looks.  They lead the league in points allowed at 89.2 points per game.   The Celtics will need to match their defensive intensity if they want to win this game as they won't win in a shoot out.  The Grizzlies are undefeated (20-0) when scoring 100 points in a game.   They are also just 2-6 when allowing their opponents to score 100 points.  The Celtics' defense against the Mavs was terrible for the most part.  They struggled to cover the pick and roll and allowed the Mavs to score 30 in the first quarter and 104 points for the game.  Not only will they lose this game if they continue to slack off on  defense,  they will also be a very quick first round out in the playoffs.    The Celtics must bring their A-game on defense if they hope to get back to winning.  Rebound - Rebounding is very important in limiting fast break points and second chance points for Memphis.  The Grizzlies are very good at getting second chance points off of offensive rebounds and putbacks with Randoph and Gasol playing inside.    The Celtics must be aggressive in crashing the boards.  The team that wins the battle of the boards usually wins the game.    The Celtics have been outrebounded by large margins in their last 2 games.  They must do better.  Take Care of the Ball - The Grizzlies are among the best in the league in forced turnovers and steals and they are also very good at scoring off those turnovers.  The Celtics tend to get sloppy and turn the ball over at times and they must take care of the ball and avoid careless passes and lapses in focus or the Grizzlies will make them pay. Be Aggressive for 48 Minutes - When the Celtics are passive and settle for jumpers and don't swarm on defense they end up in trouble.  The Celtics need to come out strong and play aggressively until the final buzzer.  They can't allow the Grizzlies to build a lead because their defense will make it difficult to come back.   They also must be aggressive in going to the basket and not just shoot jumpers.  X-Factors Fatigue and Focus Both teams are playing in back to back games and both teams had to travel after their games.   Bench play will be crucial in order for the starters to have enough energy to close out the game.  The Celtics tend to lose focus on the road and they have to find a way to keep their focus on defense and winning from start to finish.   Official Report Bill Spooner Over the past 23 seasons, veteran official Bill Spooner has worked 1,281 regular season games and 87 NBA playoff games. He officiated his first two Finals games during the 2010-11 season. In addition to his NBA experience, Spooner has seven years of collegiate officiating experience. He also has eight years of high school officiating experience in his home state of California. Spooner is the ref who failed to call Kobe's elbow to the throat of Ron Artest a couple years back, even though he was the ref in position to call it. Artest's complaints resulted in his ejection but nothing was called on Kobe in the game. The league later admitted their error and assessed Kobe a flagrant 1 for the elbow. But that didn't help Houston who had to play without Artest the rest of the game. Spooner is also the ref that was caught by a reporter telling Kurt Rambis that he would make up for a bad call he made on the other end. The Celtics are 1-1 this season and 4-6 in their last 10 games with Spooner. The loss this season was to Milwaukee where the Celtics took 21 free throws to 12 for the Bucks. The win was over Utah where the Celtics took 20 free throws to 24 for the Jazz and the officiating was good. The Grizzlies are 5-5 in their last 10 and this is the first game Spooner is calling for them this season. His home W/L record this season is 18-10. Marat Kogut Marat Kogut enters his fourth year as an NBA Referee having officiated 163 games. Kogut immigrated to the United States with his family seven days after he was born. Raised in Brooklyn, NY, he started officiating at the age of 16 at local recreational youth leagues. His professional experience includes three years in the WNBA, as well as 4 years in the NBA Development League, where he officiated over 180 games, including the Finals in his last two seasons and the 2009 D-League All-Star Game in Phoenix. Prior to joining the NBA officiating staff, Kogut worked in several Men's NCAA mid-major Division I conferences, including the Ohio Valley Conference, Atlantic Sun, and Big South Conference, as well as in New York metro area High School basketball for four years. Kogut was the Head Men's Basketball Manager for the St. John's Redstorm. The Celtics are 2-2 this season and 5-5 in the last 10 games with Kogut calling them. In one loss last season to the Lakers that Kogut called, the officiating was terrible and LA shot 20 free throws to 5 (yes, FIVE) for the Celtics. In a game vs the Pacers this season, the refs let them play in the first half and then in the second half they started calling a lot of ticky tack fouls on the Celtics. KG was called for a flagrant 2, which has since been downgraded. The Pacers shot 18 free throws in the second half to 9 for the Celtics. The second loss was to the Bobcats where the Celtics shot 26 free throws to 30 for the Bobcats and there were questionable calls both ways. His last game for the Celtics was a win over the Raptors where the Celtics shot 35 free throws to 19 for the Raptors and the Celtics seemed to get the benefit of close calls. The Grizzlies are 3-2 this season and 5-5 in their last 10 games with Kogut as a ref. His home W/L record this season is 24-18. Zach Zarba Zach Zarba has officiated 559 regular season NBA games and 17 Playoff games during his nine-year career. Prior to joining the NBA, Zarba officiated in the NBA Development League for two years, where he was part of the crew that officiated the 2003 D-League Finals. He also spent one year officiating in the CBA and two years officiating in the IBL. Zarba has three years of collegiate officiating experience in the ACC, SEC, Colonial, ASUN, OVC and NEC Conferences. In addition, he has three years of high school officiating experience in New York. While at New Paltz, Zarba was a member of the basketball team and was named captain his senior season. The Celtics are 4-0 this season and 8-2 in their last 10 games with him. In the win over Cleveland, Zarba made 3 terrible calls down the stretch which prompted Tommy to say "Zach Zarba, every time we have this guy he makes things up. In the win over Brooklyn on Christmas Day, the Nets shot 29 free throws to 13 for the Celtics and again there were some very bad calls against the Celtics. In the win over the Clippers, the Celtics shot 27 free throws to 21 for the Clippers and the officiating was fairly good. The Grizzlies are 2-0 this season, and 10-0 in their last 10 games with Zarba as an official. His home W/L record this season is 29-27. [Discuss on CG Forums!]
Original Story:
http://celticsgreen.blogspot.com/2013...
THE BACKYARD
BEST OF MAXIM
RELATED ARTICLES
BANK ON IT
Jason Terry is confident that the Celtics will meet the Heat in the playoffs and that there will be "fireworks." He had more to say.
Uh oh. We have been here before, and quite frankly it makes me want to crawl under a rock and hide from the light of day.  This news came out today via the Boston Globe in regards to Kevin Garnett:Coach Doc Rivers was unsure when Garnett sustained the injury. Garnett missed two games because of a strained left adductor muscle and the flu, but returned for two games, combining...
I was very surprised to see how few Grizzlies fans were posting on the boards.  Maybe some of the usual posters were at the game but given the fact that there were also plenty of Celtics fans at the game and how successful the Grizz have been,  you would think there would be more fans posting.  I had to laugh at the reaction to Tony's foul on the 3 at the end.  I recall so...
There obviously has not been much to cheer about this week for Celtics fans. But last night, we got to see yet another vicious throw down by one of the C's. This time, it was Avery Bradley. Check out his flush on Memphis' Ed Davis in video, GIF & picture format. Photos courtesy of HoopChina.
Former Celtics' guard Ray Williams has died at age 58.   He was a combo guard brought on board to help with the Celtics' depth in 1985. You can find out more on what Ray was up to here. Our condolences go out to the Williams' family from everyone at Celticslife.
We already knew that there was a good chance Courtney Lee would be out tonight, but now we find out KG is also hurt. From the Celtics' official Twitter: Kevin Garnett and Courtney Lee are both out tonight with sprained left ankles. — Boston Celtics (@celtics) March 23, 2013 No word on how KG hurt his ankle. Multiple media reporting he will have an MRI back in Boston on Monday...
Tonight's 110-106 loss to the Grizzlies was filled with ups and downs. The Celtics got off to nice start, but slipped in the second and third quarters. Their fourth quarter contained a rally that didn't start until about the 6:00 mark. Had it started earlier, they definitely would've won. But it didn't. What's done is done. Tonight's USOTN easily goes to...
Just a few random thoughts for tonight's post game wrap up.  First, KG's injury is troubling.  He didn't seem to injure the foot in the game but they said he was walking gingerly afterwards.   It is being described as a foot injury rather than an ankle injury. And the fact that they are going to take an MRI makes it even more worrisome.    I remember back in that...
Tip: 8:30PM     Court: American Airlines Center     Watch it: CSNNE    Hear it: WEEI Referees:  Ed Malloy, Bennie Adams and Leroy Richardson Spread: DAL -4.5 Boston Celtics Tickets Are you watching or going to tonight's Celtics game? RSVP here and be entered to win $200 in free tickets. The Matchup Record: 36-31 Record: 32-36 On road: 12-21 At home: 18-14 Streak...
MEMPHIS, Tenn. (AP) -- Jerryd Bayless scored a season-high 30 points and the Memphis Grizzlies weathered a fourth-quarter rally by Boston's reserves to escape with a 110-106 victory over the Celtics on Saturday night. Seven Memphis players finished in double figures and three recorded double-doubles. Darrell Arthur, starting for Zach Randolph, scored 18 points, while Randolph...
After knocking off #2 seed Georgetown 78-68 on Friday, the Eagles of Florida Gulf Coast University just beat seventh seeded San Diego State (81-71) to become the first #15 seed in the history of the NCAA Tournament to reach the Sweet Sixteen.  FGCU has only been in existence for 16 years, and moved up to Division 1 just two seasons ago.  When they take on the Florida Gators in...
The Memphis Grizzlies have done a great job taking care of their home court, but the road has been the problem lately. For the Washington Wizards, home has been where they've enjoyed their most success. The Grizzlies will try to avoid their first four-game skid outside Memphis in two seasons on Monday night when the Wizards - making a brief stop back in the nation's capital...
NBA News

Delivered to your inbox

You'll also receive Yardbarker's daily Top 10, featuring the best sports stories from around the web. Customize your newsletter to get articles on your favorite sports and teams. And the best part? It's free!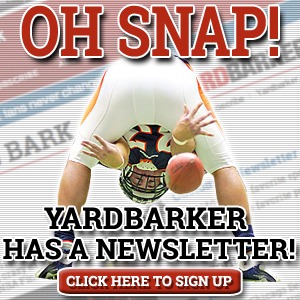 Latest Rumors
Best of Yardbarker

Today's Best Stuff

For Bloggers

Join the Yardbarker Network for more promotion, traffic, and money.

Company Info

Help

What is Yardbarker?

Yardbarker is the largest network of sports blogs and pro athlete blogs on the web. This site is the hub of the Yardbarker Network, where our editors and algorithms curate the best sports content from our network and beyond.