Found August 15, 2012 on Sports Junkie Online:
PLAYERS:
Damian Lillard
,
Jonny Flynn
,
Chris Paul
,
Raymond Felton
,
Nolan Smith
,
Ronnie Price
,
Kurt Rambis
,
LaMarcus Aldridge
,
Nicolas Batum
,
J.J. Hickson
TEAMS:
Portland Trail Blazers
,
Los Angeles Clippers
,
New York Knicks
After earning the Las Vegas Summer League co-MVP honors, Portland Trail Blazers point guard Damian Lillard appears to have the talent to be one of the 2012-2013 season's top rookies. In order to try and project how Lillard might do, I've listed every point guard selected from the third through ninth picks over the past ten drafts. From those, I've narrowed the list down to those who either: a) started the majority of their games played; b) played at least 27 minutes per game, and; c) are either a respectable scorer or played more like a scoring point guard since entering the league.
2011 - #9 Kemba Walker (27.2 mins, 12.1 pts, 3.5 rebs, 4.4 asts, 1.8 TO, 46.4 TS%)
2009 - #6 Jonny Flynn (28.9 mins, 13.5 pts, 2.4 rebs, 4.4 asts, 2.9 TO, 45.7 TS%)
           #7 Stephen Curry (36.2 mins, 17.9 pts, 4.5 rebs, 5.9 asts, 3.1 TO, 56.8 TS%)
2008   #4 Russell Westbrook (32.5 mins, 15.3 pts, 4.9 rebs, 5.3 asts, 3.3 TO, 48.9 TS%)
2007 - #4 Mike Conley (26.1 mins, 9.4 pts, 2.6 rebs, 4.2 asts, 1.7 TO, 50.2 TS%)
2005 - #3 Deron Williams (28.8 mins, 10.8 pts, 2.4 rebs, 4.5 asts, 1.8 TO, 50.0 TS%)
           #4 Chris Paul (36.0 mins, 16.1 pts, 5.1 rebs, 7.8 asts, 2.3 TO, 54.6 TS%)
           #5 Raymond Felton (30.1 mins, 11.9 pts, 3.3 rebs, 5.6 asts, 2.3 TO, 48.3 TS%)
2002 - #2 Jay Williams (26.1 mins, 9.5 pts, 2.6 rebs, 4.7 asts, 2.3 TO, 47.2 TS%)
*stats and draft information from basketball-reference.com          
After Lillard was drafted, Trail Blazers general manager Neil Olshey declared that he was the teams' franchise point guard. I take that to mean that Lillard will be the starting point guard when the regular season rolls around. There is likely to be some push from second year point guard Nolan Smith, but with Olshey taking over for interim GM Chad Buchanan, as well as a new coach in place, there likely will not be any emotional ties to "their guy". The team also signed Ronnie Price to a one-year veterans minimum contract, but will at best find himself as the backup. Knowing what we do about his competition (or relative lack thereof), I suspect Lillard will likely see around 30 minutes per night, which is in the neighborhood of standard "starter" minutes in the league. Keeping that in mind, I've averaged out the above nine players numbers out to 30 minutes, them combined them to create averages, highs and lows based on each statistic listed.
                                      Best                             Average                    Worst
Points/30:               14.9 (Curry)                    12.72                       10.8 (Conley) 
Rebounds/30:     4.5 (Westbrook)                  3.40                  2.5 (Flynn, Williams)
Assists/30:                6.5 (Paul)                        5.13                          4.6 (Flynn)
Turnovers/30:  1.9 (Williams, Paul)              2.36                3.0 (Flynn, Westbrook)
TS%:                      56.8 (Curry)                    49.78                        45.7 (Flynn)
Looking at the numbers, it's little surprise that the "best" players in each of these categories is a very good to All-Star caliber player. When looking at the "worst" players in each category, you still see some All-Stars players in there, but the name repeated often is Jonny Flynn. Part of his struggles could have been while playing in Kurt Rambis' triangle offense in his rookie season (as Flynn has the most success in pick-and-roll), but he also struggled in Houston and Portland as well.
Projection: 15.5 points, 3.4 rebounds, 4.9 assists, 2.6 TO, 52.3 TS%
Lillard will struggle defensively early in his career, as the NBA is a far cry from the level of competition he faced in the Big Sky conference. That being said, his execution in the pick-and-roll in college, as well as the Las Vegas Summer League, has shown to be NBA-ready. He also has NBA-caliber quickness and athleticism, as well as a above average-to-good three-point shot. Lillard will obviously have to be more judicious with his shot selection, as he'll have an All-Star-caliber frontcourt player in power forward LaMarcus Aldridge. There will also be solid three-point shooters to space the floor in small forward Nicolas Batum and shooting guard Wesley Matthews.
Ultimately, Lillard will probably put up better numbers scoring numbers than just about anyone on this list did as a rookie, as his well-rounded offensive game and lack of competition at point guard will see him log more than my projected 30 minutes. He also showed a good feel for throwing lobs, which will benefit players like Aldridge, Batum and J.J. Hickson, is not the kind of passer/facilitator that Paul, Williams and Felton were as rookies. Portland isn't a great rebounding team, so Lillard will be at least respectable on the boards.
Original Story:
http://sportsjunkieonline.blogspot.co...
THE BACKYARD
BEST OF MAXIM
RELATED ARTICLES
What should PDX expect next season? The Portland Trail Blazers spent nearly the past five months without a permanent head coach, but with the news that Terry Stotts has been hired this offseason, the team is finally ready to get past the summer and hit the court in 2013. We won't know exactly what this team is going to look like until the season tips off, but one thing we do know...
You may not yet be familiar with Will Barton (or maybe you watch college basketball, I don't know), the 40th overall pick of the Portland Trail Blazers, but the man has had himself a couple of moments this summer. Back in Vegas, balling alongside SL Co-MVP Damian Lillard, Barton averaged 15 points in 5 games and 4 starts for a Blazers team that went 4-1.  He exploded for a combined...
BLAZING A TRAIL
When Team Baltimore's Best faced off against Team Under Armour in Baltimore this week familiar names to hoops fans like Brandon Jennings, Kemba Walker, Derrick Williams, and DeAndre Jordan were on the floor. But it was the 40th overall selection in this year's draft by the Portland Trail Blazers who stole the show as the Baltimore [...]
Greg Oden is an unrestricted free agent without a team in sight. That sounds a little weird to say, considering Oden starred at Ohio State during the 2006-07 season, leading the Buckeyes to the NCAA championship game as a freshman and becoming the No. 1 overall pick (by Portland) in the NBA draft that followed. But that was five years ago, and two knee surgeries and a few assorted...
When the Dwight Howard saga came to a merciful end last Friday after his trade to the Lakers, NBA fans in small markets rolled their collective eyes, and settled in for another big market championship that will almost assuredly take place next June. Blazers fans were in the mix, and it was made more painful that their bitter rivals to the south once again reaped the rewards of an...
NBA News

Delivered to your inbox

You'll also receive Yardbarker's daily Top 10, featuring the best sports stories from around the web. Customize your newsletter to get articles on your favorite sports and teams. And the best part? It's free!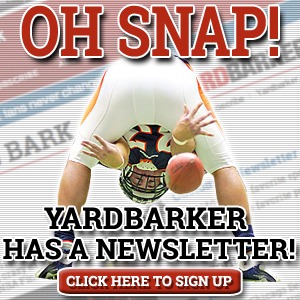 Latest Rumors
Best of Yardbarker

Today's Best Stuff

For Bloggers

Join the Yardbarker Network for more promotion, traffic, and money.

Company Info

Help

What is Yardbarker?

Yardbarker is the largest network of sports blogs and pro athlete blogs on the web. This site is the hub of the Yardbarker Network, where our editors and algorithms curate the best sports content from our network and beyond.