Found April 10, 2013 on Taking Bad Schotz:
The Belizean basketball player Milt Palacio was born in Los Angeles, CA in 1978. Palacio played ball at Junípero Serra High School, commonly referred to as just Serra, in Gardena (Side note: Serra has recently produced USC Wide Receiver tandem Robert Woods and Marqise Lee who both played basketball there too. It's also important to note that Montell Jordan went there….*This is how we do it*). The athletic guard ended up following the similar paths of Spud Webb and Mookie Blaylock by playing for Midland College in Texas. After one year there, Milt went to play for Colorado State. In his first season as a Ram, Palacio quietly contributed 7.9 ppg. The following year Palacio improved to nearly 10 ppg (37.7 3PT%) with 5.1 apg and 3.6 rpg. In his final season Milt broke out.  In 35 mpg the point guard was averaging 18.4 ppg, 4.3 apg, 5.1 rpg, and 2.0 spg. That season he set career highs with six three-balls and 31 points against UNLV. Milt Palacio entered the 1999 NBA Draft but didn't hear his beautiful name called. In September 1999 the 21-year-old signed with the Vancouver Grizzlies, and despite playing just over 7 mpg, Milt got to be a part of 53 games where he averaged a bucket a game. Before Palacio could see a transition to Memphis he signed with the Boston Celtics. He averaged just under 6 ppg and 2.6 apg before he was waived only to be signed to two 10-day contracts shortly after. In 2002 Palacio joined Joe Johnson, Randy Brown, and 1st round pick (Casey Jacobsen) in a trade to Phoenix for Tony Delk and Rodney Rodgers. Palacio became a non-factor on a team that was led by point guard Stephon Marbury. Later in the year he was traded yet again, but this time to the Cavs for a 2008 2nd round pick (who ended up being Oregon's Malik Hairston). Palacio finished the season playing in 80 games while starting in 46 of them. The two other point guards on the team were Dajuan Wagner and Smush Parker. Palacio was able to contribute a solid 5 ppg. In that offseason the point guard signed with Toronto where he would stay for two years and average 5 ppg and 3 apg. In 2005 he signed with the Utah Jazz and averaged a career high 6.2 ppg playing behind Deron Williams. via basket4us.com Despite the career season Palacio wasn't re-signed, and went off to play all over the world for the rest of his career. He started in Serbia with Partizan, then went to Russia with Khimki before going back to Partizan again in 2010. In the past three years Palacio has bounced around to Kavala (Greece), Caja Laboral (Spain), Blusens Monobus (Spain), Piratas de Quebradillas (Puerto Rico), Bnei Herzliya (Israel), and most recently the 35-year-old played in Lithuania for Lietuvos rytas this past season. If you still don't remember Milt Palacio try to remember him for this… The video cannot be shown at the moment. Please try again later. -Schotz
Original Story:
http://www.takingbadschotz.com/?p=13305
THE BACKYARD
BEST OF MAXIM
RELATED ARTICLES
This may come as a shocker to many, but as a local sports blogger I make $0.00 for running this site. So, every work day I go to my day job from 5:30am to 3:00pm. These are pretty sweet hours in my opinion. So,  when I take my 10 minute drive home I listen to the beginning of all the afternoon drive sports talk shows. Yesterday, Gordon Monson made two complaints about Trey Burke's...
Utah Jazz center Enes Kanter has been suffering from a dislocated left shoulder. To reduce the likelihood of the 20-year-old reinjuring the shoulder, Kanter underwent season-ending surgery yesterday to repair the dislocation, according to Bill Oram of The Salt Lake Tribune.While it's never good to have a player sidelined for the remainder of a season, Jazz general manager Dennis...
Utah Jazz center Enes Kanter will have surgery to repair damage on his dislocated left shoulder and will miss the rest of the season. The team announced the decision Tuesday before Utah's game against the Oklahoma City Thunder. Surgery is set for Wednesday and will be performed in Chicago by Dr. Guido Marra. The 20-year old Kanter hinted last week that he might be done when...
credit: http://binaryapi.ap.org/ The Utah Jazz currently sit .5 games up on the Los Angeles Lakers for the 8th spot in the Western Conference, after appearing dead in the water two weeks ago on March 24th. But since that point, the Jazz have gone on a 5 game  winning streak, and have won 7 out of their last 8 games, which has allowed them to regain possession of the #8 seed in the...
According to the Salt Lake Tribune, Utah Jazz big man Enes Kanter, will miss the rest of the season – which may or may not include a playoff run – because of surgery to his dislocated shoulder. Kanter is averaging 7.2 points and 4.3 rebounds in 15.4 minutes per game in his second season for the Jazz. The Jazz's center picked up the injury in a game against the Phoenix Suns...
Jazz center Enes Kanter will undergo a surgical repair on his injured left shoulder.
(Eds: Adds details, quotes. With AP Photos.) By LYNN DeBRUIN AP Sports Writer More than the playoffs are on the line in Utah's regular-season home finale Friday night against the Minnesota Timberwolves. The game could be the last in Salt Lake City for as many as nine Jazz players with expiring contracts, including starters Paul Millsap, Mo Williams, Al Jefferson and Randy Foye...
Russell Westbrook is a walking big play. When the Oklahoma City Thunder point guard took these points to the hole, he did not posterize one individual he shamed every opponent that ducked when he came into the paint. Please click here to watch this video. Video: Russell Westbrook throws down on the Utah Jazz appeared first on Players View.
Oklahoma City Thunder point guard Russell Westbrook does some amazing things on the court. With an array of weapons in his arsenal, you can't leave Mr. 'Why Not" with an open lane to the basket. When you do, stuff like this happens.   Poor Utah Jazz, with last night's loss to the Thunder, the Jazz are once again out of the eight playoff spot in the west. Guess who'll...
The Jazz were not the ones expecting to be overpowered and outplayed by a struggling Thunder team. While there are still plenty of question marks for Oklahoma City, there was no doubt whether who won and who lost Tuesday night. Here's our report card of last night's contest: A - Thunder's physicality Having tough guys on a team is one thing. However, tough...
Okay, before you Celtics' fans chew me out, hear me out. Our NBA season has been over for a couple weeks now as we have been preparing for match-up with the New York Knicks. I wrote an article on March 18th about how the Boston Celtics had a chance to win the Atlantic Division Title. Hours after that, the Celtics lost a heart breaker to the Miami Heat and the Knicks ended up...
NBA News

Delivered to your inbox

You'll also receive Yardbarker's daily Top 10, featuring the best sports stories from around the web. Customize your newsletter to get articles on your favorite sports and teams. And the best part? It's free!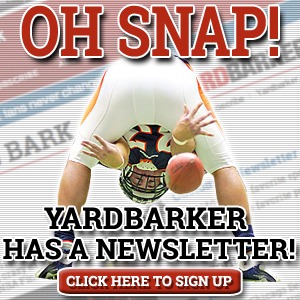 Latest Rumors
Best of Yardbarker

Today's Best Stuff

For Bloggers

Join the Yardbarker Network for more promotion, traffic, and money.

Company Info

Help

What is Yardbarker?

Yardbarker is the largest network of sports blogs and pro athlete blogs on the web. This site is the hub of the Yardbarker Network, where our editors and algorithms curate the best sports content from our network and beyond.