Found March 20, 2013 on Fox Sports:
The Charlotte Bobcats fell apart down the stretch against the Toronto Raptors a few days ago, but they managed to close things out in their last game. The NBA-worst Bobcats try to build on a rare win Wednesday night against the Raptors, who hope to avoid a seventh loss in their last eight visits to Charlotte. The Bobcats (15-52) led early in the fourth quarter Friday at Toronto before scoring eight points over the final 10 minutes of a 92-78 defeat. Charlotte also suffered a 105-88 loss at Boston the following night but returned home to beat Washington 119-114 on Monday. The Bobcats, who posted season highs in points, field-goal percentage (53.2 percent) and assists (32), found themselves down by five with three minutes to play before putting together a 12-0 run. They have dropped nine games in which they led at some point during the fourth quarter. "We had a lot of games that we probably should have won in the fourth quarter. But you know it's a part of growing and it&...
Original Story:
http://msn.foxsports.com/nba/story/Ra...
THE BACKYARD
BEST OF MAXIM
RELATED ARTICLES
We're in scouting report number four in our "is it off-season yet" coverage of the Charlotte Bobcats. There are still games to be played, but they're forgettable and often borderline regrettable, so it's to the future we look with great promise. We hope. Cody Zeller, Ben McLemore and Nerlense Noel are all realistic options if [...]
The Charlotte Bobcats, for a lack of a better term, stink. They are the worst team in the NBA, and stand a pretty good shot to be holding the #1 overall pick in the 2013 NBA Draft. The worst team doesn't always get the top pick, but even if they don't, the Bobcats should get [...]
The gentleman in the photo that you see above is Michael Kidd-Gilchrist. He plays forward for the Charlotte Bobcats, and as many of you know he helped Kentucky win a national championship in 2012. He does not — nor did he ever — play for Middle Tennessee, Illinois or Ohio State. But that hasn't stopped Nike from acting like he did. As Nation of Blue pointed out, Nike posted...
CHARLOTTE, N.C. (AP) -- Byron Mullens scored 25 points, Gerald Henderson had another solid all-around game and the Charlotte Bobcats beat the Toronto Raptors 107-101 on Wednesday night to win consecutive games for the first time since mid-November. Mullens scored 12 points in the fourth quarter. The reserve made his final eight free throws, including four with less than 13 seconds...
We're entering the homestretch of the schedule, which in this miserably depressing season feels like the end of a 10-mile escape on foot from a homicidal maniac with a butcher knife, only to encounter a finish line surrounded by a hoard of reanimated cannibal corpses. Bobcats fans seem to run this race annually and know [...]
Gerald Henderson is enjoying the best streak of his four-year NBA career, and the Charlotte Bobcats are playing better, too. Henderson turned in another solid all-around game, Byron Mullens scored 25 points and the Bobcats beat the Toronto Raptors 107-101 on Wednesday night to win consecutive games for the first time since mid-November. Henderson scored 21 points on 8-of-14 shooting...
Although the Charlotte Bobcats have been eliminated from playoff contention, Kemba Walker believes the young team can still take something from the season's final 16 games. Most notably learning how to win close games like Monday night. Gerald Henderson had 27 points and Walker came up with a flurry of big plays in the closing minutes helping the Bobcats overcome a five-point...
Here we see Mullens hitting one of his 3-pointers for the night.  He was 3 of 4 from downtown. We're streaking folks…you heard me correctly…we're streaking in Charlotte… No, no Bruce…Not THAT kind of streaking!  We actually won 2 games in a row.  I know, it's been a while and that kind of mistake can be made, but believe me, the last thing we need is streaky...
Razzball Nation!  So if you're reading this you're probably in the playoffs of your fantasy league, but if not and you read for my mere musings and devilishly witty forays into the intricacies of the English language (and obtuse adjective overuse), then huzzah!  And huzzah for a site like DraftKings.com where you can draft a new line-up every day and play the matchups...
The Toronto Raptors will be looking to make some summer vacation plans soon but forward Rudy Gay is making sure Raptor fans have some good memories from this season. Gay is averaging 20 points, 2.2 steals, 2.8 assists, in 6.3 rebounds in 37 minutes per game since being traded to Toronto and in last night's game versus the Bulls, he gave the fans something to cheer about despite...
It became clear during Amir Johnson's interview with NBA TV Canada Tuesday that DeMar DeRozan has been taking a few pages out of Chris Bosh's book. Here's the Raptors guard pulling off a pretty spectacular videobomb.
Last night Jonas Valanciunas dropped 18/8/2 with 2 steals and 2 blocks in 31 minutes. I looked at the box score to make sure there were not obvious reasons for such a line, you know, like an injury, a blow out, etc. and, sure enough, there was no obvious outlier! Here's what I told you last week when he wasn't playing great but sometimes you have to look past that. You have...
NBA News

Delivered to your inbox

You'll also receive Yardbarker's daily Top 10, featuring the best sports stories from around the web. Customize your newsletter to get articles on your favorite sports and teams. And the best part? It's free!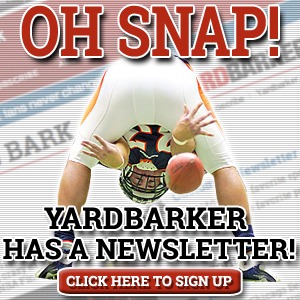 Latest Rumors
Best of Yardbarker

Today's Best Stuff

For Bloggers

Join the Yardbarker Network for more promotion, traffic, and money.

Company Info

Help

What is Yardbarker?

Yardbarker is the largest network of sports blogs and pro athlete blogs on the web. This site is the hub of the Yardbarker Network, where our editors and algorithms curate the best sports content from our network and beyond.