Found November 04, 2012 on Fox Sports Florida:
MIAMI -- This was not opening night and one final celebration of an NBA Championship. Nor was it the season's first road game amid the unusualness produced by a storm of the century. This was the unofficial beginning of the long grind. The Miami Heat, despite a third straight poor defensive effort, trailed the Denver Nuggets by only one point with 14.1 seconds left Saturday night. Miami had the ball, a timeout and, oh, the options. Whose shot would be responsible for deciding the team's fate? LeBron James, the league's best player who can hurt a team so many ways? Dwyne Wade, not far behind James in terms of being an elite player? Chris Bosh, who already had scored 40 points? Ray Allen, whose hot hand had been 7 of 11 with 19 points? Just who would be The Guy this night? "It was up to LeBron to make the read," Heat coach Erik Spoelstra said. "Try to get him in the paint and let him do what he does best, which is make decisions in split seconds." James relied on his love of improvisation. "I never pre-determine my plays," James said. "Once I drove left and got eye contact with (Denver's Corey) Brewer, I knew Ray was going to slide to the corner. "We haven't been playing that long but I've seen him on the side, I knew exactly what he was going to do." Well, almost. Not even James envisioned a four-point play. "I got to that corner, Brewer helped and turned his head for one split second and LeBron found me, " Allen said, "and it was curtains." It sure was. Allen sank a 3-pointer from the left corner despite being fouled by Brewer, then sank the free throw for a four-point play with 6.7 seconds remaining to give Miami a 119-116 victory in game No. 3 of 82. A four-point play to win a game? Crazy. "I think it's more absurd to see how the greatest 3-point shooter of all time be open," James said. Allen brought his long-range shooting ability from Boston to Miami when he signed as a free agent during the offseason. He scored 19 points in an emotional season-opening win against his former team, then managed just five points in Friday's loss at New York. Then came Saturday night's performance. "It's pure exhilaration for me because of everything that I've gone through this summer to get here and to get prepared and find a way to help this team win," Allen said. His new teammates shared the feeling. "I told him I'm glad he is on our team now," Bosh said. "We've seen that corner fadeaway 3 so many times and it wasn't a good feeling when it went in. "It's a reversal now. We're just happy to have him on our team." Allen's game-winning exploits overshadowed the effort by Bosh. Wait a second, Bosh overshadowed? Not really a surprise, only this time it wasn't due to James or Wade. It was largely Bosh, however, who kept the Heat in the game. Miami allowed 66 first-half points to a team that had scored 75 and 89 overall in losing its first two games at Philadelphia and at Orlando. Bosh scored 20 points in the first half to help Miami stay within two points then 12 in the third quarter when the Heat held Denver to 25 points. "I wanted to be aggressive -- that's my plan coming into every game," Bosh said. "But after I got some open looks, I got to the free-throw line a couple or times, I got some layups, things started feeling a little bit better." But not as good as they felt after Allen's game-winning play. "We have been on the other end of that pain," Spoelstra said, "when he puts the dagger to your heart with the 3." Or in this case, a dagger with the 4.
Original Story:
http://www.foxsportsflorida.com/11/04...
THE BACKYARD
BEST OF MAXIM
RELATED ARTICLES
Yep, Ray Allen can still hit monstrous, clutch shots. Allen showed Saturday night that wearing a Heat jersey won't do a thing to his ability to come through down the stretch, nailing a 3-pointer from the corner in the closing seconds to help the Heat hold off the Nuggets for a win at home. But it wasn't just Allen's big 3 that was so impressive. Allen...
I had little expectations going into the matchup Saturday between the Denver Nuggets and the Miami Heat; I told myself I wouldn't be surprised if Denver played well — they have a habit to show up for great teams — and I wouldn't be surprised if they were blown out. Denver showed up out of [...]The post Denver Nuggets Get Burned By Ray Allen, Miami Heat appeared first on The NBA Mistress.
Ray Allen is already having an impact with the Miami Heat, while Chris Bosh is trying to continue making his own. The Heat, though, are looking for an improved defensive effort all around. Allen and Bosh are seeking to build on strong performances in order to help Miami to its fifth straight victory over the Phoenix Suns on Monday night. Allen came up big in just his third game...
Ray Allen had a four-point play with 6.7 seconds left that put Miami ahead for good, Chris Bosh scored 40 points and the Heat held off the Denver Nuggets 119-116 on Saturday night. LeBron James finished with 20 points, 11 assists and nine rebounds, and Allen scored 23 for the Heat, who escaped when Danilo Gallinari's 3-point try with two seconds left bounced off the rim. Dwyane...
It has been a debate that has entrenched social media — some would claim it's not a debate at all — for much of the long and weary off-season, as well as the first week of regulation play of the 2012-2013 season. Jason Terry or Ray Allen? First and foremost, both players are phenomenal on [...]The post Celtics' Jason Terry or Heat's Ray Allen? appeared first on The NBA Mistress.
Doc Rivers and the Celtics need to get back to worrying about getting through the regular season Opening night in the NBA for the Boston Celtics had almost everything. There was Kevin Garnett giving the Ray Allen "I will (bleeping) murder you" face, both the Celtics and the Heat played hard and the game even ended with a hard foul that has both teams riled up and ready to throw...
MIAMI - Chris Bosh scored 40 points, and Ray Allen haunted his former coach with a four-point play with 6.7 seconds left to lead the Miami Heat to a 119-116 win over the Denver Nuggets Saturday night. Andre Iguodala's 20-foot jumper had given Denver a 116-115 lead with 14.1 seconds left. But Allen drifted to his favorite spot on the floor -- the left corner -- took a pass from...
The final preseason game televised by "ESPN" before the 2007-2008 campaign, was a contest between the Cleveland Cavaliers and the Boston Celtics. Cleveland had represented the Eastern Conference in the NBA Finals the previous June, while the Celtics had undergone a major makeover during the off-season; trading for veterans Ray Allen and Kevin Garnett, to win their first NBA Championship...
"I think probably the majority of athletes have bone spurs that they deal with at some point in their career. I don't know if I'll have to have surgery. I'm just saying that might be something that happens after the season. But as far as right now, my ankle feels like new since I got the shots, so hopefully I won't have to have any surgery at all." – Deron Williams...
Every morning, we will give you five things from the night before in the NBA to start your day. 1: Saturday night drama Across the NBA on Saturday night there was plenty of drama and plenty of exciting finishes. In other words, it was a great Saturday to have the NBA back! Martell Webster missed a game-tying 3-pointer at the buzzer as Washington's upset bid at home...
Dave & Audley caught up with ex-Hercules TV star, Kevin Sorbo to talk about his love for the NBA. The Minnesota native talks about the Timberwolves, the new-look Lakers and his friendship with Jack Nicholson! Kevin also reveals details on a conversation he had with Ray Allen out on the golf course right after he [...]
NBA News

Delivered to your inbox

You'll also receive Yardbarker's daily Top 10, featuring the best sports stories from around the web. Customize your newsletter to get articles on your favorite sports and teams. And the best part? It's free!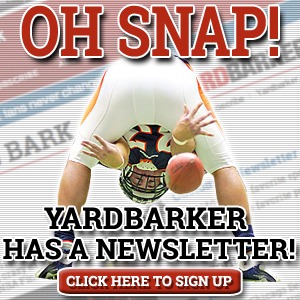 Latest Rumors
The Backyard

Today's Best Stuff

For Bloggers

Join the Yardbarker Network for more promotion, traffic, and money.

Company Info

Help

What is Yardbarker?

Yardbarker is the largest network of sports blogs and pro athlete blogs on the web. This site is the hub of the Yardbarker Network, where our editors and algorithms curate the best sports content from our network and beyond.