Found July 17, 2012 on isportsweb.com:
A while back I had posted about former North Carolina Basketball player Raymond Felton, who led UNC as its floor general to a national championship under head coach Roy Williams, and the New York Knicks may be reuniting. All of this had then lost much of its hype and seemed all but dead in the water, or better said in the FA market, when the team that calls Madison Square Garden home signed veteran Jason Kidd from the Mavericks. Well, from an article it seems that this move is not just alive, it's done.
The Knicks agreed to acquire Felton from Portland in a sign-and-trade, two league sources said. Felton and another former Knick, Kurt Thomas, will join the Knicks and Jared Jeffries and Dan Gadzuric will go to the Trail Blazers, a source said.
While I am never a fan of the "source" that we never know who it is, this does definitely seem to be a done deal for the former 28 year old from Chapel Hill. Especially when you read what the NY Post wrote about all of this yesterday…
The Knicks announced tonight that the team has re-acquired guard Raymond Felton, via sign-and trade, and forward/center Kurt Thomas from the Portland Trail Blazers in exchange for forward Jared Jeffries, via sign-and-trade, center Dan Gadzuric, the draft rights to Kostas Papanikolaou and Giorgos Printezis and a protected future second-round draft pick.
Depending on what happens to Jeremy Lin, which just shows how much the word "potential" has to do with the way franchises throw money at players, Felton and Kidd will be fighting for the starting spot, with the loser coming off the bench and neither assured to be the full time starter throughout the season. The 6'1″ floor general had a heck of a season with the Knickerbockers, starting all 54 games for the NY franchise while averaging 17.1 points and 9.0 assists in 38.4 minutes before being sent to Denver as part of the Melo package. From what has been said around the net the deal for Felton is $ 10 million for three years, and not a bad way to be paid and show the naysayers of the floor general that he is worthy of this. The great thing about sports is that sooner or later what people think of any and all players will be proved right or wrong. This is definitely something Felton will be dealing as he heads back to the Big Apple.
In the end I think this is going to be a good move for both the franchise and for former North Carolina basketball and national champ as the two need one another right now. The one thing that could make this totally different is if the New York franchise at the end of things decide to bring back Jeremy Lin as playing time would definitely dimish for the former UNC floor general. That move would also make it so the Knickerbockers front office would be spending $ 45 millions over the next three seasons for its point guards. As I do with all present and former Tar Heels let me first congratulate Raymond Felton on his new contract and wish him all the best as he begins a new chapter with an old team.
Original Story:
http://feedproxy.google.com/~r/isport...
THE BACKYARD
BEST OF MAXIM
RELATED ARTICLES
  I love these Taiwanese animation videos more and more and this one in particular depicts the whole Jeremy Lin-Houston Rockets-New York Knicks fiasco. In which they animate Jason Kidd's driving into a light pole, bringing in rotund Raymond Felton and show him eating a burger on the bench and at :37 seconds they animate Carmelo [...]
All anybody really needs to know about Raymond Felton is that in the middle of one of the most miserable seasons of his career, he laid the blame for his struggles elsewhere. For all the debate over whether the New York Knicks should match Jeremy Lin's offer sheet from the Houston Rockets and keep him in Manhattan, the idea that the Knicks seem to consider Felton a suitable replacement...
With the media and fans alike so concerned with whether or not the Knicks will match Jeremy Lin's offer sheet with the Rockets, few are pondering how the newly re-acquired Raymond Felton will fare in his second Big Apple stint.Many people are distraught over the Knicks (potentially and/or likely) losing Lin, but should he flock to Houston, at least New York has brought in a more...
The New York Knicks announced on Monday they've acquired point guard Raymond Felton in a sign-and-trade with the Portland Trail Blazers, a move that had been reported earlier. However, the Knicks did not state whether they plan to match Jeremy Lin's three-year, $25.1 million offer sheet from the Houston Rockets or to let let Lin go. The Rockets' offer to Lin would...
After being informed the Rockets' poison pill (re: Jeremy Lin) became that much more deadly with the altered terms, the Knicks took to the phones. Working feverishly to seek out other potential alternatives, the team didn't have to look very far. With that, a former Knick and rumored offseason target will be returning to the Big Apple.The Knicks agreed to a sign & trade...
With the trade to bring former Knicks Raymond Felton and Kurt Thomas back to New York now official, hope that the team will match Jeremy Lin's offer sheet with the Rockets continues to fade.Losing Lin would be devastating, to say the least. His impact and value both on and off the court makes him a key potential piece to the puzzle moving forward. Whether he played alongside...
With Jeremy Lin leaving New York City for the bright lights of Houston, the folks over at Next Media Animation were on the scene to create an awesome animated video.Check out Mr. Lin riding on a Houston Rocket and a very hefty Raymond Felton:
New York will receive Raymond Felton and Kurt Thomas, while Portland will acquire Jared Jeffries, Dan Gadzuric and the draft rights to Kostas Papanikolaou and Georgios Printezis.
Topics also covered include Jason Kidd's drunk driving, and Raymond Felton being fat.Get the latest Thigh updates by following us on Facebook & Twitter.a2a_linkname=document.title;a2a_linkurl=location.href;
With news breaking that Raymond Felton was coming back to New York and the team did not have plans on matching Houston's offer sheet to Jeremy Lin, fans everywhere are surprised. And apparently, some Knicks fans are not happy. At all. Fans have started a petition to Knicks management to keep Jeremy Lin in town. The Harvard graduate was an instant fan favorite, as he was a huge...
As the Knicks sort through their Raymond Felton-Jeremy Lin mess, they have a new one on their hands. Newly signed Jason Kidd was popped with a drunken driving charge after the point guard crashed into a telephone pole in the Hamptons early Sunday morning, according to the Southampton police. Here's the New York Daily News: Kidd, 39, the only person in his 2010 Cadillac Escalade...
Reputation is just about everything in sports.  Names can be made and broken in a phenomenal instance of skill and clarity, but more commonly than not, they are grown or dissolved according to consistency.  Whether consistently good or consistently bad, names carry with them far more than what is seen in a single game.  The Oregon sports climate, particularly in the university...
Knicks News

Delivered to your inbox

You'll also receive Yardbarker's daily Top 10, featuring the best sports stories from around the web. Customize your newsletter to get articles on your favorite sports and teams. And the best part? It's free!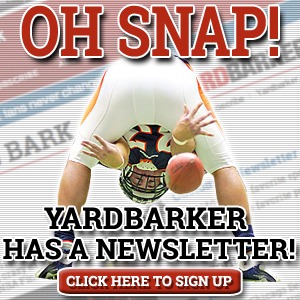 Latest Rumors
The Backyard

Today's Best Stuff

For Bloggers

Join the Yardbarker Network for more promotion, traffic, and money.

Company Info

Help

What is Yardbarker?

Yardbarker is the largest network of sports blogs and pro athlete blogs on the web. This site is the hub of the Yardbarker Network, where our editors and algorithms curate the best sports content from our network and beyond.