Found February 15, 2012 on Sports Blog Net:
PLAYERS:
Chris Paul
,
Shawn Marion
,
Caron Butler
,
Maurice Williams
,
Jason Kidd
,
Jason Terry
,
DeAndre Jordan
,
Brendan Haywood
,
Ian Mahinmi
,
Brandan Wright
TEAMS:
Dallas Mavericks
,
Los Angeles Clippers
,
Portland Trail Blazers
Recap:  Dallas Mavericks  Vs LA Clippers
Dallas didn't play terrific D, but packing the paint and trapping Chris Paul made the league's top offense very beatable. The
Clippers
— simplistic though their offense may be at times — are so incredibly effective if Paul is given any kind of access to the paint, so the Mavs walled it off (in part by assigning Shawn Marion to cover Paul) and lived with the results. Caron Butler and Mo Williams hit a combined eight three-pointers as a result, but the Mavs were able to prevent the more foundational play actions that would have set up a rhythm for the Clips' inside-out offense. Defense against an elite offense is always going to involve some give and take, and though there were some breakdowns and plenty of surrendered perimeter jumpers, the Mavs were able to minimize Paul's impact and keep things contained in the paint. Jason Kidd was a virtual non-factor on offense, but that's more complimentary than anything we can say about Jason Terry's performance. JET had a few nice drives early in the second quarter, but both were met with huge swats from DeAndre Jordan. From there, Terry forced the issue with his shot selection, taking every curl cut and catch as an invitation to launch an ill-advised jumper. He's a better player than that, and the minor shooting rut that Terry finds himself in isn't helping matters. But Terry still has to take it upon himself to be a more constructive offensive force, no matter how many capable teammates are around to potentially pick up the slack. Brendan Haywood has been getting some big minutes in the last few games, and he was the perfect big to execute the Mavs' defensive game plan on this particular night. Ian Mahinmi and Brandan Wright (the former of which has gradually slid out of his role as Haywood's backup) are both very capable and effective players, but neither manages to clog up the lane as effectively as Haywood. He has the strength to contend with Griffin on the block, the mobility to trap Paul on the pick and roll, and the sheer size to stand as a massive impediment between any Clipper and the basket. He was the most sensible option on Monday night, just as he was on Saturday against the Trail Blazers. It's very interesting to watch the process by which Griffin talks himself into taking open jumpers. The Mavericks were more than willing to give Griffin all the room he need to fire up a long two-pointer any time he touched the ball, though Haywood et al were understandably weary of the possibility that Griffin could use that open space to build up speed for a drive. As a result, the Mavs bigs would occasionally fake a close-out, or cut the runway in half with a few quick steps up — closing enough distance to prevent liftoff, but still encouraging Griffin to test his range. From there, one could almost see the internal debates raging between Griffin's ears. At this point in the season, he knows that the mid-range zones aren't home. He knows that the defense is giving him this particular shot for a reason. Yet, as so often happens on a basketball court, the undeterred nature of the shot is unbelievably alluring. There's surely an element of pride involved somewhere in his thought process; after all, the space afforded Griffin is a direct challenge to his skill set, and by extension, his potency. All of this flies through Griffin's head in a matter of nanoseconds, all while the defense braces itself and hopes that Griffin's patience runs out. Get the best prices on
Clippers Tickets
anywhere check out cheapclipperstickets.com
Original Story:
http://trixxr4kds.sportsblognet.com/2...
THE BACKYARD
BEST OF MAXIM
RELATED ARTICLES
SOMETHING FOR THE LADIES
Clippers All-star point guard Chris Paul is one of three athletes featured in Sport's Illustrated's 2012 swimsuit issue with Bar Refaeli. Paul reportedly said he feels his teammates are going to give him a hard time about it. He's probably right. I don't know if this was a good idea? He looks uncomfortable. Like a deer [...]
Chris Paul is not only an All-Star point guard, he's a romantic. CP3 took his wife Jada on a Valentine's Day lunch cruise on the Pacific. How sweet is that.    
For 36 minutes, the Clippers couldn't figure out a way for Chris Paul to score. "I couldn't make a shot," Paul said. "I thought (the Trail Blazers) were doing a really good job of defending. I kept taking the ball on the sidelines, and that was playing right into their hands. I have to give them a lot of credit." But in the most important stretch of...
Aside from the Clippers and the teams that did not want to see the Lakers improve, there were very few people who were pleased with the way the NBA handled the Chris Paul trade. Paul forced his way out of New Orleans, which is precisely the type of thing the league has been trying to put a stop to. Not only that, but he forced his way off of a team that happens to be owned by the...
Chris Paul likes the Clippers' chances of signing J.R. Smith.
LA Clippers point guard Chris Paul and supermodel Bar Refaeli recently did a photoshoot for the Sports Illustrated Swimsuit Edition, and it involved the two of them bouncing on a trampoline together. I could be wrong, but that seemed like the sort of thing my readers might enjoy seeing. Was I wrong? 
Clippers guard Chris Paul gives much credit to Maurice Williams for his role coming off the bench for the team.
PORTLAND, Ore. (AP) -- Blake Griffin had 21 points and 14 rebounds to help the Los Angeles Clippers rally from an 18-point second-half deficit and beat the Portland Trail Blazers 74-71 on Thursday night. Chris Paul, scoreless through three quarters, finished with 13 points as the Clippers outscored the Trail Blazers 22-11 during the fourth quarter. The win was Los Angeles' first...
by Marcel Mutoni / @marcel_mutoni With the Los Angeles Clippers visiting the Dallas Mavericks last night, it was inevitable that Mark Cuban would be asked about the controversial Chris Paul trade to the Clippers. Even more predictable, was that the Mavericks' owner would deliver an impassioned, brutally honest response. Mark Cuban blasted the NBA for its handling of the Chris...
As we said in Smack, you could've made a top 10 strictly off this game. Dunks galore. John Wall is the type of cat who loves blocking shots. He was sizing people up all game. But what the hell was he doing here? Chris Paul put the dime on the money, and Blake Griffin did [...]
Chris Paul and Bar Refaeli experienced some fun ups and downs during their swanky SI photo shoot. Boy…the perks of moving from the Big Easy to the City of Angels! Lob City commissioner CHRIS PAUL joins super model BAR REFAELI on a trampoline ride for Sports Illustrated's annual swimsuit issue. Check the video… Not sure what sort of artistic value is gained by bouncing up...
This is one of the benefits of playing in Los Angeles and experiencing success, I suppose. Here's Chris Paul jumping up and down on a trampoline with one of the supermodel Bar Refaeli from Sports Illustrated's annual Swimsuit Issue. Tough life, he's got. (H/T: TBJ, via SI)
NBA News

Delivered to your inbox

You'll also receive Yardbarker's daily Top 10, featuring the best sports stories from around the web. Customize your newsletter to get articles on your favorite sports and teams. And the best part? It's free!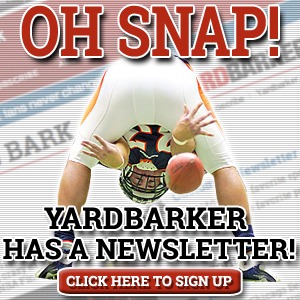 Latest Rumors
The Backyard

Today's Best Stuff

For Bloggers

Join the Yardbarker Network for more promotion, traffic, and money.

Company Info

Help

What is Yardbarker?

Yardbarker is the largest network of sports blogs and pro athlete blogs on the web. This site is the hub of the Yardbarker Network, where our editors and algorithms curate the best sports content from our network and beyond.