Found October 22, 2013 on Fox Sports West:
PLAYA VISTA, Calif. Eventually, Chris Paul and J.J. Redick will form a working relationship in the Clippers backcourt, one that's expected to pay dividends in the coming season. Just not now. Redick has yet to play in a preseason game, although he will probably get some minutes Wednesday night at Staples Center when the Clippers meet the Utah Jazz. But training camp has been one injury after another for the team, and especially for Redick, who will play shooting guard next to Paul. Redick has been out with what he called a partially torn muscle in his left quad, an injury that was discovered in an MRI after he was initially diagnosed with a bruised left quad. It has kept him sidelined through the Clippers' camp and first six preseason games. They open the regular season next Tuesday against the Lakers. Redick practiced Monday and Tuesday, his first workouts since camp opened. He said the injury wasn't serious, "but it was significant enough that two weeks of rest was the required time off. It wasn't just a thigh bruise or anything like that. I probably wouldnt have been able to play through that." His time off the court means he and Paul will need time to develop a relationship that is necessary between a passer and shooter. "That takes time," coach Doc Rivers said. "That would've taken time if he'd been healthy, but it sets it back quite a bit. Shooter-passer relationship is probably one of the more underrated things. It's really important. When a great passer gets the exact timing of a great shooter, it makes the shooter even better." While Redick's minutes will be limited on Wednesday, the game will bear watching to see if he and Paul can begin to form a sense of each other. But they know it won't happen overnight. "It's a huge key in that me and J.J. haven't had an opportunity to play a lot together," Paul said. "I pride myself on where I give those guys passes. Even if I'm just shooting around in the gym by myself, I want the pass in a certain place. Shooters have a job to shoot and I have a job to get them the ball on time and in the right place." Redick, acquired last July from the Milwaukee Bucks as part of a three-team deal, said there's no rush. His conditioning will take time, and so will the time needed to blend in well with the Clippers' starting group. "It's a work in progress," he said. "The thing Doc has preached all training camp is to enjoy the process, enjoy the journey. You can't skip steps. We're trying to build, and so getting me back and hopefully getting a lot of reps over the next week or so with the first unit will help." Title favorites? NBA.com released the results of a survey of league general managers that covered a variety of subject. First on the list was which team will win the NBA Finals. Naturally, the two-time defending champions Miami Heat were first on the list. Then came the San Antonio Spurs and Indiana Pacers. But included in the list of others receiving votes were the Clippers. Someone thinks they can win the NBA title. "I'm glad people feel that way about our team," Rivers said. "It doesn't really matter at the end of the day. We have to do it. I hope they're right. So whoever voted, I want to prove them right." Still, it shows a level of respect the Clippers have reached after so many years of failure. "We still have to earn that," Rivers said. "It's nice what people think, but then we have to do."
Original Story:
http://www.foxsportswest.com/nba/los-...
THE BACKYARD
BEST OF MAXIM
RELATED ARTICLES
For L.A. Clippers guard, J.J. Redick, watches are more than a fashion statement. Redick is an avid collector with extensive knowledge and a deep appreciation for luxury timepieces. Wristwatch publication, Hodinkee, featured the hoops star in its "Talking Watches" series with executive editor, Benjamin Clymer. Within the piece, Redick explained how he developed an interest in...
After being sidelined with a left quad contusion for two weeks Los Angeles Clippers guard J.J. Redick has returned to practice and is expected to play in the preseason game against the Sacramento Kings on Friday. "My assumption is Friday would be a go" Redick said Tuesday. "There might be some minutes restrictions but there was no residual soreness from yesterday...
After suffering what was first believed to be a bruised thigh, Los Angeles Clippers guard J.J. Redick has been sidelined for the last three weeks. We are now learning Redick also suffered some sort of small tear in the area- And, that Redick returned to practicing with the team on Tuesday. Redick told Arash Markazi of ESPN Los Angeles, after practice, that he plans to play Friday...
You hear a lot of athletes talk about retiring, walking away from the game on their own, and just knowing when it's over for them. Rarely do the athletes that make those proclamations follow through.  Barry Sanders retired early, and didn't give one hint to being ready. Being a good father and husband is high on Chris Paul's priority list, and
LOS ANGELES There was an obvious sense of relief for the Clippers on Wednesday night at Staples Center. Not that they came from behind to beat the Utah Jazz 103-99. It was that the game represented their second to last contest before the end of the preseason. "Amen," coach Doc Rivers said. The Clippers are ready, or as ready as a team can be before beginning the long...
Today HBO's Peabody award winning series, Real Sports With Bryant Gumbel, will spotlight baseball Hall Of Famer Reggie Jackson and Clippers' point guard Chris Paul. Bryant Gumbel sits down at Yankee Stadium with the outspoken Jackson, special adviser to the club. On the heels of his new book, "Becoming Mr. October," the 14-time All-Star opens up about his personal life and...
Chris Paul believes he could step away from the NBA earlier than expected in order to spend more time with his children. "I love to play basketball more than anybody," Paul said. "I'm serious, nobody loves to play basketball more than I do. But I could honestly see myself maybe stopping a little earlier, maybe premature, just because I hate to miss anything with...
In an upcoming installment of HBO's Real Sports, Chris Paul explains that he may step away from the game early. The noted family man has hesitations about missing out on life with his kids, and sees himself retiring prematurely so as to prevent that. And while many athletes have made these claims in the past without living up to them, there's something about Chris Paul that may...
Looking for the crossover of the night in the realm of Wednesday night NBA preseason action? We here at That NBA Lottery Pick have it for you. It came courtesy of Los Angeles Clippers star Chris Paul and watch as he crosses over Utah's Scott Machado: *** Paul image courtesy of Getty Images
When the Minnesota Timberwolves were pursuing free agent J.J. Redick this summer, the then-Magic guard had a question for coach Rick Adelman: Would he start? After seven years and nearly 600 made 3-pointers, Redick felt entitled to control his destiny to an extent. He had just been traded in-season to the Bucks, a listing team that sort-of-accidentally made the playoffs as the eighth...
The Los Angeles Clippers' Chris Paul and the Golden State Warriors' Stephen Curry are partnering with Kaiser Permanente to launch the "Own Now" platform to spread the message to young adults that they need to own their health and make healthier and more informed decisions.   "We're not health experts, but we do know that people of all ages have to take care of their...
Mitchell Kranson gets a few knocks and Chris Paul proves the hero both with the stick and with the leather as the active Bears down the alums, 12-1.
NBA News

Delivered to your inbox

You'll also receive Yardbarker's daily Top 10, featuring the best sports stories from around the web. Customize your newsletter to get articles on your favorite sports and teams. And the best part? It's free!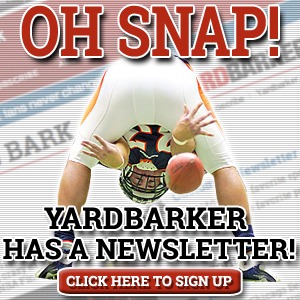 Latest Rumors
The Backyard

Today's Best Stuff

For Bloggers

Join the Yardbarker Network for more promotion, traffic, and money.

Company Info

Help

What is Yardbarker?

Yardbarker is the largest network of sports blogs and pro athlete blogs on the web. This site is the hub of the Yardbarker Network, where our editors and algorithms curate the best sports content from our network and beyond.