Found January 10, 2013 on Fox Sports Florida:
The great NBA Jeopardy! challenge has seen another player proclaim victory.Or, make that another Dukie.It all started when Miami forward Shane Battier said last November he could defeat any player in the NBA in Jeopardy! Then Milwaukee forward Mike Dunleavy, once Battiers teammate at Duke, said, I dont think he could beat me.Now, a guy who played for the Blue Devils after Battier and Dunleavy left, says he could beat both in the game show.I like me, Orlando guard J.J. Redick said when asked who would win an NBA Jeopardy! showdown between Battier and Dunleavy. The only way I would lose to them is one if one of the categories was 80s pop culture. I was sheltered as a child. I didnt get much of that.So in which categories does Redick believe he could outwit both Battier and Dunleavy?In history and in random facts, I would be good, said Redick, who played for Duke from 2002-06 while Battier was there from 1997-2001 and Dunleavy from 1999-02. Im not an expert in a lot of things, but I kn...
Original Story:
http://www.foxsportsflorida.com/01/10...
THE BACKYARD
BEST OF MAXIM
RELATED ARTICLES
J.J. Redick is having a career-year for the Magic.
Arron Afflalo was somewhat reflective in his return to Denver on Wednesday. He told the reporters, including Christopher Dempsey of the Denver Post, covering the game that playing for the Nuggets was his first opportunity to grow as a scorer and become a better player. In Detroit, he was a bit player on a good team relied on mostly for defense. In Denver, he needed to do more. ...
This is a story or an idea that will not seem to go away. Like a jilted girlfriend, there are still some feelings. And the idea of a reunion just will not die. So when Mike Bianchi of the Orlando Sentinel writes: In other words, it's easy for the Magic to say they won't pursue Dwight now when they know they don't have a snowball's chance in Haiti of getting...
This video has been making the round for a couple days now, but we didn't have a blog a couple days ago, so we're posting it now. For the second consecutive year, the Miami Heat's Shane Battier will be hosting a celebrity karaoke event -- South Beach Battioke -- to benefit The Battier Take Charge Foundation. To help market the Jan. 21 event we have this beautiful rendition...
Miami Heat forward Shane Battier's resume includes being a lockdown defender, a decent spot-up three-point shooter, a complete class act and a terrible, horrible, awful singer. Battier, a Birmingham, Michigan native, is as philanthropic as they come.  As part of the theme for his second annual "South Beach Battioke", a celebrity karaoke event that will take place on Monday...
While many media members buddy up with Dwight Howard because of his outgoing personality, Jeff Van Gundy is not falling for the act. Van Gundy believes that Howard got his brother, former Magic coach Stan Van Gundy, fired in Orlando, and he's not afraid to call out Howard when he feels it is necessary. During the second quarter of Friday's Oklahoma City Thunder-Los Angeles Lakers...
Ask Magic guards J.J. Redick and Jameer Nelson about Dwight Howard and the Los Angeles Lakers and they bristle.I have no take, Redick said.I have nothing to say about the Lakers or any player on the Lakers team, Nelson said.But ask Orlando forward Hedo Turkoglu about Howard and he beams. Turkoglu, who played with Howard during 6 of his eight Magic seasons, remains good friends with...
Perhaps it is too late to avoid a "long" losing streak seeing as the Magic's current nine-game skid is the longest for the franchise since 2004, but this team wants to avoid falling further behind. We can go through the stats again, but it probably is not really necessary. Except for one or two games in this streak, Orlando has been in every game and has been unable...
27-7. That was the number nobody on the Magic specifically talked about following Wednesday's loss to the Nuggets. Jameer Nelson opened up his postgame comments saying he was not going to talk about the foul disparity. Jacque Vaughn deadpanned he was going to talk to George Karl and his staff about learning some of the defensive schemes he used in the game to implement with...
The Magic know a little bit about hard work. Everyone can see Orlando fighting and scrapping in every game. Kenneth Faried's level of effort is just a little bit more some times. On a free throw in a tie game, Faried found his way around Andrew Nicholson and got to the ball before Nicholson could. The two fought the ball to the ground, but Faried got the timeout. Out...
DENVER -- Orlando has lost heartbreakers, let wins slip away and has been blown out during its 10-game losing streak. Wednesday's game might have topped them all. The Magic saw another fourth-quarter lead slip away in a 108-105 loss to Denver, but after the game it was the head-shaking foul differential that had them baffled. The Magic nearly overcame 19 points and 19 rebounds...
As you can clearly see (and hear) on this video as he covers "The Love Boat" theme song. This man has a very special gift. South Florida is blessed to have him.
NBA News

Delivered to your inbox

You'll also receive Yardbarker's daily Top 10, featuring the best sports stories from around the web. Customize your newsletter to get articles on your favorite sports and teams. And the best part? It's free!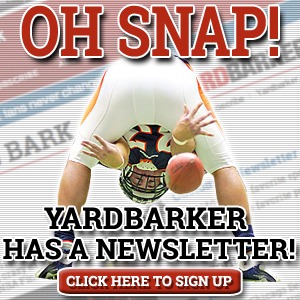 Latest Rumors
Best of Yardbarker

Today's Best Stuff

For Bloggers

Join the Yardbarker Network for more promotion, traffic, and money.

Company Info

Help

What is Yardbarker?

Yardbarker is the largest network of sports blogs and pro athlete blogs on the web. This site is the hub of the Yardbarker Network, where our editors and algorithms curate the best sports content from our network and beyond.