Found June 20, 2012 on Juiced Sports Blog:
SCOTT JACOBS
After getting throttled in Indiana back in game 3 of the Eastern Conference semi-finals — a game that knocked the heavily favored, Chris Bosh-less Heat off their high horse — the Miami Heat, the most highly scrutinized team in all of pro sports, had a choice: Man up and die trying or wilt in place right then and there, and face the wrath of a ferocious media mutiny and the very real possibility of breaking up the Big 3.
LeBron James went off for the game of many players' lifetimes (40-18-9) and a once lifeless Wade came alive for 30 and the Heat shook off the pesky Pacers 101-93.
I remember right then and there, talking to my dad on the phone, with a simple proclamation: "If the Heat go on to win the NBA title, game 3 will be the best thing that ever happened to them."
A little over 1 month later on May 20, 2012, the Heat are 1 win from the finish line. And I stand by my belief that a game 3, two long, grueling series ago changed everything.
While LeBron carried Miami on his back against Boston in game 6 in Beantown to keep Miami literally off of the elimination rack, it was game 3 in Indiana that put Miami's true colors on the ropes. Without Bosh, with the pressure mounting, the Heat appeared to be falling apart at the seams. And then, just in time to save their fading season, Wade and LeBron came to the rescue in a scintillating game 4.
It was the ultimate gut-check, for a team that seemed to be missing something.
Miami never lost a game the rest of that series and just like that they turned a corner. LeBron and Wade were the ringleaders. But it takes more then 2 to bring home the title.
Which is why this NBA Finals has been so exciting to watch. It takes a team to gallop across the finish line in the grueling test that is the NBA's two and a half month post-season and after nearly 2 seasons of searching for the right formula, the Heat are 1 win away from proving that they are so much more then just 3 guys.
Miami doesn't win game 2 without Shane Battier.
They certainly don't win game 3 without James Jones and his 6 crucial points.
They probably get blown out without Mario Chalmers and his remarkable 25 point game 4.
You see, Miami wasn't quite ready for the coronation last year. This year they get it. This year when the going gets tough, they're just getting started. A team with stars is also a unit full of role guys manning up in the biggest moments. People said the Heat couldn't win a title with just 3 guys. Well, 1 win away from their goal, they were right.
It takes a team. Something the Miami Heat now have.
It might be a different guy each night, but the Heat are getting contributions from everyone in this 2012 NBA Finals. Fitting, considering that the only game they lost, game 1, they played just 6 players.
While the guys on the marquee helped pull 'em towards this moment, it's the smaller names who help nail shut the demons. Miami has talent, but talent only goes so far without role players. Talent only goes so far without defense. Talent only goes so far without a real game-plan.
The Heat, after searching for a few seasons for their identity, finally have it:
They're a physical, hard-nosed, defensive team, powered by aggressive plays to the basket, and their role guys stepping up with whatever it takes. The Heat are not an isolation team, they are a versatile team. They're a team that peaks when you push them to the edge. They relish pushing the limits as evidenced by overcoming OKC's huge 17 point first quarter edge in less than 7 minutes. They can comeback, they can hit 3's, they can post up, and most importantly, they can man up.
While they may not be great with the game on the ropes in the closing moments, Miami has developed a winning mentality since game 7 of the Boston series that they can make shots and get stops when they absolutely have to. Given how many games they've had decided in the 4th quarter — starting with that do or die game 7 vs the C's — Miami has elevated itself from a scared team hoping to close to a confident bunch seizing the moments.
LeBron James playing on one leg hit a goose-bump inducing 3 late in game 4 to give Miami a lead. He was in so much pain that he was taken out of the game shortly thereafter. That was a Kirk Gibson like moment right there. One of those — he's due moments — that you would expect Hollywood to script. It didn't win Miami the game, it simply said, 'hey, this is our time. Now go finish them!'
With the game in the balance it was Mario Chalmers channeling his 2008 Kansas clutch-ness to help seal a compelling treat of a basketball game.
But it's not just Rio, or Norris Cole — who hit 2 huge threes to quickly whittle away a big OKC lead — it was everyone. It was Battier hitting another 3, James Jones knocking down a triple, Chris Bosh's tremendous defense and energy and of course Wade and James.
It takes a team to win a championship.
Once a two-man show, Miami appears ready to stand together as NBA champs.
1 more win to end a roller-coaster ride unlike any other. 1 more win for vindication. 1 last triumph left for culmination.
Original Story:
http://juicedsportsblog.com/2012/06/r...
THE BACKYARD
BEST OF MAXIM
RELATED ARTICLES
DOESN'T ADD UP
According to her lawyer's allegations, the mother of Chris Bosh's daughter had to apply for food stamps and receives only $2,600 per month in child support.
Far be it from me to criticize the manner in which another person elects to celebrate one of the crowning achievements of their life, but unfortunately for Chris Bosh, his celebratory champagne shower in the locker room following the Miami Heat securing the franchise's second NBA title (and first for LeBron and Bosh) is something [...]
The Miami Heat won their 2nd NBA championship last night by blowing the doors off of Oklahoma City to the tune of 121-106 in Game 5. And like all championship celebrations, champagne and champagne baths are involved. But never have we seen someone enjoy their champagne celebration as much as Chris Bosh did last night. [BSO]
Does any player in the NBA look more awkward trying to fire up the fans than Chris Bosh? Yeah, I get that he had a great sequence where he dove for a loose ball, scored on a hook shot, and took a charge, but come on, dude looks like a squawking pterodactyl when he does that. I guess I should lay off him because it's much better for the Heat when he's feeling it rather than...
I'll apoligize up front to those NBA fans who've been blinded over time by the glamore and flash on Sportscenter every morning; the fan that lives in the now and doesn't remember how the recent past can effect the present. The reason that the Miami Heat won this NBA Championship can be credited to their x-factor: Chris Bosh. Whaa..? LeBron was the reason the Heat won the series...
Tonight's the night. We all knew it would come. The coronation will be on in full force when the Miami Heat finish off the Oklahoma City Thunder. I was not looking forward to it but I have come to accept it. LeBron will get his ring. It pains me that Chris Bosh will as well and probably over do his gloating like he was an actual factor. The Thunder have had their growing pains...
Dwyane Wade, Chris Bosh and LeBron James especially got a huge monkey off their back Thursday night when they were able to finally deliver an NBA title to the City of Miami in the Big Three era. Not only that though the Heat did it in convincing fashion disposing of the upstart Oklahoma City Thunder in five games with a very convincing win to close things out. LeBron James was phenomenal...
With the Heat going with smaller lineups in these Finals, with Chris Bosh at center and Shane Battier at forward, the reality is LeBron James has arguably emerged as the power forward in the series. But don't try telling coach Erik Spoelstra that James' future is at power forward, or, for that matter, any designated position. "Think of him as a great basketball player...
The plan conceived in the Summer of 2010, that LeBron James and Chris Bosh would leave their teams to join Dwyane Wade in South Beach to pursue an NBA Championship with the Miami Heat came to fruition on Thursday night, as the Heat defeated the Oklahoma City Thunder in game five of the NBA Finals, by a lopsided score of 121-106 to win the Championship round 4-1. It was redemption...
NBA News

Delivered to your inbox

You'll also receive Yardbarker's daily Top 10, featuring the best sports stories from around the web. Customize your newsletter to get articles on your favorite sports and teams. And the best part? It's free!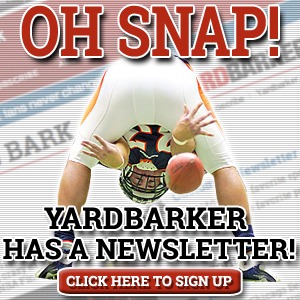 Latest Rumors
Best of Yardbarker

Today's Best Stuff

For Bloggers

Join the Yardbarker Network for more promotion, traffic, and money.

Company Info

Help

What is Yardbarker?

Yardbarker is the largest network of sports blogs and pro athlete blogs on the web. This site is the hub of the Yardbarker Network, where our editors and algorithms curate the best sports content from our network and beyond.