Found May 11, 2012 on Pass The Pill: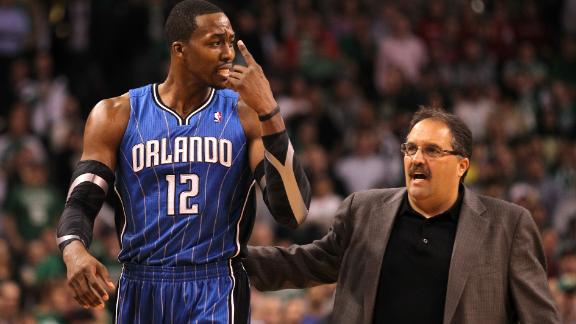 Let the circus that is the Orlando Magic continue it's act. We all know that Dwight Howard wants coach Stan Van Gundy out of town because well… Van Gundy told us so. If Dwight were to get his wish, one would assume that he would have some say in who Van Gundy's successor would be in Orlando, and reports are that a familiar face would like to be taken under consideration.
Recently fired coach Mike D'Antoni is rumored to have interest in the Orlando job, according to the Orlando Sentinel's Brian K. Schmitz:
Hearing whispers that Mike D'Antoni would be very interested in a vacant Magic coaching job.

— Brian K. Schmitz (@MagicInsider) May 11, 2012
Well, clearly D'Antoni didn't learn his lesson about superstar egos with 'Melo if he is ready to go and try to coach Dwight. However, the obvious question that D'Antoni to Orlando brings is whether the coach's longtime star player Steve Nash would follow him there. Clearly, you would think that Nash would at least consider going to play with Dwight in Orlando if they were to hire D'Antoni.
Either way, a lot would have to happen in order for this all to come to fruition because no matter who wants him not to be, Stan Van Gundy is still officially the coach of the Orlando Magic. We will see how long that statement stays true.
Original Story:
http://sports-kings.com/passthepill/?...
THE BACKYARD
BEST OF MAXIM
AROUND THE WEB
RELATED ARTICLES
Just as fast as the rumors of Mike D'Antoni being interested in taking his fast-paced offensive style to the Orlando Magic if they end up parting ways with Stan Van Gundy, a source has stepped forward and said that D'Antoni is just as likely to take a break from coaching next season for personal reasons. The source claims that D'Antoni could stay home in New York while his...
Major changes will start coming soon. After losing in the first round of the playoffs for the second consecutive season -- and clearly disappointed with the results -- the Magic are expected to make a dramatic change in direction this summer. The futures of coach Stan Van Gundy, general manager Otis Smith and superstar Dwight Howard -- key components in the way the franchise...
If you thought that the Orlando Magic's 105-87 loss in Indiana Tuesday night meant that the most turbulent era in team history was finally behind them, you couldn't be more wrong. This nightmare is just beginning. And if Magic fans are convinced that a 4-1 gentleman's sweep at the hands of the resurgent Pacers is a low point in the never-ending saga that has dominated...
A year ago, after a first round exit in the Playoffs, when this blog was in its infancy, Jeff Garcia urged the Magic to "stay the course." He urged the Magic to hold onto Howard and make changes to the front office in an effort to improve and return to the Eastern Conference elite. Orlando opted for Jeff's course of action, doing everything the franchise could to persuade...
The Magic's season is not a week over, and uncertainty regins at Amway Center an in the Magic offices. Really uncertainty has reigned in the Magic offices since early December when Dwight Howard formally requested a trade and perhaps even before that when the franchise had no idea what Howard wanted or his position on his future with the team. With the team facing and dealing...
The issue was forgotten for most of the season in the hoopla that was Dwight Howard. Nelson quietly has been playing out his own option year. Jameer Nelson though did not let his uncertain future play out for everyone to see. It was always assumed that Nelson would decline his early termination option and play the final year of his contract next season. It was not until last week...
I like to pretend I'm texting T... What does a former NBA Coach and current broadcaster do when he's not on the job….watch basketball of course. Check out Jeff Van Gundy watching the NBA Playoffs solo at the Yankee Doodles sports bar in Venice…Seems kind of lonely to be watching hoops with no one to high five…At least order yourself a cold one Jeff. -TO Stan Van Gundy's...
Mike D'Antoni is interested in coaching the Magic should the team not keep Stan Van Gundy.
What a drama-filled year the Orlando Magic have been through! They have experienced DwightMare, Dwight attempting to get Stan Van Gundy fired, SVG finding out and telling the media only to have Dwight lie about it all. Then, Dwight Howard would have a season ending injury and somehow, the Magic would make it to the [...]
The 2011-12 NBA season has come a close for the Orlando Magic. It was the longest, short season in franchise history. If someone were to offer a screenplay depicting the seasons events to the Soap Opera Network, it would be roundly rejected for lack of believability. Now, as the post-season arrives, big decisions are in the offing for the franchise. Will the three major players...
"Hectic is a good word. The schedule was hectic," J.J. Redick said. "It seemed like there was some sort of national scandal with this team every other week. At one point in March, I decided to set the over/under at 2.5 for national scandals for the rest of the year. Fortunately, we only had two more. So we hit the under." That might about sum up the way the 2012...
Latest Rumors
The Backyard

Today's Best Stuff

For Bloggers

Join the Yardbarker Network for more promotion, traffic, and money.

Company Info

Help

What is Yardbarker?

Yardbarker is the largest network of sports blogs and pro athlete blogs on the web. This site is the hub of the Yardbarker Network, where our editors and algorithms curate the best sports content from our network and beyond.