Found January 24, 2013 on NorthWest Sports Beat:
Top Blazers The Cars sang about letting the good times roll, and about a week and a half ago, after the Portland Trail Blazers stunned the defending champion Miami Heat, on primetime television, this song should've been blaring at every Blazer practice. Portland sat five games over .500 (20-15), had a firm grip on the 8th spot in the West, and all seemed to be heading in the right direction for this young, benchless, team. That is, until they seemingly stopped remembering how to play basketball as if aliens were sent to steal their basketball talent (a la the Monstars from Space Jam). Heading in to the previous week, Portland was hoping to get some of it's talent back (sans Michael Jordan's help) after dropping games to Golden State and Oklahoma City. Two losses to two of the stronger teams in the West is nothing to be ashamed of, but Portland was hoping to avoid spiraling out of control. However, spiral out of control is exactly what happened, and Portland just put the finishing touches on a hellish week that saw them lose three more games against arguably weaker talented teams. The Blazers did not have an easy time against any teams this past week. (Photo: Bruce Ely/The Oregonian) Their grip on the 8th spot in the West is slipping. With a road game against Denver, and home games against Cleveland and Milwaukee this past week, Portland was looking to rid itself of the poor play and get back to their winning ways. But once again, the Blazers stumbled at every turn and have become a blunder on both offense and defense, making it painfully hard to continue to watch this team play "basketball". A road overtime loss to Denver (their first OT loss of the season) was supplemented with losses at home to both Cleveland and Milwaukee. After the week you'd swear you could hear the groans from the Rose Garden all the way in Beaverton. This team has officially lost its identity and is struggling to get back to the high they experienced after the Miami game. Despite the subpar play of the team as a whole, there were a few performances that stuck out over the course of the week that prove this team isn't all bad. First Star: LaMarcus Aldridge (1/15: L @ Denver) At this point, with the accumulation of losses and general discomfort in Portland, Aldridge's play has been more of a campaign to get him to Houston for the All-Star game. This isn't to say his efforts have been solely to stuff his stat sheet, it just seems to be more newsworthy than the Blazers' current state of affairs. In last week's matchup at Denver, Aldridge logged 45 minutes of action, put up 28 points (on 10-21 from the floor, including a perfect 8-8 from the free throw line) while adding 8 rebounds, 6 assists and a block. If Aldridge's recent performances net him a trip to the All-Star game — his second in a row — then Portland will have a little more to be happy about that their abysmal record would indicate. However, I'd trade wins for All-Star appearances any day. Second Star: Damian Lillard (1/19: L vs. Milwaukee) Damian Lillard sure has spent a lot of time in this column, and while he's taken a few weeks off (thanks to the outstanding play of Aldridge, Matthews and Batum) he's back to proving why Portland selected him No. 6 overall in last years' draft. Damian Lillard returned to the all-star list this past week. (Photo: David Sherman/NBAE/Getty Images) He has, however, been a little streaky lately. But you can't deny the playmaking ability he provides while on the court for the Blazers. In last weeks game against the Bucks, Lillard put up 26 points (on 9-21 from the floor, 3-9 from three point range and 5-6 from the charity stripe) while adding 10 assists, 3 rebounds, 1 steal and a block in 42 minutes of play. The rookie logged his 6th double double of the season and has been every bit of the upgrade over Raymond Felton Portland so badly needed. While many critics are tabbing him as the early Rookie of the Year favorite, he'll be able to show the country what he can do in Houston as an inevitable selection to the Rookie/Sophomore game is surely on the horizon for Lillard. Third Star: JJ Hickson (1/16: L vs. Cleveland) Last Wednesday night, Hickson and the Blazers welcomed in JJ's former team, the Cleveland Cavaliers, to the Rose Garden. Hoping to escape with a victory over the team that parted ways with him a few seasons ago, JJ had to settle with proving that his talent was something the Cavaliers should have never taken lightly in the first place. In 31 minutes of action, Hickson tallied 13 points (on 5-8 from the floor and 3-6 from the line) and added 11 rebounds, 1 assist, 1 block and a steal. The double double was Hickson's 23rd of the year, and teams around the league are taking notice of JJ's high octane style of play and will surely inquire about his availability before the trade deadline. Dunk of the Week: JJ Hickson vs. Cleveland This week's top dunk sees JJ Hickson absolutely obliterate Cleveland forward Alonzo Gee. Gee's expression after he gets posterized says it all. Enjoy. CLICK HERE TO CHECK OUT THE BLAZERS BLOG IN OUR CLUBHOUSE TODAY AT NWSB!
Original Story:
http://www.nwsportsbeat.com/trailblaz...
THE BACKYARD
BEST OF MAXIM
RELATED ARTICLES
To the surprise of many, the Portland Trail Blazers are very much in the hunt for the Western Conference Playoffs despite finishing ten games under .500 last season. Although Portland still cannot compete with the likes of Oklahoma City and San Antonio, they are only a few pieces away from being a championship contender. In The Big Book of Basketball by Bill Simmons, the Sports Guy...
No rest for the weary The Portland Trail Blazers finally broke their six-game losing streak with a win against the Indiana Pacers, but things aren't getting any easier. Matchup: Portland (21-21) vs. Los Angeles Clippers (32-13) Venue: Rose Garden Time: 7:00 PM PT Date: Saturday, Jan. 26, 2013 The Los Angeles Clippers, one of the top teams in the entire NBA, are set to begin a home...
Close but no cigar, a commonly used phrase for coming up short accurately describes the outcome of the Portland Trail Blazers in the last 10 games. Over the course of those 10 games, the outcome has been decided by 6 points or less and the last 6 games have not gone in the Blazers favor. For Blazer fans this stretch of games has been unnerving and deflating. At the halfway point...
LaMarcus Aldridge scored 27 points and the Portland Trail Blazers beat the Indiana Pacers 100-80 on Wednesday night to snap a six-game losing streak. Rookie Damian Lillard added 20 points and eight assists for the Blazers, who also stopped a four-game losing streak at home and avoided dropping five straight at the Rose Garden for the first time since 2006. J.J. Hickson had 14 points...
PORTLAND, Ore. -- The Portland Trail Blazers had played a franchise-record 10 straight games that were decided by six points or fewer. They had won the first four contests before dropping six in a row. Imagine their surprise, then, with their nearly wire-to-wire 100-80 blowout of Indiana on Wednesday night at the Rose Garden. "We've played so many two-point games, tonight...
Every fan wants their favorite team to win; it's kind of the whole point to being a fan. It seems impossible to sit down and watch your favorite team play and not root for them to win every game. It defeats the whole purpose of fandom otherwise. However, once in a while, a scenario presents itself when it is better for a team to put tallies in the loss column rather than...
LaMarcus Aldridge posts up David Lee. Image courtesy of www.columbian.com When professional athletes turn 25 years of age people generally begin to say those players are in their prime. A player's prime is typically a five year window where they are able to maximize their potential by meshing skill and athleticism. Players in all sports generally begin to decline when they turn...
With the Cavaliers having two rookies playing prominent minutes, WFNY thought it would beneficial to see how the fresh meat around the league is faring in comparison with the Cavalier rookies. Each week, we'll have NBA rookie power rankings where we'll rack and stack the freshman class of the NBA. The rankings will be weighted with the most recent games carrying the most importance...
NBA News

Delivered to your inbox

You'll also receive Yardbarker's daily Top 10, featuring the best sports stories from around the web. Customize your newsletter to get articles on your favorite sports and teams. And the best part? It's free!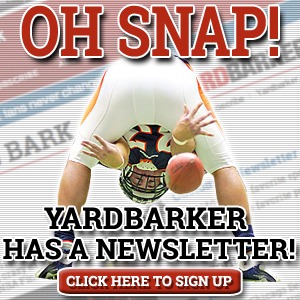 Latest Rumors
Best of Yardbarker

Today's Best Stuff

For Bloggers

Join the Yardbarker Network for more promotion, traffic, and money.

Company Info

Help

What is Yardbarker?

Yardbarker is the largest network of sports blogs and pro athlete blogs on the web. This site is the hub of the Yardbarker Network, where our editors and algorithms curate the best sports content from our network and beyond.