Found February 23, 2012 on Fox Sports North:
MINNEAPOLIS The baby blue towel said it all. As his team mounted its comeback against Utah in the fourth quarter, Minnesota Timberwolves guard Ricky Rubio could barely watch. This had happened so many times before, failed so many times before, that the narrative must have been getting old. But unlike during those other comebacks, Rubio was hunched on the bench, the baby blue towel pulled over his sweaty head, looking like some strange nun in the religion of basketball. He was hiding from what appeared as if it might be yet another case of too little, too late. But then, with 56 seconds left in the game, Paul Millsap fouled Derrick Williams on a layup. The basket was good, and then the free throw tied the game. Minnesota's bench erupted, and Rubio emerged from the confines of his plush cave. He couldn't look away. Not now, not at this, the resurgence that would become the team's latest comeback from a 16-point deficit since 1997. All it took was one perfectly placed, perfectly timed floater from Luke Ridnour at the buzzer, and the game belonged to Minnesota, 100-98. "It was like a perfect end," Rubio said. Going into the All-Star break, the Timberwolves needed that win. They needed it more than most other victories, yet it was imperative because of the others. For the past few weeks, the team had talked of only one goal: to be at .500 at the All-Star break. At 17-17, Minnesota made it. That's not to say it was expected, not at the beginning of the season, not even last week. But after wresting their way out of a four-game losing streak, .500 became a dim possibility for the Timberwolves last Wednesday. It would take at least three wins against four tough opponents, but it wasn't an unreasonable demand. And the fact that his team was even talking about it, even toying with the notion of .500 in February, was more than Timberwolves coach Rick Adelman expected just two short months ago. "I didn't think we'd have a chance to be .500 (at this point)," Adelman said of his preseason expectations. "But we've had some people who have really stepped up. Kevin (Love is) having a great year. Ricky stepped in. (Nikola Pekovic) came out of nowhere." However, for the members of the team who slogged through last season, winning as many games out of 82 as this year's team has through 34, it's not that difficult to believe. With so much that's new, this year's team shouldn't be held to the same standards as last year's. There's a new coaching staff, new players, a new atmosphere. "Last year's over," Ridnour said, speaking in an abstract sense. What ended last April is no longer haunting him and his teammates, hanging over their heads like a nagging specter of failure. Adelman put it perfectly after Wednesday's game: You just never know what's going to happen. Not in a game, and certainly not in a season. You can look at opponents and matchups, at past records and new players, but predictions, even halftime hypotheses, are irrelevant, especially with this team. It was the Timberwolves' biggest overall comeback -- they were down by 18 points in the second quarter -- and the fifth time they've overcome a double-digit deficit this season. But what made the win most remarkable were its heroes. Love scraped by with the bare minimum for a double-double, 10 points and 10 rebounds, and Rubio rode the bench for much of the fourth quarter. Instead, it was rookie Derrick Williams, the same Derrick Williams who has struggled both for minutes and for poise, who kept his cool and hit three crucial free throws in the game's final minutes. It was J.J. Barea, whose explosiveness might finally be back after early-season injuries, who never gave up and powered the team's comeback. It was Luke Ridnour, who as a self-described "little guy" has had to perfect his floater, who made the game-wining play as time expired. In the huddle before Ridnour's game-winner, Adelman's plan was for Barea to take the shot. Ridnour was "Plan B," and when Barea was double-teamed, he got his chance. But it was fitting, really, in a night of Plan Bs. The stars didn't win Wednesday's game; the team did, and that might have been more heartening than the drama or the comeback. Jazz coach Tyrone Corbin said before the game that Adelman has taught Minnesota to win as a team. It was a statement that might not have rung completely true -- with Love's seemingly perpetual 20-plus-point nights, it's hard to call some games a complete team effort -- but the Timberwolves made Corbin look like a fortune teller on Wednesday night. It was both no one's show and everyone's at the same time. But it wasn't perfect, despite Rubio's grand description. It was gritty and desperate, a win patched together out of tired legs and aching muscles. And once the spectacle ended, as the stands emptied and the court cleared, some of that shine wore off. The locker room was uncharacteristically quiet for such a big win. Sure, Martell Webster grabbed Ridnour, rubbing his Mohawk against the powerless guard's head, pointing at him and nodding. But amidst those little celebrations sat Love, looking like he'd already forgotten about the win. Everything was wrong, he said. He was tired, a little sick. He was exhausted, he admitted, and he felt like he was going to die in the first quarter. Games like Wednesday's (and Monday's, and Sunday's, and even Friday's) will do that to a player, and the All-Star break is hardly a cure-all. It's a natural pause, a quick breath, and to get a win before a few days off can only be a positive. But in just a few days, it all begins again, and .500 is the most fleeting of numbers. Follow Joan Niesen on Twitter.
Original Story:
http://www.foxsportsnorth.com/02/23/1...
THE BACKYARD
BEST OF MAXIM
RELATED ARTICLES
There really isn't much to say here. It's pretty simple actually, Minnesota and Utah, tied at 98, the ball ends up in the hands of guard Luke Ridnour.Ridnour finds a gap in the Utah defense, takes it to the hole and puts up a floater.Buzzer goes off, ball goes in and the Timberwolves win...thank you very much.
MAD SKILLS
The best part? The record Minnesota Timberwolves rookie point guard phenom broke in Orlando during early All-Star Weekend festivities — according to the NBA, it was "Guinness World Record" but I cannot confirm that (mainly because I'm lazy) — was that the previous record stood for about an hour, as Evan Turner of the Philadelphia [...]
If you exclude the late games–Dubs/Suns, Lakers/Mavs, and Nuggs/Clipps–last night's average margin of victory was 11.3 points… and that's not because some team like the Wizards or Kings, who actually played each other (which is why this couldn't happen), went out and lost by 50, either.  Damn near every early game played on Wednesday, February 22nd was simply a blowout...
Just minutes after Philadelphia 76ers guard Evan Turner sank 14 shots from behind the backboard, setting a Guinness World Record, Timberwolves guard Ricky Rubio snatched the honor away. In Orlando for an All-Star weekend Rising Stars shootaround Friday morning, Rubio lined up with the basket in front of him and to his right and sunk 18 shots in 60 seconds. That was four better than...
Luke Ridnour hit a floater in the lane at the buzzer, capping Minnesota's comeback from 18 points down in the fourth quarter as the Timberwolves beat the Utah Jazz 100-98 on Wednesday night.
Luke Ridnour hit a floater in the lane at the buzzer, capping Minnesota's comeback from 18 points down in the fourth quarter as the Timberwolves beat the Utah Jazz 100-98 on Wednesday night.
MINNEAPOLIS (AP) Soft-spoken and quiet, Luke Ridnour does his job with little fanfare.
Ricky Rubio went to the playground during tonight's NBA Rising Stars game. Rubio took down a long rebound and started to take the ball up court. As he was doing so DeMarcus Cousins got in his way so he dribbled the ball through Cousins open legs like he was at the Rucker. After that he continued down court tossing an easy alley-oop pass to Blake Griffin. (H/T to Jose3030...
Luke Ridnour hit a floater in the lane at the buzzer, capping Minnesota's comeback from 16 points down in the fourth quarter as the Timberwolves beat the Utah Jazz 100-98 on Wednesday night. Utah's Al Jefferson sank a jumper with Kevin Love in his face to tie the score at 98 with 7 seconds remaining.
Minnesota Timberwolves guard Ricky Rubio set a world record Friday morning by making 18 shots from behind the backboard in less than a minute.
Celebrity Game by Maurice Bobb / @reesereport Rising Stars Game by Lang Whitaker / @langwhitaker We're late due to technical difficulties (read: couldn't get past the L's velvet rope), but here we are live and direct at the Sprite All Star Celebrity Game 2012.  So far, the crowd has reacted loudest to Jersey Shore's Vinny Guadagnino, so, there's that, but that won't...
NBA News

Delivered to your inbox

You'll also receive Yardbarker's daily Top 10, featuring the best sports stories from around the web. Customize your newsletter to get articles on your favorite sports and teams. And the best part? It's free!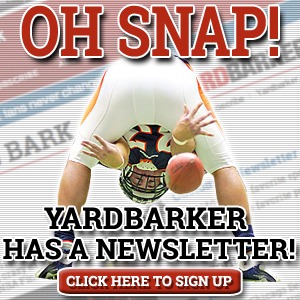 Latest Rumors
The Backyard

Today's Best Stuff

For Bloggers

Join the Yardbarker Network for more promotion, traffic, and money.

Company Info

Help

What is Yardbarker?

Yardbarker is the largest network of sports blogs and pro athlete blogs on the web. This site is the hub of the Yardbarker Network, where our editors and algorithms curate the best sports content from our network and beyond.