Found April 03, 2012 on Fox Sports North:
It was one injury too many. Blink, and you missed it. But count the players on the court in the final minutes of the third quarter of Monday's 116-108 loss to Sacramento, and there was something off. Instead of following the pack of players down the hardwood, point guard Luke Ridnour lay writhing on the sideline, clutching his right ankle, which just moments later the team confirmed he'd sprained. This is a player who's been teetering on the brink of injury in recent weeks, who's shouldered an average of 39.3 minutes in the six games before Monday. His 175-pound frame has been battered, no stranger to ice packs and bruises. But until Monday, it was always okay. No matter how questionable Ridnour's status had been recently, he was always ready to play, suited up and on every trip.That all may have changed in the third quarter in Sacramento, and it was yet another blow the Timberwolves didn't need. They were in the game, down by just a point going into the fourth quarter. Center Nikola Pekovic was back after missing seven games with bone spurs in his right ankle, and it seemed that the strain of injuries might be lifting, however slowly. For three quarters, just three of the team's top six scorers were out, but when Ridnour fell, that number shot back up to four."I didn't see him go down," Timberwolves' coach Rick Adelman said. "Someone told me that he was laying at the other end, and I can't remember what I said. Probably wasn't anything nice. I just seems like it's happening all the way around."There's no saying right now how much time Ridnour will miss, but in the immediate aftermath of his injury, things went to pieces. The Timberwolves scored just two points in the first five minutes of the fourth quarter after letting the Kings go on an 11-0 run, and they let the game slip out of reach, too far for their late-game comeback to be effective.The last time Minnesota played in Sacramento, it suffered what was then its worst loss of the year, falling 115-99. With the possibility of Pekovic returning, the team seemed to have a shot at redeeming itself, but for the second game in a row, Sacramento knew how to keep the Timberwolves at bay. Minnesota finished the night shooting 48.1 percent, but Kevin Love was the only starter to finish with more than 13 points. Love failed to be the game's highest scorer, as Tyreke Evans's 24 points edged his 23, and the Timberwolves' power forward was also three rebounds short of a double-double."We were just trying to stay close to Kevin Love," Evans said. "He's been playing great. He's been killing the league right now in points and rebounds. We're just trying to crowd him and make him take tough shots."Evans was one of four Sacramento players who finished with more than 15 points. The Kings shot 50.6 percent from the field, but only 40.9 percent in the fourth quarter, which was encouraging in the absence of Ridnour's defense. Another bright spot was Pekovic, who had 17 points in 19 minutes and didn't complain about pain postgame, Adelman said."He says the only thing he really felt was his conditioning," Adelman said. "We tried to give him short minutes. He's a real factor for us around the basket so if we can get him back and gradually build up his conditioning, that'll help us a lot."J.J. Barea, who's been suffering from a thigh contusion, did not make the trip to the West Coast. His health may be the biggest question going forward, as Malcolm Lee and Wayne Ellington will struggle to carry the burden in Ridnour's absence. Neither is a true point guard, and both have seen extremely limited action this season. "We just have to have somebody else step up," Adelman said. "I have no other answers, other than other people have to play."With each game that passes, each loss and injury, there are fewer and fewer answers and options for the coach to ponder. Injuries have made the team almost powerless in righting its late-season skid. Adelman said that right now, Lee is really his best option, and he doesn't know the specifics of Barea's return timetable. But if the veteran point guard can get healthy and Pekovic can continue to play through the bone spurs Ridnour's injury may not be the crippling blow that it might seem in the minutes and hours after his fall.Follow Joan Niesen on Twitter.
Original Story:
http://www.foxsportsnorth.com/04/03/1...
THE BACKYARD
BEST OF MAXIM
RELATED ARTICLES
MINNEAPOLIS See the point guard collapsed on the court, clutching his right ankle? The one the Minnesota Timberwolves struggled to replace in the fourth quarter of Monday's 116-108 loss in Sacramento, the one who'd denied injuries for weeks despite bruises and ice packs, constant stiffness and pain?He was supposed to be traded. At least, that's what speculation said...
Minnesota Timberwolves point guard Luke Ridnour left Monday's game against the Sacramento Kings with an apparent ankle injury. Ridnour was hurt in the third quarter and had to be assisted off the floor by team trainers. He had 13 points and six assists prior to the injury. Ridnour entered the game averaging 12.0 points and 4.7 assists. The Timberwolves have already lost rookie...
It's that time of year again, boys and girls: prom season. And taking a cue from other recent proposals directed to Tim Tebow and "Jerry" Lin, a Minneapolis-area high school senior has decided to aim high by asking Ricky Rubio through a YouTube video to be her prom date. Champlin Park senior Georgetta Wuo, 18, posted her invitation to Rubio last Friday. Some of Rubio's...
Minnesota Timberwolves forward Derrick Williams had his one-handed dunk attempt rejected by the rim during the second quarter of Sunday's NBA game against the Portland Trail Blazers. Williams received a perfect pass from teammate Malcolm Lee and found himself alone under the basket, so he went for the monster slam dunk to get himself into the sports highlight reels. Unfortunately...
The Minnesota Timberwolves are having a renaissance of sorts as it pertains to NBA relevancy, and one needn't look much further than the amount of team-made and fan-created viral videos that have been circulating the interwebs since the beginning of this season. And while Ricky Rubio's season-ending knee injury let the air out of any [...]
The Minnesota Timberwolves and Golden State Warriors are in the process of falling completely out of playoff contention. That trend will continue for one team Wednesday night when Minnesota looks to end another three-game slide by beating the visiting Warriors for the second time in just over two weeks. The Timberwolves (25-30) have dropped 4 12 games behind Houston for the eighth...
 Before Ricky Rubio went down with a season ending knee injury in Minnesota, the Spanish point guard was in a close race with Cleveland's  Kyrie Irving for who would take home NBA Rookie of the Year honors this season.  Rubio tearing his ACL in early March changed that debate and Irving's been the front-runner ever since. But is the Cavs' point guard and former overall...
Two of the NBA's best rebounders, Kevin Love and DeMarcus Cousins, are set to renew acquaintances again. Cousins, however, hasn't been much of a factor against Love's Minnesota Timberwolves this season. The home team has won every matchup between Cousin's Sacramento Kings and the Timberwolves heading into Monday night's meeting of last-place teams at Power Balance...
The Minnesota Timberwolves and Golden State Warriors are in the process of falling completely out of playoff contention. That trend will continue for one team Wednesday night when Minnesota looks to end another three-game slide by beating the visiting Warriors for the second time in just over two weeks. The Timberwolves (25-30) have dropped 4 1/2 games behind Houston for the eighth...
Timberwolves News

Delivered to your inbox

You'll also receive Yardbarker's daily Top 10, featuring the best sports stories from around the web. Customize your newsletter to get articles on your favorite sports and teams. And the best part? It's free!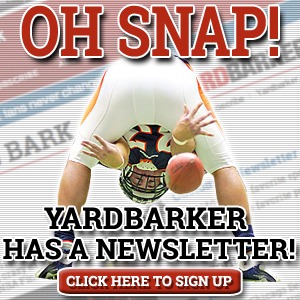 Latest Rumors
The Backyard

Today's Best Stuff

For Bloggers

Join the Yardbarker Network for more promotion, traffic, and money.

Company Info

Help

What is Yardbarker?

Yardbarker is the largest network of sports blogs and pro athlete blogs on the web. This site is the hub of the Yardbarker Network, where our editors and algorithms curate the best sports content from our network and beyond.