Found July 12, 2012 on Fox Sports Florida:
PLAYERS:
Pat Riley
,
Ronny Turiaf
,
Mike Miller
,
Ray Allen
,
Rashard Lewis
,
Jarvis Varnado
,
Terrel Harris
,
Juwan Howard
,
Eddy Curry
TEAMS:
Miami Heat
,
Boston Celtics
,
New Orleans Pelicans
MIAMI -- Pat Riley didn't even spend 4.5 million for next season to pick up a pair of guys who last year made a combined 31 million. So does the Miami Heat president have another big score left in him? It's not out of the question. And we're not talking about center Ronny Turiaf, whose agent said Wednesday night remains a candidate to re-sign with the Heat. For now, the Heat only have minimum salaries to spend for their two open roster spots, which Riley said are being put on hold for now. But sources say the Heat have brought up in free agency dealings a possibility they eventually could have a 2.9 million disabled player exception available. That exception could come if swingman Mike Miller, who might have back surgery, is ruled out for the season. There's a possibility he could end up retiring. "He's going to meet with the doctor this week and they're going to take the second step," Riley said while not giving many details about Miller. "But he's been doing exercising, resting and that's the extent of any kind of news on him to this point." Regardless of what happens the rest of the offseason, free agency will end up being a rousing success for the Heat. They signed on Wednesday for 3.09 million next season guard Ray Allen, who made 10 million last year with Boston, and for the 1.35 minimum forward Rashard Lewis, who earned 21 million last year with Washington. However, it must be said Lewis did recently get a 13.7 million buyout from New Orleans, so he'll be pocketing 15 million overall this season. The Heat now have 13 players under contract. Before doing anything about the two open spots, Riley will see how prospects look in the NBA Summer League in Las Vegas, where the Heat play Sunday through July 21. "We're going to hold right now," Riley said. "With the other two roster spots, we have a bunch of eager, young hungry guys (playing in Las Vegas). What we do with the two final roster spots will be determined by summer league, by what happens late in the summer in free agency (and) the trading market that we're not really exploring hard right now." Among those young guys battling in Las Vegas who have a shot to make the roster are big men Jarvis Varnado, a 2010 Miami second-round pick, Justin Hamilton, a second-round pick last month, and guard Terrel Harris, a rookie last season with the Heat before becoming a free agent. But, with Turiaf and Juwan Howard having become free agents (OK, Eddy Curry also did), it would seem the Heat need at least one more experienced big man. Mark Bartelstein, the agent for Turiaf, said his client remains a candidate for a Miami spot. "We're talking," Bartelstein said of continued conversations with the Heat. "I wouldn't rule it out. We're staying in contact." Turiaf, a seven-year veteran who signed with the Heat last March and ended up starting seven playoff games, had a player option for next season for the 1.4 million minimum. He didn't pick it up in order to look for a better deal, but it's certainly possible Turiaf could end up returning to the Heat for the minimum. Of course, if a 2.9 million disabled player exception becomes available, then it becomes a different story for the Heat. That could give them a much-improved chance to make a strike with another significant free agent. The Heat landed a pair of guys Wednesday who have combined for 12 All-Star Game selections (Allen 10 and Lewis two). Could Riley end up finding another former All-Star on the discount rack? Chris Tomasson can be reached at christomasson@hotmail.com or on Twitter @christomasson
Original Story:
http://www.foxsportsflorida.com/07/12...
THE BACKYARD
BEST OF MAXIM
RELATED ARTICLES
SNEAK PEEK
Would Arnie approve these kicks?
A year ago LeBron James and Kevin Durant pushed each other to get over their playoff pain after they were both cut at the knees by the Dallas Mavericks. This year they have zero in common as James was the victor in the NBA Finals beating Durant's squad in a definitive fashion. According to... Please click the link below to read this feature.
It was never about money. The Celtics offered Ray Allen a two-year deal worth $12 million. Miami offered him what they could, which was only $9 million over three years. If Allen wanted to make as much cash as he could before ending his NBA career, he would still be wearing green. Instead, he has decided to sleep with the enemy. The feeling of betrayal Boston fans are coping with...
Irrevocable Differences with Rondo was Ray Allen's number one reason why he left Ray Allen has taken less money to join the Miami Heat after departing Boston.  Many have said that there are many reasons for this, and one of the main reasons was Allen's deteriorating relationship with the Celtics' starting point guard Rajon Rondo. [...]
NBA star LeBron James believes Liverpool will struggle again next season after another summer of upheaval. The Anfield outfit struggled...
LeBron James Instagram'd his feet yesterday, unveiling a new development in shoe fashion: The LeBronold Palmer 9 Lows. Part Arnold Palmer, part LeBron James, and part Jimmy Buffet concert, the the LBP9′s even have a glass of Arnold Palmer in the sole. James tweeted the photo with the hashtag #yikes, but we expect to see the kicks popping up on South Beach within the hour. Hate...
Congrats to the Miami Heat, team of the year. You could see the excitement rippling through the fingers of as two key players slowly gripped the metal award on behalf of the team. Mike Miller and Juwon Howard were so proud. Of course, I kid. I didn't watch that hell-hole of a sports award show. [...]
In the wake of Ray Allen's departure to the Celtics' hated enemy and his comments that he will always be a Celtic,  I thought it would be good to show a REAL Celtic's reaction to the Heat.  As a Celtic, you HATE them.  You don't join them.  It appears that a Heat fan with the same last name as Fab offered to be one of Fab's biggest fans. To his credit, Fab...
Veteran free agent forward Rashard Lewis has reportedly agreed to a two-year deal with the Miami Heat, according to reports from Y! Sports Marc Spears: Heat have agreed to a two-year deal with forward Rashard Lewis, sources tell Yahoo! Sports. — Marc J. Spears (@SpearsNBAYahoo) July 10, 2012 Lewis played sparingly for the Wizards in [...]
The Miami Heat stumbled on to a plan during the playoffs and it looks like they're going to keep that plan going through next season and beyond.  When Chris Bosh was injured the Heat modified their line up from two power forwards to moving Shane Battier in to the starting line up.  When Chris Bosh returned, the Heat moved Udonis Haslem to the bench and stayed with their...
LAS VEGAS -- Jordan Mickey sat down with Scout.com at LeBron James Skills Academy to discuss his recent recruiting trips and his overall recruitment.
Alonzo Mourning joined Rob and Amy to talk about the latest around the NBA including his Miami Heat
NBA News

Delivered to your inbox

You'll also receive Yardbarker's daily Top 10, featuring the best sports stories from around the web. Customize your newsletter to get articles on your favorite sports and teams. And the best part? It's free!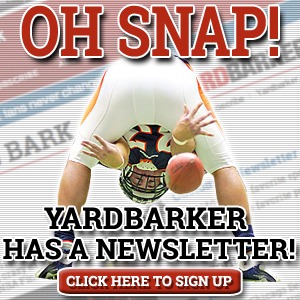 Latest Rumors
The Backyard

Today's Best Stuff

For Bloggers

Join the Yardbarker Network for more promotion, traffic, and money.

Company Info

Help

What is Yardbarker?

Yardbarker is the largest network of sports blogs and pro athlete blogs on the web. This site is the hub of the Yardbarker Network, where our editors and algorithms curate the best sports content from our network and beyond.