Found June 28, 2012 on NorthWest Sports Beat:
PLAYERS:
Kenyon Martin
,
Kyle Lowry
,
Maurice Williams
,
LaMarcus Aldridge
,
J.J. Hickson
,
Jason Thompson
,
Chuck Hayes
,
Damian Lillard
,
Greg Monroe
,
Austin Rivers
,
Kevin Martin
,
Dwight Howard
,
Steve Nash
,
Brandon Jennings
,
Monta Ellis
TEAMS:
Portland Trail Blazers
,
Los Angeles Clippers
,
Houston Rockets
,
Sacramento Kings
,
Toronto Raptors
,
Detroit Pistons
,
Orlando Magic
,
Phoenix Suns
,
Milwaukee Bucks
,
Weber State Wildcats
,
Duke Blue Devils
Lottery Watch It's Portland Trail Blazers draft day! 1:00pm – After extensively combing through the mock drafts on ESPN, CNNSI, YAHOO, and pretty much everywhere in between and beyond for the past week and all through the morning, the day is finally here.  Yes we know that "The Brow" will be taken first overall, although for some reason I don't believe that he will live up to the hype, but will no doubt have a very satisfying NBA career along the lines of Kenyon Martin.  After the first pick, well it's anyone's ball game as trade rumors and draft stock have fluctuated like the stock market. 1:30pm – Checked to make sure the fridge is stocked with the proper draft watching beverage, 2 litres of chocolate milk,  and the cupboard contains an adequate amount of cookies.  DAMMIT, I FORGOT THE GUMMIES!
1:38pm – Mock draft boards have not changed, but it has become known that the Trail Blazers are not looking to move either of their first round picks and will begin their rebuilding process through the draft.  However being that it is well known that Kyle Lowry wants out of Houston, maybe a deal for either #6 or #11 can be made?
1:41pm – With just over two hours to spare, time for some NBA 2k 3:36pm – Enough of the predraft PS3, which turned out to be Uncharted 3, not NBA2k.  Time to check out some last minute mocks and flip on the lousy TSN2 NBA Draft Preview.  Sadly, I don't see the Raptors coming out of the draft with a impact player.  I hope that they trade the pick and end up with Andre Iggy, who is being shopped by Philly. 3:41pm – Time to check out some insight as to where the Canadians might end up.  Andrew Nicholson will probably be selected anywhere in the late teens – early twenties.  Kris Joseph could sneak into the end of the first round or near the top of the second, but Rob Sacre might not make it among the 60 players selected and may have to take the free agent route……fingers crossed for the Canadians. 3:57pm – WE HAVE A TRADE!  Ok it's not a blockbuster and it's not official, but word on the street is that Khloe and Lamar are heading back to LA as the Clippers are moving Mo Williams to the Jazz 4:04pm – After Davis is taken by the Hornets, I have absolutely no idea who is going where and it seems like the experts are in the same boat.  Bradley Beal is touted by many as the number two pick, but the question is, which team will he eventually play for? Surprise, Surprise, Anthony Davis wen first in the 2012 NBA Draft. Photo credit: Webpronews 4:27pm – There is a Perry Jones III sighting in the draft room.  Good for him, stick it to the man!  Sure he had to get there himself, but I have high hopes for this kid and if rumors of the Lakers trading for him come true, I could be a happy camper.  Chocolate milk here I come! 4:30pm – HERE WE GO FOLKS……..The NBA Draft is so much more exciting than the NHL draft.  Commish Stern just got boo'd worse than a WWE heel and with a smile on his face he thanks everyone.  Stern = Vinny Mac??? 4:37pm – Would have been awesome if the Hornet on the draft hat rocked a unibrow…….Davis is picked number 1, now we can move on with the draft. 4:43pm – WOW, first surprise of the evening, Michael Kidd-Gilchrist, who was projected 3-5 was just nabbed by the Bobcats, hopefully this pick works out better for MJ than Kwame and the "Stache" did With Beal taken by the Wiz, the Cavs will probably take Terrence Robinson, which means the Blazers will take ……..OK, uhm, the Cavs just screwed everything by taking Dion Waiters with the fourth pick.  This means that Robinson, has dropped from a projected 2nd overall pick to possibly being a Blazer.  Unfortunately they already have LaMarcus Aldridge and JJ Hickson. 4:59pm – I love the fact that five picks in and Stern is still being booed and taking it like a champ.  Confused by the Kings taking Thomas Robinson as they have Jason Thompson and the Chuck Wagon.  Robinson will have to learn to expand his game to the perimeter or look for Thompson / Chuck Hayes to be traded. First tears of the night courtesy of Mr. Robinson, but they are well warrented. 5:05pm – The Blazers quickly pick up Damian Lillard from Weber State.  A Derrick Rose lite, Weber will be given every opportunity to start from the get go for the Blazers.  So far Lillard gets the nod for best suit of the night, but it is still early.  Wow, they just broke Lillard's game down stat by stat, possession by possesion….let's see if it translates off the paper onto the court. 5:11pm – Harry Barnes to the Yay.  Still have to love the cockiness of Stern who continues to get booed and he just smiles.  The Raptors don't need Drummond and neither do the Pistons, or New Orleans, so there is a chance that the Blazers could come away with the pg/c combo that they sought after entering the draft. The next surprise of the night could be the Raptors selecting Terrence Ross from UW, who has seen his stock rise as much as anyone in this draft 5:16pm – BINGO……..time to go buy a lotto ticket!  Ross' bow tie now puts him slightly ahead of Lillard in terms of draft attire. Tear sighting number two……Andre Drummond.  Might not be a good sign for the Blazers to take on someone with emotional baggage. 5:24pm – Interesting pick by the Pistons taking Drummond.  As they already have Greg Monroe, who at 6'11″ isn't really today's type of power forward.  Could be the second coming of Bynum and Gasol? 5:30pm – Austin Rivers will be the set up man for Anthony Davis, since he is from Duke and pops is the Celtics coach, I have already spent too much time commenting on this pick. 5:35pm – With the 11th pick in the NBA Draft, the Portland Trail Blazers select………Ghostface Jr.  Meyers Leonard seven foot, two hundred and fifty pound body will be the presence in the paint for the Blazers this season.  If Meyers hooked Lillard up with his shirt and tie that would make one nasty looking suit.
Almost a dozen picks into the draft and surprisingly there have not been any trade announcements made by Mr. Stern.  With two more picks remaining in the draft tonight, both in the second round (40 & 41) the Blazers picked up two key pieces to their future.  Many figure that Lillard is the best point guard in the draft in many aspects of the game, but the jury is out on Leonard who reminds me of one of the Lopez brothers, just not sure whether it is Brook or Robin.
5:40pm – Jeremy Lamb and the Houston Rockets unofficially usher out the Kevin Martin era.  With the Rockets looking to make a run at Dwight Howard, Martin could be used as trade bait. Welcome to Portland, Miles. Photo credit: draftexpress 5:48pm – The boos continue!  Kendall Marshall to the Suns with the 13th pick. If Steve Nash moves to either Toronto or the Knicks, Marshall will take over right away.  If Nash stays, he will be one hellva mentor for the UNC product. 5:52pm – The Bucks grab John Henson who at 6'10″, 220lbs was once a top five talent. Henson should be a great fit for the Bucks with Brandon Jennings and Monta Ellis. Fourteen picks complete, one litre of chocolate milk and half a dozen vanilla Oreo cookies. With twenty six picks until the Blazers make their next selection, their overall grade on first look for the their two first round picks hovers at the B+ / A- area. Look for the Blazers to select a couple of experienced players with their second round picks, possibly Draymond Green, Drew Gordon, Darius Johnson-Odom or adopted Oregon son Rob Sacre. CLICK HERE TO CHECK OUT THE BLAZERS BLOG IN OUR CLUBHOUSE TODAY AT NWSB! © Steve Lee for North West Sports Beat, 2012. | Permalink | No comment | Follow NWSB on Twitter or join US on Facebook for real-time updates OR... | Share This on Twitter | Share NWSportsBeat.com on Facebook Post tags: 2012 NBA Draft Analysis, Andre Drummond, Andrew Nicholson, Anthony Davis, Austin Rivers, Blazers Blog, Blazers Draft Analysis, Blazers Draft Blog, bradley beal, Brandon Jennings, Damian Lillard, dion waiters, Dwight Howard, Greg Monroe, harrison barnes, jeremy lamb, JJ Hickson, John Henson, Kendall Marshall, Kris Joseph, LaMarcus Aldridge, Michael Kidd-Gilchrist, Monta Ellis, NBA 2k, NBA Draft, nba draft 2012, NBA draft analysis, NBA2k, perry jones III, Portland Trail Blazers, Portland Trail Blazers draft, Portland Trail Blazers Draft Analysis, Portland Trail Blazers Draft blog, Rob Sacre, Terrence Ross, Thomas Robinsion
Original Story:
http://www.nwsportsbeat.com/trailblaz...
THE BACKYARD
BEST OF MAXIM
RELATED ARTICLES
The Portland Trail Blazers are known for draft-night surprises, so it's anyone's guess what they'll do Thursday with four selections, including two lottery picks. The team is rebuilding under new general manager Neil Olshey, who will make his first significant moves for the Blazers since he was hired earlier this month. The past season was chaotic for the Blazers, who...
Blazers start the 2012 season off right The Portland Trail Blazers stayed relatively quiet during the 2012 NBA draft, but quiet can be effective when you make the right moves for the organization moving forward. With two lottery picks and two second rounders at their disposal, the Blazers made the moves necessary to get better and are heading in the right direction as we now wait...
This sounds familiar. Both in 2010 and then again in March, the Cavs reportedly targeted PG Jonny Flynn, the former Syracuse star who has fizzled thus far in the NBA. Now, today, we're seeing from the Akron Beacon Journal's Jason Lloyd that Cleveland again is rumored to target Flynn when free agency begins soon. Everyone rightfully focused on draft, but free agency begins Sunday...
PDX 2012 Draft Blog The 2012 NBA Draft was a boring one for most Trail Blazers fans who expected significant splashes, as the team picked the two players that many local analysts had projected them to take assuming that they were still available. There were no first round trades in general manager Neil Olshey's first draft in the Rose City or any other splashes of note. The team...
The 2012 NBA Draft will commence at 4PM this evening, and there is but one draftee among those eligible who can single-handedly reverse the Portland Trail Blazers recent fortunes. Harrison Barnes. Wait... don't go, not just yet. Hear me out. If you've been paying attention, you've heard the reports. He had a poor 2012 NCAA Tournament. He cannot create his own shot...
Jamal Crawford has officially exercised his opt-out to become a free agent.
Rich Cho lives by the philosophy of "draft talent and trade for need."
NBA News

Delivered to your inbox

You'll also receive Yardbarker's daily Top 10, featuring the best sports stories from around the web. Customize your newsletter to get articles on your favorite sports and teams. And the best part? It's free!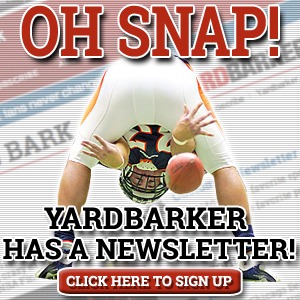 Latest Rumors
Best of Yardbarker

Today's Best Stuff

For Bloggers

Join the Yardbarker Network for more promotion, traffic, and money.

Company Info

Help

What is Yardbarker?

Yardbarker is the largest network of sports blogs and pro athlete blogs on the web. This site is the hub of the Yardbarker Network, where our editors and algorithms curate the best sports content from our network and beyond.