Found November 08, 2012 on Fox Sports Southwest:
HOUSTON The fizz has settled now in Houston. Now you hear a lot of things about "funks" and "just putting your head down" and getting "fatherly advice" from the coach. One Rocket or another said all three of those things after Houston's 93-87 loss to the Denver Nuggets (2-3) Wednesday at Toyota Center. The Rockets are 2-2, and inevitable cooling of James Harden appears complete and all the sudden the Rockets are a team that has trouble scoring, but also has trouble defending. A week ago there was a big party in Houston. Now the sun has come up, the champagne has gone flat and everybody's clothes smell like stale cigarette smoke. "The game right now feels hard," coach Kevin McHale said. "When I'm watching it, it just feels hard." James Harden went 5-for-15 for 15 points, three rebounds and two assists. Jeremy Lin was 2-for-9 with six points, six assists and five rebounds. Carlos Delfino came off the bench to score a team-high 19. Ty Lawson had 21 points and eight assists for Denver, which also got 16 points and 16 rebounds from Kenneth Faried. The Rockets shot 37 percent and had 18 turnovers to get the uglier end of an homely game. If not for Denver's 21 turnovers, the Nuggets might have run away with it. Instead it came down to the final minute, when swatted away a Harden layup attempt, Houston's Chandler Parsons missed and open 3, and Faried put the game away with a runout dunk with 13.9 seconds left. And so Houston is soaked with the rainfall of realism. "Even though we didn't play well, it's still our fourth game together," Harden said. "As the games go on, we'll get better. We didn't have a training camp. We didn't have time to put things together. We're kind of figuring things out as we go." The Rockets are new to each other, and most of them a relatively new to the NBA. They don't start anybody older than 26, and their two marquee players are just beginning their first full seasons as starters. Their clunky offense is understandable, but it would be easier to reconcile if things hadn't gone so well the first two games, when Harden went for 37 and 45 in a pair of Houston wins. Nonetheless, a trend has developed. Houston entered the game shooting 28 percent from the 3-point line, and saw that number go down with an 8-for-33 showing. Lin is 3-for-13 this season, and sent up a couple bricks Wednesday that barely drew iron. He mostly looked like he was only going to shoot a 3 if he lost a dare. "I gotta get out of my slump," Lin said. "I think hitting my shot will open things up as well." The shooting, McHale figured, will come. But for now the Rockets sure do grind the gears a lot. "We're not cutting, the ball's sticky, it's just a lot of stuff we've got to correct," McHale said. "We've got to get better at ball movement, we've got to get better and body movement." McHale also noted a certain lack of energy, which was inexplicable considering the Rockets were playing at home and hadn't played a game since Saturday. "We again for the second game in a row at home were just flat," he said. "It's like we're having a really hard time getting the motor going." It's putting it too strongly to say the Rockets are bummed. It's just more that it has hit them that this is going to be about as difficult as they initially imagined it would be, before Harden so briefly made it all look easy. They still barely know each other. They're still looking for third gear, and making a heck of a racket. "It's gonna be sticky for a while," Patrick Patterson said.
Original Story:
http://www.foxsportssouthwest.com/11/...
THE BACKYARD
BEST OF MAXIM
RELATED ARTICLES
Next up on ESPN's Broke 2...Even before the Oklahoma City Thunder shocked its fans by trading James Harden to the Houston Rockets, the sensational young 6th man had proven that he was ready to step up his off-the-court game as one of the NBA's premiere ballers. After he helped Team USA win a gold medal at the 2012 Summer Olympics, Harden invited his closest NBA friends and...
After putting together an impressive start to his career in Texas, Houston Rockets fans probably have a man crush on James Harden right now.Check out this fan who decided to pay tribute to Harden with this unique hair cut:(Courtesy of Black Sports Online)
HOUSTON So there is this guy, James Harden, and he has a long beard and a well-constructed Mohawk, but he does not speak like a guy with a long beard and a Mohawk, which is to say he is not trying to play some kind of character. He doesn't speak much, really. Well, not much more than he has to, although now that he's the star of the Houston Rockets, he has to speak a lot...
Jacob Eisenberg explains why James Harden's early dominance in his new role as the star of the Houston Rockets is anything but beginner's luck. James Harden's dominant arrival in Houston should not come as a surprise to anyone. Dispel all … Continue reading »
After winning the sixth man of the year award with Oklahoma City, helping lead the Thunder to the Finals and cementing himself as one of the biggest fan favorites in the NBA, it's a little shocking that James Harden wasn't given longer to consider his contract offer with the Thunder. Harden only had an hour to decide, turning one of the biggest decisions of his life into a...
The Rockets had been pushing to complete the trade for James Harden by Friday, but the Thunder wanted to present a final offer to Harden with a 60-minute window.
By Tully Corcoran FOXSportsSouthwest.com HOUSTON So there is this guy, James Harden, and he has a long beard and a well-constructed Mohawk, but he does not speak like a guy with a long beard and a Mohawk, which is to say he is not trying to play some kind of character. He doesnt speak much, really. Well, not much more than he has to, although now that hes the star of the Houston...
Ty Lawson scored 21 points and Kenneth Faried had 16 points and 16 rebounds to help the Denver Nuggets to a 93-87 victory over the Houston Rockets on Wednesday night. James Harden had a tough night for the Rockets and finished with a season-low 15 points on 5 of 15 shooting. Harden bulled into the lane for a layup to cut Denver's lead to five with just less than four minutes...
James Harden and Andre Iguodala became good friends this summer on the U.S. Olympic team. They are on new teams this season and Iguodala will likely be tasked with trying to slow down the league's leading scorer Wednesday night when his Denver Nuggets visit Harden's Houston Rockets. Harden and Iguodala bonded during the London Games, with neither seeing much action for...
MEMPHIS, Tenn. -- The more the Memphis Grizzlies have to dive and dig and dodge and dart, the better they play. The Grizzlies never cracked 40 percent field-goal shooting all night, but a 21-0 advantage in fastbreak points fueled by 20 Houston Rockets turnovers sparked a 93-85 victory Friday night in FedEx Forum. Memphis led 87-75 with 4:55 left, but guard Jeremy Lin rallied...
HOUSTON -- The Denver Nuggets opened the season with great expectations derived from a returning roster replete with talent and reinforced by the addition of Olympian and All-Star swingman Andre Iguodala. That it took the Nuggets four games to record their first victory inspired minor concern. But following their triumph over the Pistons on Tuesday night, the Nuggets won again...
NBA News

Delivered to your inbox

You'll also receive Yardbarker's daily Top 10, featuring the best sports stories from around the web. Customize your newsletter to get articles on your favorite sports and teams. And the best part? It's free!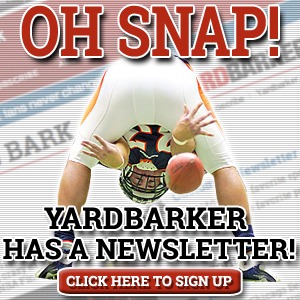 Latest Rumors
The Backyard

Today's Best Stuff

For Bloggers

Join the Yardbarker Network for more promotion, traffic, and money.

Company Info

Help

What is Yardbarker?

Yardbarker is the largest network of sports blogs and pro athlete blogs on the web. This site is the hub of the Yardbarker Network, where our editors and algorithms curate the best sports content from our network and beyond.