Found March 21, 2012 on Fox Sports Houston:
PLAYERS:
Kyle Lowry
,
Kevin Martin
,
Goran Dragic
,
Courtney Lee
,
Kobe Bryant
,
Pau Gasol
,
Andrew Bynum
,
Patrick Patterson
,
Chandler Parsons
,
Kevin Mchale
,
Luis Scola
TEAMS:
Houston Rockets
,
Los Angeles Lakers
HOUSTON The issues continue to roll off the Lakers' collective backs like water through the rocks of a tranquil stream. This group seems impervious to concerns even when they are pressing and legitimate. The shorthanded Rockets, absent their starting backcourt of Kyle Lowry and Kevin Martin, shredded the Lakers' defense in the fourth quarter on Tuesday night at Toyota Center with reserve guards Goran Dragic and Courtney Lee inflicting significant damage. And while Lakers coach Mike Brown wailed afterwards, equally aghast and puzzled by the repetitiveness of their deficiencies, the Lakers seemed far from fretful. Down by double digits midway through the fourth quarter, the Rockets roared back and snatched a 107-104 victory that exposed the Lakers' most recent set of ever-evolving ills. The problem du jour: their defense. "I'm concerned but I'm confident that we'll get it fixed," Lakers guard Kobe Bryant said. "We've responded to challenges all year. In a way it's good to go through something like this." Said Lakers forward Pau Gasol: "It's about attitude, it's about will, it's about communication, it's about working together in the same direction. So let's see if we can make that our priority in our next games and make sure we come out with secure rebounds, and then go out and play on the other side of the floor. But first things first." The Lakers (28-18) could easily present two sides to this argument. The Rockets (25-22) became the fifth consecutive team to eclipse the 100-point barrier while hosting the Lakers. During that stretch the Lakers are surrendering 105.4 points per game on 47.3 percent shooting. But for all of their road misery, the Lakers had won three consecutive games away from Staples Center before the Rockets rallied improbably. Even without center Andrew Bynum (16 points, seven rebounds, two blocks), who picked up his second technical foul and was ejected with 1:10 left in the third, the Lakers were in total control. Gasol scored with ease at the rim at the 6:41 mark of the fourth, and the Lakers led 95-83. Then the Rockets corralled three offensive rebounds on the ensuing possession, the latter two by reserve forward Patrick Patterson, who then converted a short jumper that sparked a 17-2 run. Rookie Chandler Parsons, Dragic and Lee drilled open 3-pointers to slice the deficit to 97-96 before Parsons turned a poke-check steal into a layup and a lead. It was fitting that the Rockets turned the tables with defense. They forced 15 turnovers and converted them into 24 points. When Lee picked up two early fouls, Parsons assumed the defensive assignment on Bryant for lengthy stretches. That Parsons was a willing and fearless defender helped explain why Bryant needed 27 shots to score 29 points. "He did a good job," Rockets coach Kevin McHale said of Parsons. "He (Bryant) made a couple of tough shots. You know Kobe is a closer. Kobe's been a closer for a long time in this league. Chandler did what you've got to do. You get a hand up. You try to make them take shots. "When Kobe has a lot of (shot) clock to work with and he's on top of that key, you don't have a very good feeling in your stomach when that's happening. But Chandler defends well. He's a good, solid defender." Bryant drilled three difficult jumpers down the stretch, but the Lakers had surrendered all of their advantage and momentum by that juncture. That Dragic and Lee finished them off, with Lee delivering a skip pass to Dragic that Dragic converted into a trey and a 104-101 lead with 28 seconds left, spoke volumes about both the Rockets and the Lakers. The Rockets willed themselves to victory even with Dragic and Lee continuing to log heavy minutes with Lowry (bacterial infection) and Martin (shoulder) sidelined. They combined for 39 points, 12 rebounds and 17 assists knowing in advance they were the first and last options. "They can play and this is what happens," Rockets forward Luis Scola said. "You've got Goran now, you have Courtney, we've got a bunch of guys who are looking for their opportunity and waiting for their opportunity, and when the time comes they just go out there and play." The Lakers could offer no excuses as to why the Rockets' reserves rose up and snatched what should have been a casual triumph. Brown sees problems bigger than this one night festering, although this collapse provided him with additional ammunition to support his argument. "The last seven, eight ballgames we just haven't been playing well defensively," Brown said. "We're breaking down in pick-and-roll coverage, we're breaking down with our weak-side awareness. In transition teams are getting open shots or layups. It's the same old song. "About a week ago we told our guys the last five games at that time we were giving up a hundred and something points and 47, 48 percent from the field. And it's continued these last three or four games since we told them that, and there's no sense of urgency. That, for me, is concerning." Follow me on Twitter at moisekapenda
Original Story:
http://www.foxsportshouston.com/03/21...
THE BACKYARD
BEST OF MAXIM
RELATED ARTICLES
HOUSTON There is no if. This was Yao Ming at his philosophical finest; part Yoda, part Neo. In his first appearance at Toyota Center since his fragile feet forced his premature retirement last summer, Yao was bombarded was questions from media seeking to unearth any residual bitterness in his disposition. The statement was profound the first time Yao uttered it in response, yet...
KEPT IN THE FOLD
The Los Angeles Lakers have elected to exercise the option on Andrew Bynum's contract for the 2012-13 season, meaning the center will earn $16.4 million next season.
HOUSTON, March 20 – Let's not even lie. Our thoughts fast forwarded IMMDEIATLY to this game when Derek Fisher was traded from the Lakers to the Rockets last week. After Fisher's no-show and eventual buy-out, it was not to be. But there was plenty of napalm to go around towards the end of this one. Please click the link below to read the rest of this story with video.
HOUSTON (AP) -- The Houston Rockets have waived point guard Derek Fisher, less than a week after acquiring him in a trade with the Los Angeles Lakers. Houston picked up a 2012 first-round pick from the Lakers and sent Jordan Hill to L.A. in the deal. Jamie Wior, Fisher's representative, said in an e-mail that Fisher and the Rockets have negotiated a buyout of his contract, due...
Fans Are a Part of the Action and Really HelpAfter the Rockets comeback win over the Lakers at Toyota Center Tuesday night the players were quick to point out the atmosphere and fan support really helped them in grabbing the win. We have heard that before, but Goran Dragic emphasized the help the fans gave the team when interviewed by Bart Enis on Fox Sports Houston after the game...
Derek Fisher is likely to sign with Oklahoma City once he clears waivers on Wednesday evening.
The Los Angeles Lakers seem to be having a tremendously difficult time winning on the road. Letting their leads get away with the addition of a fast and creative point guard. Can the Lakers bounce back from this loss and pick it up tomorrow night.? Ejection of Andrew Bynum in the third quarter set the Lakers back. If Andrew had stopped talking back to the referees, Lakers had...
The Heat and Thunder are the early candidates to sign Derek Fisher once he clears waivers.
DALLAS (AP) -- Kobe Bryant scored 30 points, Pau Gasol added 27 points and nine rebounds, and the Los Angeles Lakers stopped the Dallas Mavericks' four-game winning streak with a 109-93 victory on Wednesday night. Ramon Sessions contributed 17 points and nine assists in his fourth game for the Lakers since he was acquired in a trade with Cleveland on March 15. Dirk Nowitzki...
Andrew Bynum's ejection in the third quarter at Houston led to the Lakers giving up a 12-point fourth quarter lead.
If my prediction holds up, and of course I believe in myself, the Western Conference finals will feature the Lakers going up against the OKC Thunder. And, if that happens, the thought that Derek Fisher could be signing there is HUGE!! It's being reported that the veteran guard was spotted at  Will Rogers World Airport – That's [...]
Drew Gooden and Andrew Bynum have been named the Eastern and Western Conference Players of the Week for games played between March 12nd and March 18th.
NBA News

Delivered to your inbox

You'll also receive Yardbarker's daily Top 10, featuring the best sports stories from around the web. Customize your newsletter to get articles on your favorite sports and teams. And the best part? It's free!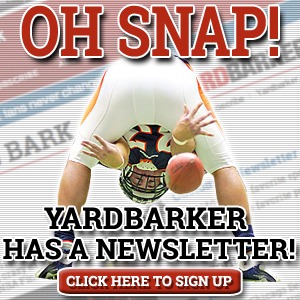 Latest Rumors
The Backyard

Today's Best Stuff

For Bloggers

Join the Yardbarker Network for more promotion, traffic, and money.

Company Info

Help

What is Yardbarker?

Yardbarker is the largest network of sports blogs and pro athlete blogs on the web. This site is the hub of the Yardbarker Network, where our editors and algorithms curate the best sports content from our network and beyond.