The Boston Celtics will be at Madison Square Garden this afternoon to take on the New York Knicks in game one of this first round series. The Knicks took three out of four games played between the two during the regular season so Boston has their work cut out for them. However, the same could be said for New York. Due to the events that have taken place in Massachusett's capitol this week, the Celtics will not only be playing with heavy hearts as they recognize the fallen and injured but also with immense pride as they represent their city's heroic efforts in bringing the two marathon bombing suspects to justice.  The Celtics and Knicks have met in the playoffs a total of fourteen times and today's contest kicks off series number fifteen. They last went head-to-head in the 2011 postseason which resulted in Boston sweeping New York.  While these Atlantic Division rivals have split their playoff bouts, the Celtics have realized a lot more success in the months of April and May. In the past five years, Boston has won eleven of their thirteen postseason series, including their 4-2 triumph over the Los Angeles Lakers that gave the franchise it's 17th championship. On the other hand, the Knicks haven't been quite as fortunate. New York has been bounced in the first round in their last two trips past the regular season. Prior to their loss to the Celtics in the first round of 2011, the Knicks hadn't made the playoffs since 2003 where they would be eliminated, when? You guessed it, the first round. In fact, the New York Knicks haven't survived past round one since the 1999-00 season and they have been without a title ever since 1973.  History isn't the only thing on Boston's side, as the guys in green are playing for much more than just a ring. Like I mentioned in the lead, they are playing for their city and every single citizen that calls Boston "home." With that said, their intensity will be very hard for New York to match. However, it would be wrong to strictly hang our hat on emotions. The reason, unfortunately, being that following the terrorist attacks on 9/11 the Knicks posted a dismal 30-52 record in the 2001-02 season. I'm not trying to down play the idea that emotions and feelings can have a large impact on a team's play but what I'm saying is that there's always a chance that the team is negatively effected, just as the Knicks were. When it's all said and done, it comes down to who can execute their game plan the best.  Previous years aside, this series will, without a doubt, be an instant classic. The Celtics and Knicks have been rivals since the proverbial "day one."  Their last regular season battle came on March 31st when New York won handily, 108-89. Kevin Garnett did not suit up for that game due to his ankle injury and Tyson Chandler was also out. With the big men sidelined it was up to guys like Jeff Green, Paul Pierce, Carmelo Anthony, and the unlikely Chris Copeland to carry their respective clubs.  Green and Pierce combined for 51 points, 19 rebounds, and 7 assists in about 68 minutes between them. It wasn't enough though as Anthony and Copeland scored a total of 46 points, grabbed 15 rebounds, and dished out just 3 assists. Despite Boston's pair accounting for more statistically than New York's two, the Knicks had more scoring throughout their lineup. J.R. Smith chipped in 15 points, Raymond Felton poured in 18, and Steve Novak added 10 of his own. As for the Celtics, their next highest scorer after Green and Pierce was Jordan Crawford who tallied just 10.  Tonight, as well as this series, will be different though because both teams are assumed to have all hands on deck.  #Celticstalk: #Celtics start Bradley, Pierce, Green, Bass and KG. #Knicks have Felton, Shumpert, Copeland, Melo and Chandler.— A. Sherrod Blakely (@SherrodbCSN) April 20, 2013 I must admit I didn't think Mike Woodson would start Copeland in the playoffs. The 28 year old rookie is still unproven despite the rare flashes of scoring prowess he put on display throughout the regular season. But Copeland starting this afternoon is almost irrelevant. You're going to want to pay attention to who Doc Rivers assigns to Carmelo Anthony. I would expect to see Jeff Green shadowing him for the majority of the game but I'm sure both Paul Pierce and Kevin Garnett will get their chance. The Garnett/Anthony match-up has already been a doozy this year considering all the drama that took place between them in early January.  According to them, however, everything is "all good." If you watched the All-Star weekend practices, you would have seen the two on camera with Craig Sager professing how "cool" they are now.  I'm not buying it. Any trash talking that escalates to the two players nearly coming to blows isn't smoothed over within a day, especially when KG is involved.  Bottom Line I sincerely believe that the Celtics will come away with a W in game one. They'll have fresher legs under them and of course their excitement will be sky-high. Carmelo Anthony will have a typical Carmelo Anthony night and J.R. Smith is going to need to be heavily accounted for. Smith is coming in off of a spectacular month of March in which he averaged 22 points per game.  As long as Avery Bradley stays out of foul trouble early, he should be able to keep Smith somewhat limited. Plus, Boston will counter with the Captain's 19.3 points ,7.3 rebounds, and 6 assists averaged in March as well. Ultimately, though, it will most likely boil down to which Jeff Green shows up and how  effective Kevin Garnett can be. The Celtics are going to need a big effort from the bench both tonight and throughout the playoffs if they want to have success. And as always, my dark knight is Shavlik Randolph. He's huge on the boards and he has a soft touch around the bucket. When KG sits, Randolph needs to get in the game. I'm sure Doc will play him at some point this afternoon.  Finally, as I said before, Carmelo is going to score and that much is for certain but it's possible to limit him if he misses a few shots in a row. 'Melo has been known to be pretty inefficient at times and that was a major reason why the C's were victorious on January 7th. Anthony shot 6-26 from the floor and 4-12 from beyond the arc that night. Follow @MacLean_Tim
Original Story:
http://www.celticsspot.com/1/post/201...
MORE FROM YARDBARKER
NBA News

Delivered to your inbox

You'll also receive Yardbarker's daily Top 10, featuring the best sports stories from around the web. Customize your newsletter to get articles on your favorite sports and teams. And the best part? It's free!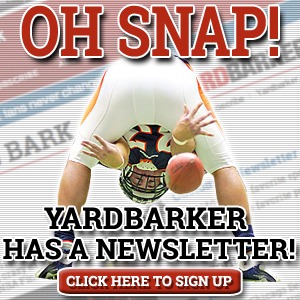 Latest Rumors
Best of Yardbarker

Today's Best Stuff

For Bloggers

Join the Yardbarker Network for more promotion, traffic, and money.

Company Info

Help

What is Yardbarker?

Yardbarker is the largest network of sports blogs and pro athlete blogs on the web. This site is the hub of the Yardbarker Network, where our editors and algorithms curate the best sports content from our network and beyond.