Found June 16, 2012 on NBA 24/7 365:
PLAYERS:
Kendrick Perkins
,
Jamal Crawford
,
Brandon Roy
,
Karl Malone
,
Jan Vesely
,
Shane Battier
,
Gerald Wallace
TEAMS:
Oklahoma City Thunder
,
Portland Trail Blazers
,
Washington Wizards
,
Miami Heat
,
Brooklyn Nets
,
Charlotte Hornets
New York Times: Phil Jackson never had any interest in coaching the Knicks—not that it really mattered.  It turns out that the Knicks never contacted him… probably for fear of being described as clumsy or flawed.  I suppose that part was inevitable.
SB Nation: This just in: Kendrick Perkins blows.  In other news, the Titanic has struck an iceberg.
Sporting News: One season in Portland was more than enough for Jamal Crawford, who has chosen to avoid certain death by opting out of his contract with the Blazers.  Here's to hoping he scores 50 with his new team.  That would make him the only person to have done so in four different jerseys, and the answer to my new favorite trivia question.
Rotoworld: Brandon Roy will be playing in a pro-am basketball tournament this weekend.  Rumor has it he hopes to return to the NBA next season.  For the first time in his life, Cheikh Samb is thankful that he's no longer in the NBA.
Pro Basketball Talk: As you know, Karl Malone is a redneck.  Here he talks about a sheep hunting accomplishment comparable to winning the Super Bowl, the NBA Finals, the Stanley Cup, and the World Series.  My question: does Karl use a gun, or does he kill helpless animals with his elbows?
The Basketball Jones: Why, a Czech magazine figured, photograph Jan Vesely in his Washington Wizards uniform when he could instead be fitted with an actual wizard hat?  I like the way this Czech magazine thinks.
Wages Of Wins: Based solely on statistics, one could claim that Shane Battier is currently a frontrunner for Finals MVP.  This is why it drives me crazy when some nerd tries to turn my favorite game into algebra III.
Sportsrageous: The Nets made a questionable move in trading for Gerald Wallace.  Now that Gerald Wallace has opted out of the final year of his deal, the Nets are in position to make another questionable move in re-signing the soon-to-be 30 year old.  I actually happen to be a big fan of Gerald Wallace (who isn't?), but… yeah.
Eye On Basketball: The Bobcats would reportedly like to deal their #2 pick to Oklahoma City for James Harden.  Sources say the Bobcats are interested in the magical, revenue-generating powers of Harden's beard.
Youtube: I can't seem to come up with anything good to occupy this 10th spot, so here's an old mix I made that almost no one ever watched.  Enjoy!
Original Story:
http://nba247365.com/?p=6943
THE BACKYARD
BEST OF MAXIM
RELATED ARTICLES
It's hard to imagine Thunder forward Kendrick Perkins would be a good pitchman for any product, let alone 1% low-fat milk, but damned if the big man doesn't pull it off.  Of course, all he's required to do is stand there glaring at a woman in the dairy aisle as she picks up some milk, but hey, you can't expect Perk to be Denzel Washington doing Hamlet in his first non-basketball...
Oklahoma City Thunder center Kendrick Perkins stars in a new commercial for low-fat milk. He makes a nice little paycheck just for giving a mean glare for 30 seconds. Perkins doesn't speak at all, which means the makers of this commercial didn't want to pay him extra for a speaking part. And the milk mustache didn't exactly fit here, either. H/T Sports Grid...
  It's good to see Oklahoma City Thunder's brooding Kendrick Perkins putting his scowl to good use as he stars in a milk commercial to sway viewers to choose 1% milk over 2%.
Boston Celtics' power forward Kevin Garnett has hinted that his Game 7 lost to the Miami Heat in the Eastern Conference Finals may have been his final game but if anyone knows how much of a competitor Garnett is, then rest assure you will see him next year. He will be playing for a fraction of the $21 million he made last season though which may actually be a good thing for the...
If you didn't trust Sam Cassell, who shared the exact same news earlier this week, maybe you can believe Kendrick Perkins: Kevin Garnett is conflicted about retirement, but won't play for anyone except Doc Rivers if he returns for an 18th NBA season. (CBS Sports)Despite the comfort zone Perkins has found in the heartland, you get the sense a piece of him died when the Celtics...
40) OKC plays Star Wars music for the Heat, because LeBron James' hairline is so Darth-esque39) The Heat started Chris Bosh at center, just to try to tempt Kendrick Perkins into committing acts of offense38) The Thunder really should remove those lids that they keep on the rim at the start of the game37) Bosh being on the floor for the big early start made every armchair pundit...
NBA News

Delivered to your inbox

You'll also receive Yardbarker's daily Top 10, featuring the best sports stories from around the web. Customize your newsletter to get articles on your favorite sports and teams. And the best part? It's free!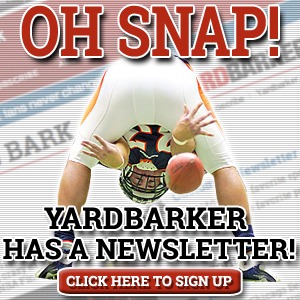 Latest Rumors
The Backyard

Today's Best Stuff

For Bloggers

Join the Yardbarker Network for more promotion, traffic, and money.

Company Info

Help

What is Yardbarker?

Yardbarker is the largest network of sports blogs and pro athlete blogs on the web. This site is the hub of the Yardbarker Network, where our editors and algorithms curate the best sports content from our network and beyond.