Found July 20, 2012 on Project Spurs:
After playing just three minutes against the Los Angeles Lakers on Tuesday in the 2012 Summer
League, San Antonio Spurs 2010 draftee Ryan Richards logged the most minutes of the past three games, as the Spurs fell to the Los Angeles Clippers on Wednesday.
Here's Richards' stat line, beginning with minutes: 16:08 minutes, 2 points, 1-3 shooting, 3 rebounds, 1 block attempt, 5 personal fouls, 2 turnovers, +/- rating of 0
As has been the case after the Spurs' last two S.L. games, I've been doing a scouting report of each of Richards' games, which will end with a final analysis next week.
Offensive Strengths
First quarter (1Q): Richards caught the ball at the top of the key, instead of hoisting a 3-pointer, he took the ball inside, posted into the paint and missed a 2-foot left-handed hook shot. Gaining position with his speed is what is important to note of this play.
3Q: Richards' only points came off this play in the third. Richards set a pick for James Anderson and rolled to the basket. Anderson fed Richards the ball on the cut and Richards finished with a left-handed layup under the basket.
4Q: One of his final plays of the game, Richards received the ball at about 18-feet. He then drove hard into the paint and dished a no-look pass to Eric Dawson who was making a cut to the basket. The basket didn't count because the Spurs were called for a 24-second violation, but that didn't have to do with Richards because he received the ball too late.
Offensive weaknesses
1Q: As Richards was running down the floor without the ball, he just pummeled his defender and was called for an offensive foul. After reviewing the play, Richards did indeed see the defender before fouling him, yet I'm still clueless as to why he didn't slow down or try to avoid the contact?
2Q: On one play, Richards caught the ball near 18-feet, he tried to drive but lost the ball quickly.
3Q: Richards looked lost on one play, as the ball came into his hands and he had it stripped away. Once a teammate recovered the ball and gave it back to him, he was blocked trying to put up the shot.
4Q: In this quarter, I wrote, "looks lost" on several plays. As I've written in previous scouting reports, Richards hasn't had much time to learn the Spurs' system. He indeed looks lost, but I imagine if I looked at some of the Spurs' other S.L. players under a microscope, they'd look lost as well on offense.
4Q: When setting a screen, Richards barely makes any contact when screening the defender guarding the ball handler. More screen set practices will be needed for Richards to set an effective screen.
Defensive Strengths
2Q: When one of the Clippers' players was trying to gain position, they were being too physical. Richards was able to draw the offensive foul by holding his ground until being forced off his position.
2Q: When having to defend a shooter, Richards closed the gap and forced the perimeter-shooter too miss the shot. This is a common theme for Richards, he's yet to let perimeter shots get scored on him when he's switched onto a shooter.
4Q: Richards once again showed he has the quickness to play in the full court defense, as he did in the fourth on several sets.
4Q: When switching onto a guard, Richards showed his quickness as he was able to stay with the guard on the perimeter and the guard had to pass elsewhere.
Defensive weaknesses
1Q: Richards fouled a driving Eric Bledsoe. Richards was very late in his reaction time that he didn't even have a chance to block the shot.
1Q: When defending a pick-and-roll, Richards hedged too much toward the guard, the guard passed the ball to the player Richards was supposed to be defending and Richards arrived late for the block attempt, he was called for a foul.
1Q: When defending another pick-and-roll, Richards was called for another foul by making contact when trying to switch to defend his man.
3Q: While boxing out, Richards was called for a defensive foul for holding his man from claiming the rebound. Richards' thinner frame will be an issue for him when defending regular NBA frontcourt players.
4Q: As Richards was being posted in the paint, he had little shot at blocking a shot because his body was so thin and the opposing player had more size on him.
4Q: When defending a cutting player to the paint, Richards got called for a foul. It wasn't just that he fouled the player; it was that his reaction time was so late that he didn't even have time to put up his hands.
4Q: Fouled a player driving in the open court.
Even with his stat line not looking so good, it's interesting to see that his +/- rating ended at zero. Yes, Richards had a lot of negatives that need to be looked on, but he also had some positives that are rare from the big men on the Spurs' bench on this S.L. squad.
The Spurs face the Miami Heat tonight and the Dallas Mavericks Saturday to wrap-up S.L. For Richards, if he receives the minutes, he'll have to make every second on the court count in these next 48-hours.

Scouting Reports 

1. Atlanta Hawks

2. Los Angeles Lakers

(Photo: Shep McAllister/Spurs.com)
Original Story:
http://www.projectspurs.com/2012-arti...
THE BACKYARD
BEST OF MAXIM
RELATED ARTICLES
On Sunday night after the San Antonio Spurs defeated the Atlanta Hawks, I began writing a scouting report of Spurs draftee Ryan Richards.I said that I would give a report on each of Richards' five Summer League games with the silver and black. Unfortunately, since it is the Summer League and the Spurs have to see if there are any hidden gems on their roster, they have to play different...
The San Antonio Spurs are definitely set at the guard spot. After an MVP-caliber season from Tony Parker and with Cory Joseph and Patty Mills maturing, their depth at the position is hard to match. On top of that, they drafted Marcus Denmon, a guard out of Missouri and they're finally getting Nando De Colo to join the squad after drafting him in 2009. The problem that the Spurs...
San Antonio Spurs' Danny Green recently went to Las Vegas to show his support of the Spurs' Summer League squad. While there, spoke on his time playing in the Summer League and how much it has changed. Also, he gave his favorite T.V. shows, his favorite cartoon series growing up, playing against Duke players in the NBA and much more. Check it out.
In June of 2009, the Cleveland Cavaliers selected Danny Green with the 46th overall pick out of North Carolina. He'd play in 20 games for the Cavs as a rookie, and average 6 minutes and 2 points per night for the season. In October of 2010, he would be cut by the team who drafted him. About sixty days later, he'd be cut again for the second time in his pro career. Despite...
Two games into the NBA Summer League and Kawhi Leonard had scored a combined 50 points and led the San Antonio Spurs to two straight wins. After the Spurs' victory over the Los Angeles Lakers on Tuesday, Leonard had ice on a sore left wrist. Well it seems Leonard's stint in Las Vegas has come to an end as Jeff McDonald of the San Antonio Express News reported before Wednesday's...
The San Antonio Spurs took on the Los Angeles Clippers in game three of their Summer League play and were led by guard Cory Joseph filling in as the focal point of the Spurs' attack with Kawhi Leonard's time playing in Las Vegas came to an end. Joseph led the way for the Spurs with 22 points and six assists but it was not enough as the Clippers handed the Spurs their first...
• Heartbreak and HopeIf you're like me, on draft night you rush to find out as much as you can about an unknown player the San Antonio Spurs drafted with a late second round selection. In the case of the selection of Missouri's Marcus Denmon recently, I got as much information as I could online in my research before speaking to someone else who knew more on the topic.I...
The San Antonio Spurs lost their second game in a row to the Miami Heat at the 2012 Summer League 83-78 despite outscoring Miami 24-9 in the second quarter. Tyler Wilkerson led the Spurs in scoring with 12 points, and Cory Joseph finished with nine points, six assists, and three rebounds. For a complete recap, make sure to read Project Spurs' Paul Garcia's review but check...
After outscoring the Miami Heat 24-9 in the second quarter on Friday evening in Las Vegas, the San Antonio Spurs were handed their second straight loss in S.L. play as the Heat used a 28-14 fourth quarter to defeat the Spurs 83-78. The marquee matchup was with two sophomores on each squad as the Spurs' Cory Joseph was set to defend and try to score on Heat sophomore Norris Cole...
While the Spurs have been busy this offseason, they've mostly been busy bringing back their own players, including reaching agreements to re-sign Tim Duncan, Danny Green, Boris Diaw and Patty Mills.While the Spurs were linked to several players, including key free agent big men, they added Nando De Colo to the roster and drafted Marcus Denmon with their 59th pick.While their...
NBA News

Delivered to your inbox

You'll also receive Yardbarker's daily Top 10, featuring the best sports stories from around the web. Customize your newsletter to get articles on your favorite sports and teams. And the best part? It's free!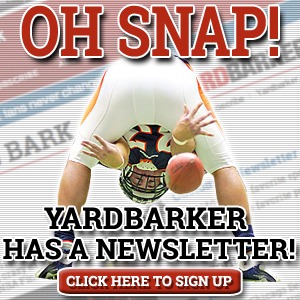 Latest Rumors
The Backyard

Today's Best Stuff

For Bloggers

Join the Yardbarker Network for more promotion, traffic, and money.

Company Info

Help

What is Yardbarker?

Yardbarker is the largest network of sports blogs and pro athlete blogs on the web. This site is the hub of the Yardbarker Network, where our editors and algorithms curate the best sports content from our network and beyond.