Found February 29, 2012 on Project Spurs:
PLAYERS:
Derrick Rose
,
Gregg Popovich
,
Tom Thibodeau
,
Tony Parker
,
Luol Deng
,
Kawhi Leonard
,
Richard Jefferson
,
Carlos Boozer
,
DeJuan Blair
,
Richard Hamilton
,
Danny Green
,
Manu Ginobili
,
C.J. Watson
,
James Anderson
,
Joakim Noah
,
Tim Duncan
,
Kyle Korver
,
Gary Neal
,
Ronnie Brewer
,
Taj Gibson
,
Tiago Splitter
,
Matt Bonner
,
Tyreke Evans
,
Rodney Stuckey
,
T.J. Ford
TEAMS:
San Antonio Spurs
,
Chicago Bulls
,
Denver Nuggets
,
Sacramento Kings
,
Detroit Pistons
The AT&T Center was occupied by cows, horses, sheep, rodeo clowns, and even Lady Antebellum but now the AT&T Center will finally be decorated with silver andblack from ground-up as the San Antonio Spurs (24-10) return for their first home game in 25 days. Though the building might still reek of livestock, the Spurs' 13-1 home record they left with back on February 4th remains unaffected. The Spurs face the second best team in the Eastern conference tonight, the Chicago Bulls. The Bulls are modeling themselves as a contender as they're lead by MVP point guard Derrick Rose and tough tenacious defense. Case No. 35: Chicago Bulls (28-8) Road record: 14-6. Last 10 games: 8-2. Commendable area for the Bulls
1st Assists (23.3)
2nd Opponents points (87.9), Rebounding (45.5), Offensive Rebounding (13.2)
4th Field goal percentage (46%)
5th Blocks (5.7), Three points percentage (38%)
9th Points (97.3)
25th Turnovers (13.7)
28th Personal fouls (17.5)
Like Spurs head coach Gregg Popovich, Bulls head coach Tom Thibodeau is all about defense before any other element on the floor. Aside from ranking in the top of most defensive categories, the Bulls also hold their opponents to 42% shooting per game. The Bulls also have four players on their team who average a little more than one steal per game. The offense is efficient as the Bulls go about nine "effective" players deep. Little turnovers are made, the ball is spread around, and the big men on the glass either keep possessions alive or score on their own with offensive rebounding. The King Derrick Rose – 21.8 points, 7.7 assists, 17 FGA (46%), 4.2 3PT (32%), 5.8 FTA (82%) Tony Parker and Rose just faced each other on Sunday in Orlando, though both didn't play nearly as many minutes as they'll play today, or didn't guard each other as much as they'll guard each other tonight. The Knights Luol Deng – 15.9 points, 6.9 rebounds, 1.1 steals, 14.4 FGA (42%) With Kawhi Leonard out tonight, the Spurs are going to have some problems on the wing stopping Deng if Richard Jefferson has one of those quiet games. Carlos Boozer – 15.8 points, 8.2 rebounds, 1 steal, 13.1 FGA (54%) DeJuan Blair is coming off a 28-point performance against the Denver Nuggets before All-Star break, that game should have boosted his confidence level as he prepares to defend Boozers. Richard Hamilton – 14.2 points, 13.6 FGA (45%) Danny Green is rested andhas the young legs to chase Hamilton around screens tonight. Manu Ginobili is still out for the Spurs. C.J. Watson – 10.4 points, 1.1 steals, 9.1 FGA (39%) This is where missing Leonard and Ginobili could be a big problem for the Spurs. Watson is playing at a consistent level off of the bench for the Bulls, so if James Anderson is given minutes, it'll be his turn to shine on the defensive end. The Bishop Joakim Noah – 9.5 points, 9.9 rebounds, 1.3 blocks, 7 FGA (50%) Noah versus a rested Tim Duncan will be a good-tough matchup to watch for in the paint. The Pawns Kyle Korver – 7.7 points, 6 FGA (43%), 4.1 3PT (41%) Gary Neal is questionable to play tonight, but if he does, he and Korver could put on a shooting display outside of 23.9 feet. Ronnie Brewer – 7.6 points, 1.1 steals, 7.1 FGA (43%) Taj Gibson – 7.4 points, 4.6 rebounds, 1.2 blocks, 6.1 FGA (51%) Tiago Splitter is listed as questionable as well, but should he play, Gibson would be the player Splitter would need to get through. Matt Bonner will also make Gibson have to defend the entire court, as Bonner has been dangerous from behind the arc. Game Expectation With the injury problems the Spurs are facing, taking down the Bulls will be a tough task. However, because the Spurs are poised and focused at home, this should be a great low scoring classic game. One area that does concern me personally is the Spurs' defensive liability against the, what I call, "head first" or "bull" type point guards. These types of guards have displayed a weakness in the Spurs' defensive armor that not many teams have seen. When you look back at January 20th, that was the last time the Spurs lost at the AT&T Center. One big reason was the play of Sacramento Kings guard Tyreke Evans who scored 23 points and collected seven assists while shooting (attacking) 10-of-19 times and getting to the free throw line three times. The next game that showed this weakness was Valentine's Day, February 14th. The Spurs were on their Rodeo Road Trip (8-1) when they visited Detroit. The Pistons almost made a comeback behind point guard Rodney Stuckey who also had 23 points and eight assists. Stuckey shot 8-of-12 that night and got to the free throw line five times. If Rose is in attack mode, this could be a huge concern for the Spurs as Rose usually attempts 5.8 free throws per game. As much as this younger Spurs team has found a new defensive identity, they're still missing that smaller guard who could stop those "head first" type point guards that get to the line so frequently. Parker isn't a defensive stopper type point guard, Green isn't as quick as a point guard, Neal is usually a step-behind, and even when he returns to full health, T.J. Ford isn't big enough to be that guy. The only remedy that I've seen that works against this type of play is a big night from Parker. If Parker can stay in attack mode and keep scoring, it keeps his opponent busy with focusing on defense, instead of using those energy bursts to attack the rim on offense. The Frenchman whose name has been put in the MVP conversation for the first half of the season, ultimately, could be the biggest reason on whether the Spurs either win their 25th game of the season, or lose their 11th.
Original Story:
http://www.projectspurs.com/2012-arti...
THE BACKYARD
BEST OF MAXIM
RELATED ARTICLES
Back on Tuesday night, the Chicago Bulls defeated the New Orleans Hornets by the score of 99-95 but for some reason the home crowd at the United Center decided to boo Bulls point guard Derick Rose. Why you may ask? Rose was at the free throw line with about five seconds remaining and only needed to make one free throw to give the team up to 100 and give fans in attendance, a...
We can all agree that Derrick Rose is not cut from the same cloth as most NBA stars. He's rather soft spoken and isn't about "the show". But sometimes, Rose takes things just a little too serious. Case in point, this story from ESPN Chicago.After a brilliant night where led the Bulls to a 99-95 victory over the Bobcats with 32 points and 9 assists, Rose is apologizing for...
<a href="http://www.mogreet.com/moshare/it/" class="moshare-button-21" data-message="Derrick Rose just got paid! Only two months after signing his five-year, $95 million extension with the Chicago Bulls, D-Rose has just signed a shoe deal with Adidas that is worth a reported $25o million over 14 years. The official deal is 13 years worth $185 million,...
Derrick Rose scored 32 points, including the go-ahead jumper with 19.4 seconds left, and the Chicago Bulls closed with an 8-0 run to beat the New Orleans Hornets 99-95 Tuesday night.
Derrick Rose scored 29 points and the Chicago Bulls stayed on a roll by cooling off the streaking San Antonio Spurs 96-89 Wednesday night.
In the first six quarters immediately following the All Star Break, the Cavaliers had outscored their opponents 144-135. They'd lose to the Celtics by three on Tuesday though, and then get their doors blown off by the Knicks in the next two quarters on Wednesday. After leading in New York by as many as 17 points late in the first half, the Cavaliers would be outscored 71-42 in...
SAN ANTONIO -- Derrick Rose and Tony Parker didn't see much of each other during the All-Star game last weekend, but they got close enough Wednesday night to give the Chicago Bulls a scare.
According to kens5.com, San Antonio Spurs' Tony Parker's brother, Terence Parker, was arrested and charged with DWI early today. Terence Jonathan Parker, 27, was arrested by San Antonio police early Wednesday and charged with DWI, police records show. Details of his arrest were not immediately available. However, court record show he saw a magistrate at 6:45 a.m. where...
By Santosh Venkataraman Posted: Nov. 24, 2010 Steve Nash believes he is showing no lingering effects from a groin injury that caused him to miss two games for the Phoenix Suns. He will likely need to be at full strength if he wants to try to slow down Derrick Rose. Rose has guided the Chicago Bulls to consecutive wins in Phoenix for the first time in 21 years, and they'll...
President Barack Obama already has told Chicago Bulls star Derrick Rose he will attend if Rose leads his team to the NBA Finals. Now Obama is saying that a seventh Bulls' championship "will happen."
NBA News

Delivered to your inbox

You'll also receive Yardbarker's daily Top 10, featuring the best sports stories from around the web. Customize your newsletter to get articles on your favorite sports and teams. And the best part? It's free!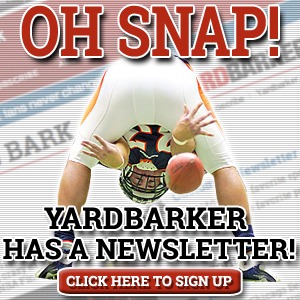 Latest Rumors
Best of Yardbarker

Today's Best Stuff

For Bloggers

Join the Yardbarker Network for more promotion, traffic, and money.

Company Info

Help

What is Yardbarker?

Yardbarker is the largest network of sports blogs and pro athlete blogs on the web. This site is the hub of the Yardbarker Network, where our editors and algorithms curate the best sports content from our network and beyond.