Found July 27, 2012 on Project Spurs:
PLAYERS:
Tony Parker
,
LeBron James
,
Boris Diaw
,
Chris Paul
,
Yannick Bokolo
,
Kobe Bryant
,
Nicolas Batum
,
Mickael Gelabale
,
Yakhouba Diawara
,
Carmelo Anthony
,
Andre Iguodala
,
Ali Traore
,
Kevin Seraphin
,
Ronny Turiaf
,
Nando De Colo
TEAMS:
San Antonio Spurs
,
Miami Heat
,
Los Angeles Clippers
,
Los Angeles Lakers
,
Portland Trail Blazers
,
New York Knicks
,
Philadelphia 76ers
,
Washington Wizards
The United States of America and France open up the Preliminary round of their 2012 Olympic journey as they face each other on Sunday July 29 at 8:30 AM CST in London. The U.S. roster is made up completely of all NBA players, while the French have six NBA players as well on their squad.
San Antonio Spurs guard Tony Parker and the French will do what they can to contain LeBron James and the Americans, but it will be a difficult task for the French nonetheless. Among other Spurs notables on the French squad are Boris Diaw and rookie-to-be Nando De Colo, though they'll both have some tough matchups against the Americans.
Positional Matchups
Point guards
France: Tony Parker                    
USA: Chris Paul, Deron Williams, Russell Westbrook
Advantage: United States
Shooting guards
France: Nando De Colo, Fabien Causeur, Yannick Bokolo                                    
USA: Kobe Bryant, James Harden
Advantage: United States
Small Forwards
France: Nicolas Batum, Mickael Gelabale, Yakhouba Diawara, Florent Pietrus                   
USA: LeBron James, Kevin Durant, Carmelo Anthony, Andre Iguodala
Advantage: United States
Power Forwards
France: Boris Diaw, Ali Traore            
USA: Kevin Love
Advantage: United States
Centers
France: Kevin Seraphin, Ronny Turiaf                              
USA: Tyson Chandler, Anthony Davis
Advantage: United States
Perimeter and Frontcourt Matchups
Perimeter Advantage: USA – Even though Parker will be out there cutting and dicing through the Americans, he still doesn't have the depth behind him to keep up with the American's for a full 40-minutes of play. Parker had his way with Paul and Los Angeles Clippers back in April in the NBA Playoffs, but then to have to defend and score against Williams and Westbrook will eventually be too much for the 2007 NBA Finals MVP. De Colo will handle the backup point guard duty when Parker gets a breather, but even he won't be ready for the speed and physicality of players like Bryant, Durant, and Harden. Batum has experience against the Americans as well as Gelabale, but they too will have a difficult task at hand defending James, Anthony, and Durant continuously.
Frontcourt Advantage: USA – Even though Love and Chandler may not have a major impact on the game, it's the American's versatility in the frontcourt that gives them the advantage because they can use smaller lineups by putting James or Anthony in the frontcourt to use their speed and quickness to score points. Diaw, Seraphin, and Turiaf will have a tough time defending the paint against the athleticism of the Americans, even though the Americans don't have a traditional center that can post consistently.
What will France need to do to upset the Americans?
From what I've observed of this current U.S. team, you need a dominant post game and must move the ball consistently and shoot well from the outside to defeat them. You must also limit their open court play and force them to play in the halfcourt. France doesn't have the post play to do this, but they do have Parker's ability to penetrate and kick the ball out to shooters like De Colo, Diaw, and Batum.
What will the Americans need to do to defeat the French?
For the Americans, the French are going to assist them in a certain waym because France runs the same offense as the Spurs. A quick-fast tempo offense that relies on motion and pick-and-roll execution like the French run, means the Americans will have many opportunities to get into the open court and out on the break, which will play into their hands. Their objective will be to limit Parker who is Les Bleus best chance of getting into the lane and creating plays.
Prediction: USA defeats France by 25 points or more

What's your prediction Spurs fans? Will the French upset the Americans?

Email: 24writertx@gmail.com
Twitter: @24writer
Original Story:
http://www.projectspurs.com/2012-arti...
THE BACKYARD
BEST OF MAXIM
RELATED ARTICLES
The French National Team hasn't had the best of exhibition play leading up to the start of the 2012 Olympics. In tune-up games, they have lost to Spain twice, Australia, and Belgium and do not look like one of the better teams in the tournament. However, San Antonio Spurs' Tony Parker (who will be leading the French squad in London) says France will be ready once the games...
We're less than a week away from the 2012 Olympic games in London. The San Antonio Spurs are widely represented on an international stage with players on the French, Brazilian, Argentinian and Australian basketball teams. Tony Parker, Boris Diaw, Manu Ginobili, Tiago Splitter and Patty Mills will all be competing against each other, trying to win a medal, but it's good to see...
The San Antonio Spurs selected Marcus Denmon with the 59th pick in the 2012 NBA Draft which may have left many Spurs fans scratching their heads. Soon after, we found out a bit more about the guard, he was out of Missouri, played in the 2012 Summer League and that was about it seeing how he now left to France to develop his game with Chalon in the hopes of making it to the NBA....
Marcus Denmon was selected by the Spurs with the 59th overall pick of the 2012 draft.
With the French National Team boasting such key players as San Antonio Spurs guard Tony Parker, Boris Diaw, Nicolas Batum and several others, you'd expect the French to have any number of players they could go to with the a game on the line.But it's newest Spur Nando De Colo who is considered to be France's clutch player, according to a post on BasketNews (via Google...
The Argentinians have a tough task ahead of them if they want to get on to the medal podium in this year's Olympics. They're in Group A with the United States, which means winning the group is going to be a monumental task. However, Spurs guard Manu Ginobili makes it seem like that's not their top priority. Ginobili says he'd like for Argentina to get second or third in...
One of the greatest NBA players to ever grace the hardwood, San Antonio Spurs' Tim Duncan, is definitely seeing the end of his illustrious career coming to a close. And if his new deal with San Antonio is any indication, then fans will have at least two more seasons to appreciate his greatness. There was no doubt that Duncan, a free agent heading into the new season, wasn'...
Of the San Antonio Spurs affiliated players to play in the 2012 London Olympics, Patty Mills and Tiago Splitter will be the first two Spurs to hit the London floor as their respective teams face each other on Sunday July 29, at 5:15 AM CST. Splitter will have a lot of NBA talent on his squad with Brazil, while Spurs assistant coach Brett Brown, whom guides Australia's national...
The Spurs have 14 players with guaranteed contracts for next season, at a total of $69.13 million.
Note: With several members of our staff being big Star Wars fans, the biggest fan likely being being our hard working content editor, Jeff Garcia, I will discuss the Spurs-Hornets opener with a dash of Star Wars dorkdom mixed in. Jedi Master Gregg Popovich squares off against his Padawan, Hornets head coach Monty Williams. It's easy to say Spurs assistant head coach Mike Budenholzer...
  Team USA, aptly dubbed another 'Dream Team' due to comments made by current players and some in the media who are saying they could defeat the team constructed in 1992, officially begins their journey to bring home another gold medal, something they did in that infamous 92 Olympics, as well as in the 2008 Olympics in Bejing on Sunday afternoon 2:30 London time, which means...
U.S. coach Mike Krzyzewski expects the road to gold to be much bumpier for the men's Olympic basketball team than four years ago in Beijing. Although heavily favored to win the 12-nation tournament, the superstar-studded Americans will face a talented tournament field loaded with NBA players. On Sunday, the U.S. opens pool play against France, a squad led by speedy San Antonio...
NBA News

Delivered to your inbox

You'll also receive Yardbarker's daily Top 10, featuring the best sports stories from around the web. Customize your newsletter to get articles on your favorite sports and teams. And the best part? It's free!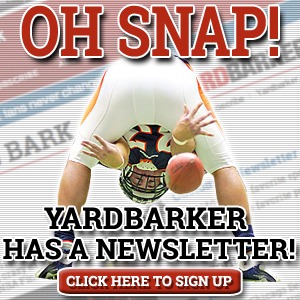 Latest Rumors
The Backyard

Today's Best Stuff

For Bloggers

Join the Yardbarker Network for more promotion, traffic, and money.

Company Info

Help

What is Yardbarker?

Yardbarker is the largest network of sports blogs and pro athlete blogs on the web. This site is the hub of the Yardbarker Network, where our editors and algorithms curate the best sports content from our network and beyond.