Found May 06, 2013 on Blog So Hard Sports:
Shabazz Muhammad is the perfect fit for the Washington Wizards roster, just as we believed he would be last winter. The Wizards and Muhammad have seemed to come full circle to meet again in the 2013 NBA Draft. In the beginning of 2012-2013 season the Washington Wizards started off with one of the worst records in NBA history without John Wall, and for the most part Nene. At that time, the college basketball season had just began, and Shabazz Muhammad was projected to be the number one pick in the 2013 NBA Draft as he was expected to be the best scorer in college basketball. Every Wizards fan, every scout and every mock draft expert pegged Shabazz Muhammad to the Wizards with the first pick of the 2013 NBA Draft. Two things have happened since then. When John Wall returned and Nene got healthy enough to play consistently the Wizards were able to play near .500 basketball the second half of the season to finish with a 29-53 record. Also, Shabazz Muhammad's stock fell in the draft, but it didn't fall because Muhammad wasn't the great scorer he was expected to be.  He is still the best scorer in the 2013 NBA Draft, but fell for several other reasons. It came out that his father had been misleading people about Shabazz's age for a long time. Shabazz is actually 20 years old, not 19 as everyone thought he was. Their lies hurt Shabazz's stock just a bit and questions arose about his character. Shabazz's inability to average one assist per game is a also a red flag for scouts and teams. Muhammad is a great scorer but he isn't a great creator for others, nor is he a great defender at this point. The good things for the Wizards is those deficiencies can be improved once he matures as a basketball player and gets some NBA coaching. But you can't teach his versatility as a scorer, and Muhammad can defiantly put points on the board which is something this Wizards team is in dire need of. Shabazz Muhammad reminds me of James Harden sans the play-making ability. Muhammad is a silky smooth left handed wing player who posses elite speed, athleticism, skills and strength for a 20 year old young man. He is intelligent, has a mature offensive game from both on the block and on the perimeter and is highly motivated to be a great scorer. He already has an NBA body at the age of 20 and has great length for a 6'6 player as his wingspan is near that of a seven footer. Shabazz has a quick first step and is very athletic and explosive. He truly lived up to his hype of being the most prolific scorer in the country, scoring 17.9 points a game and grabbing 5.2 rebounds during his first and only year in college. It surely seems that Shabazz Muhammad and the Washington Wizards are headed on a crash course with each other. With the Wizards probably picking in the 8-11 range in the NBA Draft and Muhammad falling from the projected number one pick down to the 7-12th pick range, both sides seems to be a match made in Heaven. We all know about Washington's defensive prowess all year long (8th in points allowed), but when one of their "big three" were injured (Wall, Beal or Nene) they struggled to score the basketball consistently. In fact, last year the Wizards were 28th out of 30 teams in Points Per Game. If they re-sign Martell Webster, stay healthy, and insert a great young scorer like Shabazz Muhammad as their 6th man, the Wizards should be playing for a top seed in the Playoffs instead of for a top pick in the 2014 Draft. Related posts: Is Shabazz Muhammad The Prize at the End of All These Wizards Losses? What Will 2013 Bring For The Washington Wizards? Who Would You Take #1 Overall If The Wizards Won The Lottery?
Original Story:
http://blogsohardsports.com/wizards-2...
THE BACKYARD
BEST OF MAXIM
RELATED ARTICLES
Jason Collins, the NBA veteran who recently announced he was gay, is seeking a book deal, The Associated Press has learned. Officials at three publishing houses said Monday that they had been contacted about a planned memoir by Collins, the first active player in any of four major U.S. professional sports leagues to come out as gay. The officials spoke on condition of anonymity...
Media critic Howard Kurtz is apologizing for several errors in a column he wrote about gay basketball player Jason Collins this past week. Kurtz is the host of CNN's ''Reliable Sources.'' He brought two other media critics onto his show Sunday to question him about the story written on The Daily Beast suggesting Collins had hidden a previous engagement to a woman...
Ernie, please but that European bait away! The Washington Wizards had a successful second half of the season minus Bradley Beal's injuries which eventually shut him down for the season. A lot of Wizards fans are excited about this team's future, especially the Wizards young backcourt of John Wall and Beal. That being said, Wiz fans are always worried that the front office will...
As Jason Collins continues on a world tour with a mic in his hand, some of his attempts to cash out on his announcement have been leaked to the media. Several publishers have said that Collins or someone in Collins' camp have shopped his memoir, it is something that Collins has denied. Officials at three publishing houses told The Associated Press on Monday that they had been contacted...
Carolyn Moos, the former fiancee of Jason Collins, revealed last week she is planning on freezing her eggs — after she said the basketball star wasted eight years of her life lying to her about his sexuality. Moos said she always thought she would get married to Collins and have his children but these dreams were understandably shattered when he broke up with her in 2009 without...
How would DC fans feel about Dwight Howard in a Wizards jersey? I had a crazy thought this morning. I must have been a dream or something.  And more than likely, it would only be a dream scenario. Anyone think the Wizards should pursue a sign and trade for Dwight Howard? It's no secret that Kobe Bryant and Dwight Howard aren't the best of buds. I'm not sure what kind of...
The Democratic National Committee says NBA veteran Jason Collins will headline its annual lesbian, gay, bisexual and transgender gala. Last week, Collins became the first active player in any of four major U.S. professional sports leagues to come out as gay. President Barack Obama called the 34-year-old athlete the same day to congratulate him and tell him he was proud of his courage...
In the little more than a week since Jason Collins came out, some of the greatest wisdom on the situation has come from some unlikely sources. Metta World Peace offered one of the most memorable insights, claiming that Collins' announcement had inspired him to wear a Cookie Monster outfit to a news conference. Charles Barkley, who is also known to say some outrageous things, was...
Wizards News

Delivered to your inbox

You'll also receive Yardbarker's daily Top 10, featuring the best sports stories from around the web. Customize your newsletter to get articles on your favorite sports and teams. And the best part? It's free!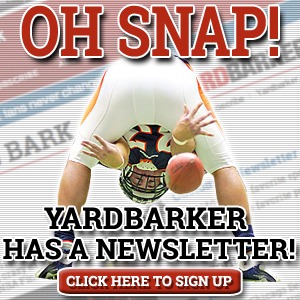 Latest Rumors
The Backyard

Today's Best Stuff

For Bloggers

Join the Yardbarker Network for more promotion, traffic, and money.

Company Info

Help

What is Yardbarker?

Yardbarker is the largest network of sports blogs and pro athlete blogs on the web. This site is the hub of the Yardbarker Network, where our editors and algorithms curate the best sports content from our network and beyond.