Look on the bright side…The Lakers are gonna get their highest draft pick in years!  Ah, that's right.  They traded away all their picks through the 2030 season.  It was a nice thought though. I just don't get it!  But please, spare me all of the excuses… "They hired the wrong coach…" "They don't mesh well on the court…" "Dwight doesn't make his free throws…" Look, I can't tell you what's wrong with the Lakers, but I can tell you that none of the excuses you've been hearing should matter.  With the starting 5 they have (Or had, I guess), I should be able to stand on the sidelines and call the shots for a winning team.  With the combination of Steve Nash, Kobe Bryant, and Dwight Howard, I should be able to tell these guys…"Yeah…go out there and…uh…play basketball?  How about that? …Break!"  I've seen Kobe put together decent seasons (Maybe not championships, but they were contenders) surrounded by teammates who couldn't beat my high school team, and we weren't even good. This has been one hell of a roller coaster season for Laker fans.  The only thing is that this roller coaster doesn't have any the fun parts…no twists, no turns, no loop-de-loops…just one, long, steep, depressing, lethargic, drop straight down to the basement.  You know, the kind of roller coaster you'd be really pissed about paying millions and millions of dollars to ride. So...where does it say how to win a game? (Photo by Jayne Kamin-Oncea/US Presswire) Personally, I've progressed through a variety of stages watching this year's Laker team.  Let me break them down for you:   Stage 1 – Denial While in this stage, I frequently said things like, "It's fine, it's still early", or "The Heat struggled at first, too."  During the first few games, I honestly wasn't concerned with the way they were playing.  Sure they didn't win a single preseason game, but who cares, right?  Wrong. Stage 2 – Frustration This is when reality was slowly starting to settle in.  I wasn't giving up by any means, but I was starting to get restless.  This team should be winning by now, but they're not.  What's the deal?  The excitement of one of the best off-seasons in recent memory was quickly fading.  The Frustration phase was commonly accompanied by sayings such as, "WHY IS YOUR MAN GETTING WIDE OPEN SHOTS!??" Stage 3 – Hope This stage aligned with the return of injured Lakers stars.  Players getting healthy meant one more shot at optimism, and one more chance to forgive the atrocious start to the season.  "Just you wait…now that we're finally healthy, watch out!"  This stage was short-lived. Stage 4 – Confusion At this point, I'm thoroughly confused.  Baffled.  Perplexed.  How could a team with this much talent consistently lose to teams that are so god-awful?  It just doesn't make any sense.  You would think a team like this could stumble into a win every now and then.  Nope!  During the Confusion stage, you could overhear me saying things like, "Huh??", or "Why is Darius Morris playing?" Stage 5 – Indifference Stage 5 can be summed up quite simply… "Ooh!  Is there a new episode of New Girl recorded?"   I've spent enough time trying to figure out what it is that's troubling the Lakers.  While I haven't been able to figure that out yet, I have realized that Earl Clark is quickly becoming one of my favorite players on the team. Enjoy it while you can, Earl.  We all know D'Antoni will just sit you down on the end of the bench the first chance he gets! "Deerrrrr...I don't know!"  
Original Story:
http://sportswithsilverman.com/wordpr...
MORE FROM YARDBARKER
Lakers News

Delivered to your inbox

You'll also receive Yardbarker's daily Top 10, featuring the best sports stories from around the web. Customize your newsletter to get articles on your favorite sports and teams. And the best part? It's free!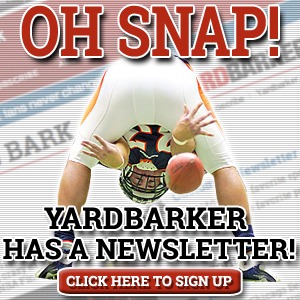 Latest Rumors
Best of Yardbarker

Today's Best Stuff

For Bloggers

Join the Yardbarker Network for more promotion, traffic, and money.

Company Info

Help

What is Yardbarker?

Yardbarker is the largest network of sports blogs and pro athlete blogs on the web. This site is the hub of the Yardbarker Network, where our editors and algorithms curate the best sports content from our network and beyond.