Found March 22, 2013 on In The Neutral Zone:
Rants:Andrew Bynum- I know it been a tough year for the seven year center, but it has been a wasted year for the Philadelphia 76ers. They built this season around the talented big man in his walk year, you would think they would get something out of him. Instead zero, zip, hurt all year and hasn't played a minute of NBA action, but his bowling game is fine. If your knees hurt that bad and you know you are looking for a big score why would risk everything and do something that would put undo strain on your body like that? Bad decision making all the way around. Have to think that Lakers are glad they made the deal despite their issues with Dwight Howard, at least they got more out of him than they would of Bynum. Rants: John Calipari and the Kentucky Wildcats- When the defending champs of a year ago do not get invited to the NCAA everybody makes the Tournment that says alot. When said champs are invited to play in the NIT tourny someone should have to pay and pay big right? Robert Moses had no business being on the same court as Kentucky. But they didn't back down and played them tough and got the win. This was a humbling that reassured John Calipari didn't see coming. Rants: Roger Goodell and the NFL:Now the new rule is the running backs can't spear with their helmets either running through a line or blocking a defender when protecting the quarteback..hmmmm Ok I know the NFL is on a crusade to make the game safer but…are we going to end up looking at a glorified version of flag football? Raves- Miami Heat for not losing focus during this win streak, which at 24 is the second longest in NBA history. This was the Miami Heat everyone feared would be when LeBron, DWade and Chris Bosh first came together. Winning a championship got them to relax and now they are playing inspired ball, scary. Raves: Robert Moses Colonials- Yes I know it isn't the same tourny but NIT is still post season basketball yet have to show some love here for the Colonials. Robert Moses channeled their inner Rocky and believed in themselves and grabed the Cat(WildCats) by the tail and getting the win against the NCAA Champs from 2012 the Kentucky WildCats. This was their championship game, everything after this win will be gravy. They took the Rocky vs Apollo Creed theme seriously. Kentucky didn't see it coming. Robert Moses believed. knocked the swagger right out of the 'Cats. Raves: Chris Ross of Painting the Black: It's not often Rants and Raves gets to recognize a fellow writer however this is one of those time. His lastest piece "Didn't even see it coming" was well done. If you are a football fan and love the NFL like many of us do check it out and ask yourself where is the NFL heading? Is it going overboard with saftey? Read Chris Ross' piece. You will feel the passion of an NFL fan. Good job Chris.
Original Story:
http://intheneutralzone.com/?p=12188
THE BACKYARD
BEST OF MAXIM
RELATED ARTICLES
The Philadelphia 76ers have not even been able to see Andrew Bynum play in their uniform for their team.  The former Lakers center has battled knee issues all season and is now set for bilateral knee surgery that will end his season.  And to top things off, Bynum is a free agent at the end of the year. Do the 76ers bring him back even though they lost an entire season to his health...
The hits keep on coming for Andrew Bynum. Not only does the Philadelphia district attorney want to investigate him for fraud, but those at his high school aren't too proud of him anymore. The Star-Ledger's Dave D'Alessandro spoke with Bynum's high school coach and athletic director for a column on the Philadelphia 76ers big man, who is out for the season because of knee problems...
The other evening the 76ers announced season-ending knee surgery for center Andrew Bynum.This is kind of comical because I didn't even know the season started for the big guy.No but seriously, the whole Bynum situation, though it began with good intentions, has been a disaster, and the Sixers should seriously cut ties with the seven footer.Even his high school coach didn'...
The WIP Morning Show is done with Andrew Bynum and his knees. So when Sixers head coach Doug Collins said he hopes "we all keep [Bynum] in prayer "and that even though he hasn't played all season that he's still a 76er", show host Angelo Cataldi lost it.So in response, Cataldi created a "Get Well Out Soon" card and has invited Sixers fans to sign it. Along with the...
Categories: 76ers BREAKING NEWS Eastern Conference NBA NewsTags: 76ersAndrew BynumDoug CollinsThe Philadelphia 76ers just released a statement about the surgery which center Andrew Bynum underwent bilateral arthroscopic surgery on Tuesday.  They let us know that the procedure was done by Dr. David Altchek with the Hospital for Special Surgery. Bynum whom 76ers head coach...
Andrew Bynum will begin physical therapy on Friday and will remain non-weight bearing for approximately three weeks.
Andrew Bynum has received criticism from NBA analysts such as Magic Johnson and former mentors like Kareem Abdul-Jabbar.
Andrew Bynum has received criticism from NBA analysts such as Magic Johnson and former mentors like Kareem Abdul-Jabbar.
Welcome back to another edition of NBA Unplugged.   www.blogtalkradio.com/probasketballtalk. Jacob and James will discussing the impressive win streak that the Miami Heat are putting on, Andrew Bynum and other topics around the league. This will air at 7pm EST! Call in 914-338-1288 As always, tweet at us:  @probskblltalk @james_bucklin @jacobnnoble You can listen to...
The Philadelphia 76ers' struggles to win basketball games are piling up, and team CEO Adam Aron reached a breaking point with the team after a last-minute loss to the Nuggets on Thursday. The Sixers blew a five-point lead with under 10 seconds to go, and Aron took to Twitter to express his unhappiness. There are plenty of reasons for him to be upset with the team lately, from...
Photo by: Matt Rourke Edit by: Payton Wales Good morning and welcome to the Daily Dribbles, where everybody knows your name and where we're always glad you came. No, seriously, we are not that popular, we probably know who you are. And, of course, we are glad you came because that's what pays for my San Pellegrino addiction. It could be worse. But enough of that and...
NBA News

Delivered to your inbox

You'll also receive Yardbarker's daily Top 10, featuring the best sports stories from around the web. Customize your newsletter to get articles on your favorite sports and teams. And the best part? It's free!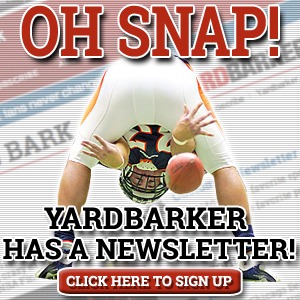 Latest Rumors
Best of Yardbarker

Today's Best Stuff

For Bloggers

Join the Yardbarker Network for more promotion, traffic, and money.

Company Info

Help

What is Yardbarker?

Yardbarker is the largest network of sports blogs and pro athlete blogs on the web. This site is the hub of the Yardbarker Network, where our editors and algorithms curate the best sports content from our network and beyond.