Found July 05, 2012 on Fox Sports Southwest:
PLAYERS:
Jason Kidd
,
Donnie Nelson
,
Tim Cowlishaw
,
Russell Westbrook
,
James Harden
,
Mark Cuban
,
Deron Williams
,
Rick Carlisle
,
Michael Finley
,
Dirk Nowitzki
TEAMS:
Dallas Mavericks
,
Oklahoma City Thunder
,
Brooklyn Nets
In case you missed it, the Dallas Mavericks are finally close to signing their point guard of the future. Now, for the bad news: His name is Jason Kidd. With all due respect to the future Hall of Famer, this doesn't exactly seem like the "big fish" that Donnie Nelson talked about shortly after dismantling an NBA championship team. One of my pals in the media - let's call him Tim Cowlishaw - said Thursday in an otherwise excellent column that he doesn't believe allowing to Tyson Chandler to walk in free agency constituted blowing up a title team. Well, it sure felt that way to me while watching Russell Westbrook and James Harden knife through the lane while sweeping the Mavs in the first round of the playoffs. And surely the man with an Abraham Lincoln tattoo on his neck, DeShawn Stephenson could've at least made the Thunder work for some of those points. Oh, and there's that young Puerto Rican named J.J. Barea that emerged as a consistent scoring threat during the run to the title. Unfortunately, we'll never know what that team could've accomplished had it been kept intact. Mavs owner Mark Cuban sold his fans a bill of goods about the joys of "financial flexibility" in the aftermath of the NBA's new collective-bargaining agreement. There's something almost unseemly about a billionaire owner preaching the values of fiscal restraint especially one who used to laugh in the face of hefty fines for criticizing NBA officials. Whenever he chooses to address the Mavs' epic failure in free agency (is there any other way to phrase it?), Cuban will try to say that he never told any reporters that his goal was to land All-Star point guard Deron Williams. And we'll all know how disingenuous that is based on the Mavs' actions in the aftermath of the lockout. The fact that Nelson is on the record saying the organization was going after a star player will undermine Cuban's explanation. That is, if he can tear himself away from the filming of his TV show, "Shark Tank" in Los Angeles. Even his most ardent defenders were caught offguard by his decision not to be present for the sales pitch to Williams in New York. He basically sent Nelson, coach Rick Carlisle and wait for it Michael Finley to slaughter during their visit with Williams. Since he hasn't commented on his decision to focus on his TV work at such a crucial time, I can only surmise that he wanted to remain above the fray. He didn't want to be part of a sales pitch that had little hope of succeeding. But rest assured, the man who obliterated ESPN's Skip Bayless on live television will have some sort of high-minded excuse ready to roll soon. Meanwhile, the Mavs' aging superstar, Dirk Nowitzki, is left to wonder what will become of the rest of his career. He's always wanted to finish his career in Dallas, but he probably envisioned a more competitive team than the Mavs will likely put on the floor next season. Perhaps Nelson will pull a rabbit out of his hat and make a trade we never saw coming, but this is not a team with a lot of valuable assets at the moment. It's still laughable to me that so many folks thought the Mavs had such a home-court advantage because of Williams' local ties. If Williams was so hellbent on coming home, it seems like he might spend some time here in the offseason. Instead, he's set up shop in San Diego, which makes total sense when you consider it's about 25 degrees cooler per day. A lot of athletes have talked about how many distractions come with playing in their hometowns, what with all the ticket requests and folks showing up at the house unannounced. The best hope for the Mavs was that Williams would jump at the opportunity to play with a superstar such as Nowitzki and an organization that has a much better track record than the Nets. The biggest obstacle was always the Nets' ability to guarantee Williams an extra season worth roughly 25 million. And by the way, it's not like the Mavs realized this component of Williams' recruitment earlier this week. This has always been the case, and that makes Cuban's cry of "financial flexibility" all the more baffling. He's basically used up all his championship goodwill with two curious offseasons. On Thursday, some of Cuban's apologists banged the drum about how the title team would've never been able to win another one. Well, I for one sure would've enjoyed finding out for myself. Nelson and Carlisle may be on the record saying the Mavs caught "lightning in a bottle" for one playoff run, but then what else are they supposed to say? They couldn't even afford to go "off-the-record" with a contrary opinion because it might cause Cuban to go on a witch-hunt. But in the interest of bi-partisanship during this election year, could we all agree that Cuban's plan has failed spectacularly to this point? I sincerely hope something happens soon that will vindicate the Mavs' steadfast belief in "financial flexibility." But unless you believe signing 39-year-old Kidd to a multiyear deal is a sign of progress, it's hard to have a lot of optimism.
Original Story:
http://www.foxsportssouthwest.com/07/...
THE BACKYARD
BEST OF MAXIM
RELATED ARTICLES
Jason Kidd has spent the past four-plus seasons in Dallas, and it doesn't look like he's going anywhere any time soon. Kidd is closing in on a multiyear contract with the Mavericks, according to ESPN.com. Kidd, of course, started his career in Dallas in 1994, and then enjoyed stints in Phoenix and New Jersey before being sent back to Dallas in 2008. The 10-time All-Star averaged...
On Wednesday night, Jason Kidd was reportedly close to finalizing a deal to remain in Dallas for a few more seasons. But by Thursday afternoon, things had changed. Kidd has agreed to join the New York Knicks, according to a report by ESPN. The specifics of the deal have yet to be released, but it's likely that the money will be worth more than the reported three-years, $9 million...
Mark Cuban and the Mavericks were unsuccessful in their efforts to sign Deron Williams.
(Photo Credit: Ronald Martinez/Getty Images) This has turned into a nightmare. Things have gotten so bad in Dallas that less than 24 hours ago, a Mavericks stalwart, 39-year-old Jason Kidd, turned down a 3-year, $9 million deal to go to New York. That wouldn't be too terrible, if it wasn't for one thing: He left [...]
  Now that Steve Nash and Deron Williams have made their decisions, it's rumored that Jason Kidd will too and this time he may just stay with the Mavericks per ESPN. Jason Kidd appears prepared to end his career where he started it — with the Dallas Mavericks. The 39-year-old is closing in on a [...]
Vet Jason Kidd reportedly is close to a three-year, $9 million contract with the Dallas Mavericks, according to ESPN's Marc Stein. The Mavs were interested in fellow free agent point guards Deron Williams and Steve Nash but fell short in their pursuit as Williams re-signed with the Nets Tuesday and Nash landed with the Lakers [...]
Taking his Talents to Broadway!
Dirk Nowitzki has two seasons remaining on his contract and also a no-trade clause.
Early Thursday it was reported that vet Jason Kidd was close to a three-year contract with the Dallas Mavericks, according to ESPN's Marc Stein, but apparently Kidd had a sudden change of heart and has decided to sign with the New York Knicks. The Mavs have had a rough off-season so far, not only losing out in [...]
After eight years with Dallas, Jason Terry is leaving the team he helped win at title in 2011. He's expected to sign July 11 with Boston. In a phone interview with FOX Sports Florida on Wednesday, the free-agent guard said it's certain he will depart Dallas. He said he's still "solidifying a deal" with the Celtics, although not everything is completed. &quot...
The Lakers get Steve Nash and the Knicks end up securing a multi-year deal with Jason Kidd. Kidd has decided to leave the Dallas Mavericks – that drafted him and where he finally won an NBA ring – and join the Knicks. The deal he was close to signing with the Mavericks was allegedly for [...]
NBA News

Delivered to your inbox

You'll also receive Yardbarker's daily Top 10, featuring the best sports stories from around the web. Customize your newsletter to get articles on your favorite sports and teams. And the best part? It's free!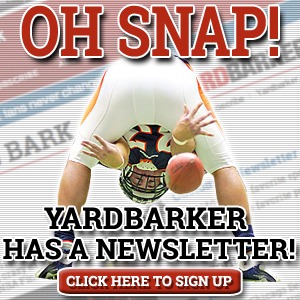 Latest Rumors
The Backyard

Today's Best Stuff

For Bloggers

Join the Yardbarker Network for more promotion, traffic, and money.

Company Info

Help

What is Yardbarker?

Yardbarker is the largest network of sports blogs and pro athlete blogs on the web. This site is the hub of the Yardbarker Network, where our editors and algorithms curate the best sports content from our network and beyond.