Found September 17, 2012 on Project Spurs:
Going from playing, and even dominating, overseas and then transitioning into the NBA via draft or free agency signing can be quite humbling.
Even some of the most highly-touted international players never make it in the NBA or have rough transitions before carving out a role.
It's rare to see a player like San Antonio Spurs guard Manu Ginobili go from playing in Italy to making an impact on a championship team the next year.
If anyone can speak of this transition period, it's soon-to-be third-year Spur Tiago Splitter. Splitter was considered the best big man internationally for years and dominated while playing for Caja Laboral. Everything seemed to be lining up for Splitter to have a good rookie season, especially when many Spurs veterans spoke so highly of the Brazilian in training camp.
But after being injured in training camp and struggling to find a role, Splitter's rookie year was littered with bumps in the road. Last season, he showed marked improvement after playing a full training camp and finding a spot in the rotation. Splitter still has plenty of work to put in and he'll have to show even more improvement in his third season.
With rookie Brazilians Fab Melo and Scott Machado entering the league, Splitter warns his fellow countrymen of the trying times they could have in their first NBA season, noting his experiences.
Game 6 of Western Conference finals last season, against the Oklahoma City Thunder, the Brazilian took an earful from coach Gregg Popovich after not executing what he was asked. By the same token, he is cautious in giving advice to two compatriots who are about to debut in NBA:  - It is never easy because it depends on many situations of minutes on the court, not having injuries ... I wish the best for them, but I notice that it is not easy. My first year was the most complicated, adapting to the new style of play.
Splitter also said, via R7 Esportes, that Spurs forward Tim Duncan has helped him along the way.
He helped me from the beginning, especially in my second year. This is a guy who has already shown, within and outside the court, how special he is.
Having Duncan work with Splitter is important if the Spurs plan on using Splitter in the post-Duncan era, and it'll be equally as important this season if the Spurs want to make another run at a title.
With the Thunder remaining strong, and the Lakers becoming an early favorite, unless the Spurs are somehow able to bring a decent big man aboard, Splitter's performance against bigger teams could be a key to their postseason success.
Splitter also said that while the Thunder, Lakers and Heat are early championship favorites, the Spurs should not be ignored, regardless if they are favorites or not.
If Splitter takes another positive step in his career, he can assure they'll receive plenty of respect and attention.
Original Story:
http://www.projectspurs.com/2012-arti...
THE BACKYARD
BEST OF MAXIM
RELATED ARTICLES
This past weekend was the NBA 3X event in Sao Paulo, Brazil. NBA 3X is a global program put on by the NBA to promote the game around the world. The Spurs' Tiago Splitter was in his home country helping with the festivities. Splitter is increasing his role as a Brazilian ambassador of the NBA. He seems very excited about the league extending his reach to South America and...
As we first reported last week, San Antonio Spurs' Tiago Splitter took part in NBA 3X in his home court of Brazil as a way to promote the NBA brand. Splitter was joined by the Hawks' mascot, Nets dancers while he went one-on-one with the kids in attendance and being a good sport with them as well. Check out Splitter doing his thing for NBA 3X.
If you mention the name "Chamberlain Oguchi" to San Antonio Spurs' Tony Parker, Boris Diaw, and Nando De Colo, the three Frenchmen might have some memories regarding that name. During the London 2012 Olympics, Oguchi lit France up with 35 points, 24 from behind the three point line, in a close game that France barely won. Now it seems that same player who scored...
The San Antonio Spurs unforms have been pretty much standard for years. A basic black, white and silver uniform which exuded a classic, yet stylish look. Of course the Brooklyn Nets and Jay-Z ripped off the look for their inaugural season but it seems the Spurs are set to reveal a new alternative jersey tomorrow according to a report. Spurs will unveil new alternate...
San Antonio Spurs training camp is almost here but that still means we have to wade through the doldrums of the NBA offseason for a bit longer. All this means is random posts to satisfy your thirst for all things Spurs. So with that, here's a full episode of Tony Parker's French cartoon "Baskup" featuring Parker, his basketball team, a Chuck Norris look-a...
The Spurs will wear the new uniform in their home opener against the Thunder.
The last time we heard about Josh Howard and the San Antonio Spurs was on July 1, 2012. At that time, none of the Spurs' free agents had been re-signed yet, and it was looking like Danny Green might have actually been looking at other options at that point, so the move would have made sense. Now, once again according to Yahoo! Sports' Marc Spears, Howard will be visiting...
On Friday, the San Antonio Spurs announced the broadcasting schedule for the upcoming 2012-2013 NBA season. The Spurs will once again be working with local stations Fox Sports Southwest (FSSW), KENS 5, and the CW35. For Spurs fans who are used to watching the games on these local networks, the unique commentary of former Spur Sean Elliot and his sidekick Bill Land will be...
The Spurs recently worked out Chamberlain Oguchi.
Some of your favorite jocks connected and hung out over the weekend. Newly minted Dallas Maverick OJ Mayo was spotted in Dallas partaking in nightlife activities with boxer Floyd Mayweather Jr.   Meanwhile, across the pond, Spurs guard Tony Parker celebrated the 1 year anniversary of Arrêts de Jeu, a restaurant in Paris along with [...]
As we reported, a few New Orleans Hornets players were in San Antonio to get in some volunteer workout sessions in anticipation of the coming season. Hornet players such as Ryan Anderson, Anthony Davis, Austin Rivers, and Jason Smith were able to go toe-to-toe and learn from a few players such as San Antonio Spurs' Tim Duncan and Tiago Splitter and Anderson soaked in every...
NBA News

Delivered to your inbox

You'll also receive Yardbarker's daily Top 10, featuring the best sports stories from around the web. Customize your newsletter to get articles on your favorite sports and teams. And the best part? It's free!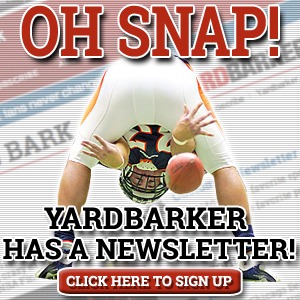 Latest Rumors
The Backyard

Today's Best Stuff

For Bloggers

Join the Yardbarker Network for more promotion, traffic, and money.

Company Info

Help

What is Yardbarker?

Yardbarker is the largest network of sports blogs and pro athlete blogs on the web. This site is the hub of the Yardbarker Network, where our editors and algorithms curate the best sports content from our network and beyond.