Found August 29, 2013 on Pass The Pill:
PLAYERS:
Andrea Bargnani
,
Tim Hardaway
,
C.J. Leslie
,
Carmelo Anthony
,
Tyson Chandler
,
Kenyon Martin
,
J.R. Smith
,
Paul Pierce
,
Kevin Garnett
,
Jason Terry
,
Andrei Kirilenko
,
Gerald Wallace
,
Marshon Brooks
,
Kris Humphries
,
Mason Plumlee
,
Deron Williams
,
Brook Lopez
,
Joakim Noah
,
Billy King
,
Gary Payton
,
Karl Malone
,
Jason Kidd
,
Doc Rivers
,
Kelly Olynyk
,
Rajon Rondo
,
Nerlens Noel
,
Royce White
,
James Anderson
,
Tony Wroten
,
Andrew Bynum
,
Michael Carter-Williams
,
Evan Turner
,
Tyler Hansbrough
,
D.J. Augustin
,
Austin Daye
,
Steve Novak
,
Jonas Valanciunas
,
Kyle Lowry
,
Rudy Gay
,
Hakeem Olajuwon
,
Tim Hardaway Jr.
TEAMS:
New York Knicks
,
Brooklyn Nets
,
Boston Celtics
,
Chicago Bulls
,
Philadelphia 76ers
,
Cleveland Cavaliers
,
Toronto Raptors
We like to think that the NBA season is coming sooner than we know it, but we know that for the time being, we will have to do some waiting. However, it is never too early to start doling out some grades on how we feel teams did this off-season. While the true litmus test will come in the season, I always think its fun to put yourself on the record, and see what you absolutely got right, but mostly, what you definitely got wrong and why. We are starting our Sports-Kings NBA off-season grades with the Atlantic Division. I, Frank Santos, will be joined by Pass the Pill contributor Cody Milford for most of these off-season assessments, and he is the second coolest guy on these reviews, so props to him for that. Grade scales will be from 1-10, and we will go in order of the standings from last year. Thus, the New York Knicks will kick it off: New York Knicks Photo Credit: Theknickswall.com Key Additions: Andrea Bargnani, Metta World Peace Key Losses: Chris Copeland Draft Picks: Tim Hardaway Jr., Signed undrafted rookie CJ Leslie Frank's Analysis: I always like to preface any Knicks analysis I give by saying anyone who has known me for more than 23 seconds knows how big of a Nets fan I am. That being said, the Knicks did a decent job trying to add pieces around Carmelo Anthony with the limited assets and cap space they had. Though definitely past his prime, Metta World Peace will bring a toughness the team lacked last year other than Tyson Chandler (and Kenyon Martin in the second half of last season.) I was on record saying that any team that drafted CJ Leslie in the late 1st or second round was getting the Draymond Green steal of the draft…then every team decided to pass on him. Leslie may go down as the best addition to the roster this season, with NBA athleticism, and the catalyst for an overachieving NC State team the last couple of seasons. On the other hand, I don't love the Bargnani move at all, and I give it approximately three and a half games before Knicks fans are calling for his head. Given the circumstances, the Knicks got J.R Smith for a decent price, though I think ultimately he hurts the team more than he helps. Final verdict: I liked most of their moves, but I didn't love any of them, and they are still faced with the Amar'e Stoudemire problem that isn't going away anytime soon. Simply put, the foundation of this team may simply never be good enough to be a legitimate title contender until they have a permanent resolution for Stoudemire… or he miraculously grows knees again. Grade: 6 Cody's analysis: An evaluation of the Knicks all depends on what kind of product you're asking for. If you're looking for characters in a reality show or a sitcom, then guys like Metta World Peace, Carmelo Anthony, and JR Smith are your guys. If you're looking to build a championship caliber basketball team? Not so much. Like Frank said, the Knicks did an admirable job trying to put pieces around Anthony with the limited amount of assets they had. That being said, the Knicks are a sinking ship and their moves will not be enough to save them. Smith is an enigma; Hardaway and Leslie aren't ready to play significant roles, and Metta World Peace is a little too volatile for my tastes. It will be interesting to see how these personalities mesh under the bright lights of New York, as things may very well get volatile if it doesn't go smoothly this season. Grade: 5 Final Grade: 5.5 Brooklyn Nets Photo Credit: BleacherReport   Key Additions: Paul Pierce, Kevin Garnett, and Jason Terry, Andrei Kirilenko Key Losses: CJ Watson, Gerald Wallace MarShon Brooks, and Kris Humphries  Draft Pick: Mason Plumlee Frank's Analysis: Obviously, the same preface must be given to my analysis of the Nets off-season as seen above. Ever since Mikheil Prokhorov took over the Nets, I've always admired his ability to take chances, and the blockbuster trade for Pierce and Garnett is no different. Will it work? I honestly don't know. I think Pierce has more left in the tank than people are assuming, and what Garnett brings to your team isn't always tangible. Andrei Kirilenko is arguably the steal of the off-season, as many around the league will tell you. I am still talking myself into not hating Kevin Garnett and everything he stands for; its coming along quite nicely. The Nets are the biggest wildcard in the Eastern Conference, and probably the league for that matter. If Pierce and Garnett can blend into their new role player spots and let Deron Williams run the show, this team could legitimately challenge the Heat. Unfortunately, it seems like a lot for a team that will have six new players on the roster, most adjusting to roles they have never had in their careers. All the acquisitions aside, the Nets will only go as far as Brook Lopez takes them. Yes, Brook Lopez, not Deron Williams. Lopez should be the biggest benefactor of the new-look Nets, as double teams will be few and far between, and he will need to concentrate on being a consistent threat on both ends of the floor. Though his 2012-2013 performance was stellar, he did revert back to old timid tendencies when faced with the playoff pressure, and the toughness of the Chicago Bulls, and Joakim Noah. That has to change for the Nets to be a realistic threat. That being said, to look at the Nets roster before this off-season, and after is startling, and General Manager Billy King did a terrific job piecing this team into a possible contender. Grade: 9 Cody's analysis: If the team was a bit younger, the deals less shadier, and Frank didn't call me the second coolest person on these reviews, I may be inclined to give the Brooklyn a perfect ten. They went from pretenders to contenders this offseason, and have assembled what is probably the most star-studded roster I've seen since Gary Payton and Karl Malone decided to chase a ring with Kobe and Shaq. The overall talent on the roster is undeniable, as there are 35(!) combined All-Star appearances between their starting five, but how will these personalities mesh? Will Garnett and Pierce be able to take a back seat to Deron Williams and Brook Lopez? Can rookie head coach Jason Kidd keep these egos in check? There are so many questions about this team and they gave up so much to assemble this roster, but the fact is they are now a legitimate threat to the NBA title and that is what you plays this game to do. Grade: 8 Final Grade: 8.5 Boston Celtics Photo Credit: Masslive.com   Key Additions: Gerald Wallace, MarShon Brooks, Kris Humphries, Coach Brad Stevens Key Losses: Paul Pierce, Kevin Garnett, Jason Terry, Doc Rivers Draft Pick: Kelly Olynyk Frank's Analysis: For arguably the most success franchise in all of sports, the Boston Celtics organization and their fans are certainly in for an atypical season. Rebuilding is in session, whether they admit it or not. However, that's not always a bad thing, and the Celtics may be a primary example of that. All in all, the Celtics got an incredible deal for Pierce and Garnett, especially knowing that their window had closed after the departure of Doc Rivers (and let's face it, in retrospect, its been shut for at least a year.) They stocked up on draft picks, and set themselves to bottom out just in time for one of the strongest draft classes we've seen in quite some time. The toughest part of the aforementioned deal with the Nets was taking on Gerald Wallace's contract. Though, with a season that will be sure to feature a lot of losing, having a veteran, and consummate professional like Wallace will bode well for the time being. The X-Factor for the Celtics is how Rajon Rondo is going to adjust to a completely new time in his career on two levels: being the face of a franchise, and being the face of a rebuilding franchise. The team will have to make a tough decision if they find Rondo can't adjust to either, or new head coach Brad Stevens. If that's the case, the trade deadline could be very interesting in Boston. Grade: 7.5   Cody's analysis: In terms of competing this year, the Celtics didn't do much to help their chances to an NBA title in 2014. Kevin Garnett, Paul Pierce, and Doc Rivers are all gone, and Boston will be in for a very average year. In typical Celtics fashion though, they may very well end up back on top before too long because of what they did this offseason. Their window with Garnett and Pierce was closed, so they traded them off for a haul of draft picks and quality players. Doc Rivers wasn't going to coach in Boston again, so they exchange him for a first round pick in a very deep draft class. These are the moves winners make, and while they may not win on the court a whole lot this season, they made the rebuilding process so much easier with this offseason. Grade: 8 Final Grade: 7.75  Philadelphia 76ers Photo Credit: SportingNews.com Key Additions: Nerlens Noel, Royce White, James Anderson, Tony Wroten Key Losses: Jrue Holiday, Andrew Bynum Draft Pick: Michael Carter-Williams Frank's Analysis: I completely understand the want to grab Nerlens Noel for Philly, especially when it was such a surprise the idea was even conceivable, but giving up Jrue Holiday is a tough sell, given he was arguably the best player on your roster. Personally, as an avid viewer of Syracuse basketball, I am not particularly high on Michael Carter-Williams, and even if he does happen to pan out, his rookie year is going to be filled with growing pains. I commend the Sixers for getting rid of the Bynum circus, but it doesn't help they've traded it in for the Royce White circus instead. A quick look at the Sixers roster automatically commands that its time for Evan Turner to put up or shut up. Turner is going to be asked to do a lot more than he has in years past, and it will be interesting to see how he handles the extra pressure. The Sixers are going to stink. Like…. really really stink. Like… Bobcats-ish stench stink. I give them a bit of credit, only because I think Nerlens Noel was worth the risk in their position. Grade: 3   Cody's analysis: What do you do when a young point guard proves to be the type of talent that you can build around in an otherwise terrible season? You trade him away for an injury prone rookie center. The Sixers apparently didn't learn their lesson with Andrew Bynum, as they went right back into the market for troubled centers with shaky knees after it became apparent he was going to limp walk in free agency. They made no moves to help them immediately or in the future, with the exception of entering their name into the Andrew Wiggins sweepstakes Grade: 2 Final Grade: 2.5 Toronto Raptors Photo Credit: Raptors.com Key Additions: Tyler Hansbrough, DJ Augustin, Austin Daye, Steve Novak Key Losses: Andrea Bargnani Draft Pick: None Frank's Analysis: I don't think anybody will mistake Toronto for a contender this season, but they do bring an entertaining squad to the table if they can remain healthy. The trade to ship longtime staple Andrea Bargnani to the New York Knicks may end up being addition by subtraction. The two additions of former Indiana Pacer contributors Tyler Hansbrough and DJ Augustin are both solid additions, and will bring some stability to their bench. For this season, the key will be the development of Jonas Valanciunas, and the chemistry between their core three of Valanciunas, Kyle Lowry, and Rudy Gay. Their most important addition was new general manager Masai Uriji. If anybody can turn this team around for its years of being a non-factor, it's Uriji. Overall, no great moves, but nothing catastrophic either. Grade: 5   Cody's analysis: The Raptors actually have a pretty interesting roster this season. Jonas Valanciunas may be a household name if he lives up to his potential, and Rudy Gay is currently working on his post game with Hakeem Olajuwon, so he is expected to step his game up a little bit. Adding Masai Uriji will be huge for them in the coming years, as he brings the energy and passion necessary to bring the Raptors to relevance in the typically competitive Atlantic division. Nobody will mistake this team for a championship threat, but they have enough talent to keep it interesting with most teams, and that is really all you can ask for while you're working on building a championship contender. Grade: 6 Final Grade: 5.5 By: Frank Santos and Cody Milford     The post Sports-Kings NBA Off-Season Grades: Atlantic Division appeared first on Pass The Pill - Kings of Hoops.
Original Story:
http://sports-kings.com/passthepill/s...
THE BACKYARD
BEST OF MAXIM
RELATED ARTICLES
COOL IT!
NBA commissioner David Stern reportedly has informed the ownership of both the Knicks and the Nets to cool it with all the antipathy between the franchises.
ESPN's Nine for IX documentary "Branded" debuted this week, and the film took unnecessary jabs at the looks of a few male athletes. The documentary focused on the inequality between male and female athletes when it comes to pay and sponsorship opportunities. The thesis was that looks matter for female athletes, but they're not as […]
Mason Plumlee is returning to Duke University. The school announced on Wednesday (Aug. 28) that it will host the Brooklyn Nets for training camp. The Nets will train from Oct. 1-5. Stay tuned to see if the two teams (Nets and Duke) battle it out in a scrimmage.
The Nets announced Wednesday that the team will hold this year's training camp, from October 1-5, on the campus of Duke University that is intended to "offer a unique opportunity for our players to bond and focus solely on basketball." The Brooklyn Nets will hold training camp for the 2013-14 season on the campus of Duke University…The Nets will travel to Duke on September...
Kevin Garnett is finally going to college. Garnett, who hopped straight to the pros out of Farragut Academy in Chicago in 1995, will join his new teammates on the Brooklyn Nets at Duke University for the first week of training camp this fall. Garnett, Paul Pierce and Jason Terry will descend on Durham, N.C., from Oct. 1-5, the Nets and Duke announced Wednesday. #BrooklynNets coming...
The new look Brooklyn Nets will hold training camp at Duke University. Getting away from the New York media is a smart move on their behave. This will also allow the team to build chemistry. "With many new players and a new staff, going on the road for training camp will offer a unique opportunity for our players to bond and focus solely on basketball as they prepare for this season...
The Brooklyn Nets will hold their training camp this season on the Duke campus. Billy King played collegiately at Duke under Mike Krzyzewski.
NBA News

Delivered to your inbox

You'll also receive Yardbarker's daily Top 10, featuring the best sports stories from around the web. Customize your newsletter to get articles on your favorite sports and teams. And the best part? It's free!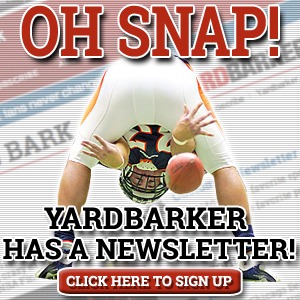 Latest Rumors
Best of Yardbarker

Today's Best Stuff

For Bloggers

Join the Yardbarker Network for more promotion, traffic, and money.

Company Info

Help

What is Yardbarker?

Yardbarker is the largest network of sports blogs and pro athlete blogs on the web. This site is the hub of the Yardbarker Network, where our editors and algorithms curate the best sports content from our network and beyond.