Found July 20, 2012 on Project Spurs:
PLAYERS:
Marcus Denmon
,
Brad Tinsley
,
James Anderson
,
Ryan Richards
,
Luke Zeller
,
Alexis Ajinca
,
Norris Cole
,
Dexter Pittman
,
Mickell Gladness
,
Bobby Simmons
TEAMS:
San Antonio Spurs
,
Toronto Raptors
,
Miami Heat
,
Los Angeles Clippers
,
Vanderbilt Commodores
• Heartbreak and Hope

If you're like me, on draft night you rush to find out as much as you can about an unknown player the San Antonio Spurs drafted with a late second round selection. In the case of the selection of Missouri's Marcus Denmon recently, I got as much information as I could online in my research before speaking to someone else who knew more on the topic.

I found out all about Denmon's shooting and being yet another undersized shooting guard, but I never heard much about his personal life, until I read the latest column of a friend of Project Spurs, Ken Rodriguez, recently on Spurs.com.

I saw Rodriguez interviewing Denmon last week before he answered questions from Project Spurs and the rest of the San Antonio media. Rodriguez got a little deeper than Denmon joining the Summer League team, and talked to him about suffering a tragic loss and coming back a day later to play Missouri's game against Vanderbilt.
Denmon isn't sure how he played through the pressure. But what happened next tells you something about the inner strength of the Spurs lone 2012 draft pick: He won the game.
On the evening of Dec. 8, 2010, visiting Vanderbilt and 11th-ranked Missouri were knotted at 82. With 8.4 seconds left in overtime, the Commodore's Brad Tinsley threw a pass to Jeffrey Taylor to set up a final shot. Denmon, a 6-3 guard, swooped in and deflected the pass. He secured the ball, made a contested layup, got fouled and converted the free throw.
Be sure to read the full column on Spurs.com. 

• CoryCam

Also from Spurs.com, we've seen Cory Joeph's interview with Denmon recently, but now Joseph takes us on a tour of the Spurs Summer League team bus and talks to a few players, including James Anderson and Ryan Richards.

Joseph asked his Toros teammate Luke Zeller about his brother, Tyler Zeller's performance, gets the correct pronunciation of Alexis Ajinca's name and questions JaMychal Green about getting "eight fouls in ten minutes."

• Spurs vs. Heat

Joseph, Denmon and the rest of the Summer League squad will be back in action tonight against the Miami Heat's representation in Vegas.

The Heat, who are led in scoring by Norris Cole, are 2-1 just as the Spurs are entering tonight's game. Aside from Cole, you may recognize a few players on Miami's team, including ex-Longhorn Dexter Pittman, former Toro Kyle Weaver and Mickell Gladness, who played with the Warriors last season.

Trey Gilder is another name from their roster that has been mentioned on Project Spurs before. Back in September of 2010, the Spurs worked out Trey Gilder and he was expected to be on the training camp roster. On media day, the day before training camp, when I didn't see Gilder anywhere and saw that Bobby Simmons had joined the Spurs, I knew exactly what had happened. It'll be good to see how far Gilder has come from then.

The Spurs and Heat tip off at 7 p.m. CST. 
Original Story:
http://www.projectspurs.com/2012-arti...
THE BACKYARD
BEST OF MAXIM
RELATED ARTICLES
The San Antonio Spurs are definitely set at the guard spot. After an MVP-caliber season from Tony Parker and with Cory Joseph and Patty Mills maturing, their depth at the position is hard to match. On top of that, they drafted Marcus Denmon, a guard out of Missouri and they're finally getting Nando De Colo to join the squad after drafting him in 2009. The problem that the Spurs...
San Antonio Spurs' Danny Green recently went to Las Vegas to show his support of the Spurs' Summer League squad. While there, spoke on his time playing in the Summer League and how much it has changed. Also, he gave his favorite T.V. shows, his favorite cartoon series growing up, playing against Duke players in the NBA and much more. Check it out.
In June of 2009, the Cleveland Cavaliers selected Danny Green with the 46th overall pick out of North Carolina. He'd play in 20 games for the Cavs as a rookie, and average 6 minutes and 2 points per night for the season. In October of 2010, he would be cut by the team who drafted him. About sixty days later, he'd be cut again for the second time in his pro career. Despite...
Two games into the NBA Summer League and Kawhi Leonard had scored a combined 50 points and led the San Antonio Spurs to two straight wins. After the Spurs' victory over the Los Angeles Lakers on Tuesday, Leonard had ice on a sore left wrist. Well it seems Leonard's stint in Las Vegas has come to an end as Jeff McDonald of the San Antonio Express News reported before Wednesday's...
The San Antonio Spurs took on the Los Angeles Clippers in game three of their Summer League play and were led by guard Cory Joseph filling in as the focal point of the Spurs' attack with Kawhi Leonard's time playing in Las Vegas came to an end. Joseph led the way for the Spurs with 22 points and six assists but it was not enough as the Clippers handed the Spurs their first...
After playing just three minutes against the Los Angeles Lakers on Tuesday in the 2012 Summer League, San Antonio Spurs 2010 draftee Ryan Richards logged the most minutes of the past three games, as the Spurs fell to the Los Angeles Clippers on Wednesday. Here's Richards' stat line, beginning with minutes: 16:08 minutes, 2 points, 1-3 shooting, 3 rebounds, 1 block attempt, 5...
The San Antonio Spurs lost their second game in a row to the Miami Heat at the 2012 Summer League 83-78 despite outscoring Miami 24-9 in the second quarter. Tyler Wilkerson led the Spurs in scoring with 12 points, and Cory Joseph finished with nine points, six assists, and three rebounds. For a complete recap, make sure to read Project Spurs' Paul Garcia's review but check...
After outscoring the Miami Heat 24-9 in the second quarter on Friday evening in Las Vegas, the San Antonio Spurs were handed their second straight loss in S.L. play as the Heat used a 28-14 fourth quarter to defeat the Spurs 83-78. The marquee matchup was with two sophomores on each squad as the Spurs' Cory Joseph was set to defend and try to score on Heat sophomore Norris Cole...
While the Spurs have been busy this offseason, they've mostly been busy bringing back their own players, including reaching agreements to re-sign Tim Duncan, Danny Green, Boris Diaw and Patty Mills.While the Spurs were linked to several players, including key free agent big men, they added Nando De Colo to the roster and drafted Marcus Denmon with their 59th pick.While their...
NBA News

Delivered to your inbox

You'll also receive Yardbarker's daily Top 10, featuring the best sports stories from around the web. Customize your newsletter to get articles on your favorite sports and teams. And the best part? It's free!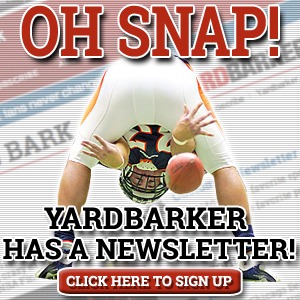 Latest Rumors
Best of Yardbarker

Today's Best Stuff

For Bloggers

Join the Yardbarker Network for more promotion, traffic, and money.

Company Info

Help

What is Yardbarker?

Yardbarker is the largest network of sports blogs and pro athlete blogs on the web. This site is the hub of the Yardbarker Network, where our editors and algorithms curate the best sports content from our network and beyond.