Found June 14, 2013 on Project Spurs:
During the San Antonio Spurs' march in the 2013 NBA Finals, Philip Rossman-Reich of Orlando Magic Daily will be contributing to Project Spurs. An old Dwyane Wade commercial used to say "Fall down seven times, get up eight."   The idea of the ad campaign was a very simple one for the athlete. It is not how you get knocked down, but how you respond when you get back. After a Game Three thrashing that saw him disappear for much of the second half, Dwyane Wade and the Heat should keep this in mind.   After all, the San Antonio Spurs did their part in responding to their own Game Two defeat leading the entire way after the Heat dominated and decimated the Spurs in Miami with a fast-break onslaught. San Antonio returned the favor in hitting an NBA Finals record 16 3-pointers.   Miami came back with a strong 109-93 victory Thursday in Game Four. Wade made his own bounce back, scoring 32 points and looking like his old Finals MVP self in the process.   Both teams now know they have that kind of dominating response within them against the other. The adjustments that need to be made cuts both ways.   "We both answered the losses very well," Tim Duncan said following Game Three. "We both have not answered to wins very well. That's the one thing [Gregg Popovich] always points out, you have to be able to bring that same energy with wins and not be satisfied with yourself.   "So, hopefully, we can respond even better to this win, and I know they're going to be fueled off the energy of how this game went. So, hopefully, we can do the same and play better."   San Antonio did not have the response it needed to the win. The Spurs struggled to take care of the ball and get points in the paint. The Heat dominated the pace and the tempo of the game. Their adjustments and execution trumped the Spurs for much of the game.   Miami's record after losing in this postseason is pretty well documented. After the Heat's six losses this postseason, they have won the next game by an average margin of 20.7 points with the closest game decided by 11 points. Miami has responded well throughout the postseason.    San Antonio was aware of the possibility of a very focused Miami team coming after them in Game Four. But the Spurs were powerless to stop it.   San Antonio had its own problems executing after Miami made its adjustments in Game Two. It happened again in Game Four with the turnovers and poor defensive execution – Miami shot better than 50 percent. The Spurs have to come back now and figure out how to crack the Heat's ultra-small lineup.   San Antonio has to treat the Game Three success as a loss and come in with the focus and desperation Miami had in Game Four. Falling behind 3-2 heading back to Miami for Game Six cannot be an option.   The response will be everything for Game Five.
Original Story:
http://www.projectspurs.com/2013-arti...
THE BACKYARD
BEST OF MAXIM
RELATED ARTICLES
Critics seem quick to judge the other two-thirds of Miami's highly-regarded "big three."  Just because Dwyane Wade and Chris Bosh aren't superstar status, doesn't mean they aren't still capable of holding a decently heavy amount of weight.  Chris Bosh clearly isn't the same player he used to be, but that is largely a result of the system he is in.  Dwyane Wade hasn't...
Do you like Dwayne Wade? Do you like highlights? Do you like super-slow motion? Well this video from the NBA is right up your alley: Wade's Game 4 highlight reel in super-slo motion.
SAN ANTONIO Dwyane Wade declared 2 years ago he no longer wanted to be known as "Flash, the nickname teammate Shaquille ONeal gave the high flyer before the Miami Heats 2006 title run. For least one night, though, Wade said people can go back to calling him that. Not as if he could stop anybody even if he wanted. Miami forward LeBron James called the guard by the nickname...
Amirite? Apparently it helped him play well, do good on you D-Wade. [Barstool] Article found on: Next Impulse Sports
  CREDITED AP If I didn't know any better I swore I saw Dwyane Wade steal the ball, go coast to coast and dunk the ball in game 5 of the NBA Championship.  If I'm not mistaken, Dwyane Wade scored 32 points and looked like the 2006 MVP for the first time in the 2013 playoffs.  Has this guy been playing possum for the past month or so.  Do we need to check his urine after...
Dwyane Wade has struggled mightily in the postseason playing through an injured knee, averaging 14.2 points, he broke through Thursday night and delivered a performance - 32 points, six assists, four rebounds and six steals – reminiscent of his days as "Flash," a "greatest in the universe" superhero nickname given to him by former teammate Shaquille O'Neal prior to the...
Dwyane Wade was in 2006 form as the Miami Heat crashed the Spurs party last night in Game 4 in San Antonio. Meanwhile, back in Miami, the deck at a waterfront sports crashed into the water below. On the golf course, Phil Mickelson got off to a great start at the U.S. Open despite having flown into Pennsylvania at 4 a.m., while a soggy Tiger struggled early in a group that was anything...
  San Antonio Spurs castoff Stephen Jackson, made an appearance on ESPN's First Take today and talked about his falling out with his former team, the NBA Finals. and he even dropped a freestyle for the crew. When asked if he thought the Spurs could win the series, Jackson said he thought they could because in his opinion, LeBron and Dwyane Wade are scared to shoot the ball. Lost...
Los Angles Lakers forward Metta World Peace says he's a big fan of Miami Heat star LeBron James.  But he thinks the reigning MVP needs to step it up in the NBA Finals. "Mentally, the Spurs are strongest right now," World Peace told ESPNLosAngeles.com prior to the Heat's 113-77 loss to 
Danny Green certainly isn't cocky, which is surprising, given his lights-out shooting thus far in the NBA Finals. Still, the Spurs guard, who shrugged after Game 3 that his team's success in reining in LeBron James has as much to do with James "stopping himself" as with anything the Spurs have done, stayed on the humble train on Thursday. Green was asked about his (and his...
SAN ANTONIO What happened: Miamis Big Three are back. At least they were Thursday night LeBron James, Dwyane Wade and Chris Bosh had their best combined outing in awhile. It came when the Heat were in dire need of a victory, and they got one at the AT&T Center. The 109-93 triumph tied the NBA Finals 2-2. James had 33 points, Wade had 32 and Bosh had 20 points and 13 rebounds...
SAN ANTONIO (AP) -- Tony Parker's hamstring, not Dwyane Wade's knee, is the current chief injury concern. Manu Ginobili, not Chris Bosh, is mired in the slump of the moment. Things change quickly at the NBA Finals, and with everything suddenly seeming right with the Miami Heat, it's up to the San Antonio Spurs to change them back Sunday night in Game 5. "It is...
NBA News

Delivered to your inbox

You'll also receive Yardbarker's daily Top 10, featuring the best sports stories from around the web. Customize your newsletter to get articles on your favorite sports and teams. And the best part? It's free!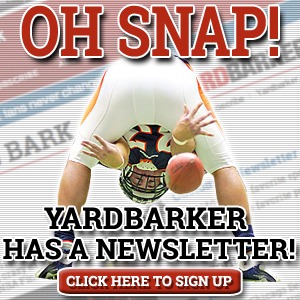 Latest Rumors
Best of Yardbarker

Today's Best Stuff

For Bloggers

Join the Yardbarker Network for more promotion, traffic, and money.

Company Info

Help

What is Yardbarker?

Yardbarker is the largest network of sports blogs and pro athlete blogs on the web. This site is the hub of the Yardbarker Network, where our editors and algorithms curate the best sports content from our network and beyond.