Found December 03, 2012 on Project Spurs:
The Project Spurs' crew is back for another episode of the News 4 WOAI Spurs Roundtable powered by Project Spurs. In this episode we discuss what everyone has been talking about - NBA Commissioner David Stern fining the San Antonio Spurs $250,000 for sitting out Tim Duncan, Tony Parker, Manu Ginobili and Danny Green of the recent game versus the Heat. Mike De Leon defends the fan reaction while Paul Garcia argues why Stern was right for fining the Spurs for their actions. All this and much more including our thoughts on the Spurs assigning Nando De Colo and Cory Joseph to their D-League affiliate Austin Toros.
Original Story:
http://www.projectspurs.com/2012-arti...
THE BACKYARD
BEST OF MAXIM
RELATED ARTICLES
When NBA Commissioner David Stern hands over the reins of power to Deputy Commissioner Adam Silver, in February of 2014; the Association will be in far better shape then when he took the job in 1984. The NBA relegated to the back burner of pro sports in this country; was almost an afterthought, with the NBA Finals broadcast by CBS on a tape delay basis, starting the games at 11...
The fight in David Stern hasn't gone out, that's for sure. The out going Commissioner hit the San Antonio Spurs with a 250,000 dollar fine. Commissioner David Stern said the Spurs "did a disservice to the league and our fans" when they didn't bring Tim Duncan, Tony Parker, Manu Ginobili or Danny Green to Miami for the final game of the six-game trip. "The result here...
David Stern gets flak from a lot of different angles.  Most of it is deserved.  However, he also knows how to run the NBA.  He has built the NBA into a brand and made it so much more successful than it was when he took over.  He's always a fun listen or read when he has a conversation with someone as well.  He did just that with John Reid of the New Orleans Times Picayune...
 David Stern fined the San Antonio Spurs $250,000 for sitting their star players during a nationally televised game with the Miami Heat on Sunday night. Celtics coach Doc Rivers responded to the fine by saying it "was probably overdone" and he doesn't plan on forcing his players to get on the court when they need rest for fear of a fine. From NBA.com: Celtics coach...
NBA commissioner David Stern knows that the San Antonio Spurs are an old team. He also knows that head coach Gregg Popovich will rest his aging starters from time to time.Stern even admitted as much by saying that he has no problem with teams resting their starters. But when it comes to the Spurs playing in a nationally televised game, he expects all the stars to be playing. CLICK...
Yeah, weird huh? You know it ain't big news until Mavs Owner, Mark Cuban, weighs in on the topic. Luckily, he has some perspective on this issue and offers a logical breakdown of both sides. On Pop: "If he would have done the same thing the next night, it'd be a completely different conversation. Common sense. Recognize who pays your check. Look, I respect the Spurs. Pop is...
It was a sad week in sports as Steve Keane and I discuss the deaths of Marvin Miller, Jevon Belcher and Rick Majerus. Did David Stern overstep in his punishment of the San Antonio Spurs? We also talk about WFAN's Steve Somers, David Wright's contract and the SEC championship game. If you like to listen to other radio shows and podcasts, check out the Sports Media Watchdog Radio Network
10) Having coaches use their players in the way they feel is best doesn't work in the best interest of the networks  9) It's right there on the NBA rate card fine, under the header of Cost Of Infuriating the Commissioner 8) Wouldn't want the public to start doubting the importance of one of 82 regular season games 7) Fine would have been doubled if the Spurs actually...
Beautiful. Apparently this is real and before last week's sanctions. Glad to see Mr. Longoria Parker and The Big Fundamental had themselves a good time this past October 31st. Photoshopping David Stern in a suit onto Joey Crawford's body is too easy, but this photo is already too perfect. Happy belated Halloween!!   @buddhafari Article found on: Cosby Sweaters
Pat Williams, senior vice president of the Orlando Magic, joins Matt this week to discuss a variety of NBA topics. He comments on Gregg Popovich's decision to send four players home last week just before a game, offers thoughts on the impact David Stern's retirement will have on the league and talks about the season outlook for the Suns and the Magic. Plus, hear all about...
NBA commissioner David Stern penalized Gregg Popovich and the Spurs for their decision to send home Tim Duncan, Manu Ginobili, Tony Parker and Danny Green before their Thursday night match-up against the Miami Heat. But does the commissioner have the right to tell Popovich how to coach his team? It's understandable to see why fans would be upset with the situation. Heat fans probably...
Oh David Stern.  Fining Gregg Popovich for resting his players after playing 99 games in 100 days and now they are ejecting Rasheed Wallace for screaming Ball Don't Lie.  Is the front office aware that he coined that phrase? Or that the same phrase is a title of one of the best blogs on the internet? The only reason I planned on attending a Knicks game this year was to see...
Spurs News

Delivered to your inbox

You'll also receive Yardbarker's daily Top 10, featuring the best sports stories from around the web. Customize your newsletter to get articles on your favorite sports and teams. And the best part? It's free!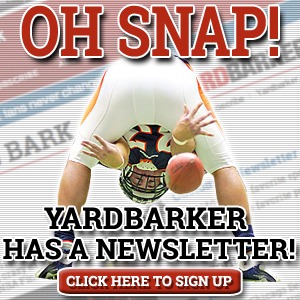 Latest Rumors
Best of Yardbarker

Today's Best Stuff

For Bloggers

Join the Yardbarker Network for more promotion, traffic, and money.

Company Info

Help

What is Yardbarker?

Yardbarker is the largest network of sports blogs and pro athlete blogs on the web. This site is the hub of the Yardbarker Network, where our editors and algorithms curate the best sports content from our network and beyond.