Found February 12, 2013 on Awful Announcing:
Donny Deutsch guest hosted for Piers Morgan last night on CNN's Piers Morgan Tonight for your basic run-of-the-mill primetime cable news show.  There are few more loathesome things on television than primetime cable news, except for possibly Toddlers & Tiaras and First Take.  In fact, primetime cable news is pretty much everything terrible about everything on television in hour long packages with different people screaming over the top of ine another and insulting one another. NBC Sports college basketball analyst and former Orlando Magic head coach Stan Van Gundy made an appearance on Piers Morgan Tonight last night as a panelist.  The topic wasn't the Los Angeles Lakers, nor the upcoming NBA All-Star Game, nor the debate over the college basketball product. No, the panel didn't discuss sports at all. CNN has three clips posted online featuring SVG's and the panel's thoughts on Osama Bin Laden's killing, Rihanna and Chris Brown's relationship, and obesity in America (where SVG touches on the topic respectfully as possible in spite of the horribly judgmental woman across from him). That's right, Stan Van Gundy was invited onto CNN last night to talk about obesity in America and what should and shouldn't be leaked from the Osama Bin Laden raid.  The funny thing is that Stan Van Gundy was actually the most tolerable person on that entire program by a country mile.  He spoke calmly and intelligently and in what must have been a shock to cable news viewers, actually let other people speak.  He has to be forgiven for mixing up Chris Brown and Bobby Brown too because, let's remember, he's a basketball coach/analyst, not an employee of E. What does it say about CNN though that they're randomly inviting basketball analysts on to talk about political and cultural stories?  That's not a knock at SVG by any stretch, but has anybody for one second ever watched a political talk show and thought to themselves, "I really am dying to know what Flip Saunders thinks about that North Korean nuclear test."  Or perhaps even yearned for Eric Karros' take on the State of the Union address?  Or Darrell Waltrip to break down the significance of drone strikes.  Has CNN completely run out of ideas and left themselves to the Wikipedia featured article of the day to book their guests?  
Original Story:
http://www.awfulannouncing.com/2013/f...
THE BACKYARD
BEST OF MAXIM
RELATED ARTICLES
STAN'S THE MAN
During a recent interview, former NBA head coach Stan Van Gundy argued that LeBron James is already a better player than Michael Jordan.
Orlando Magic veteran, Hedo Turkoglu has received a 20-game suspension for violating the NBA's anti-drug policy. Turkoglu, a 12-year player out of Turkey, tested positive for methenolone, according to a league report. Turkoglu released a statement: "I take full responsibility for anything that goes into my body. This was a complete error in judgment on my part, and I apologize...
Leading up to this month's NBA trade deadline, it appeared all but a sure bet that the Orlando Magic would trade J.J. Redick. While it's been reported that multiple teams, including the Chicago Bull, Indiana Pacers, Milwaukee Bucks and Boston Celtics, are interest in Redick, the Magic have told the sharpshooter that they're not "actively trying to move" him, reports Josh...
Orlando Magic forward Hedo Turkoglu has been suspended 20 games without pay after testing positive for methenolone, which is a type of steroid in the NBA's anti-drug program. Both Turkoglu and the Magic released statements about the positive test. Turkoglu: "While I was back home in Turkey this past summer, I was given a medication by my trainer to help recover more...
When I was sitting at my computer getting ready to watch How I Met Your Mother, an odd comment came across my Twitter timeline. Like anyone who would hear the news -- whether before or after -- it was strange. Stan Van Gundy is on Piers Morgan Tonight and he is talking about Pope Benedicting XVI's resignation? Is this real life? It was not "shocking," so to...
One of the bigger questions for the Magic entering the season was how would the team defend? Offense was predictably going to be a problem without a player who could create his own shot consistently unless someone really stepped up. Jameer Nelson, Arron Afflalo, Glen Davis and J.J. Redick have each taken turns carrying the offensive load. But there have been plenty of games where...
The NBA has suspended Hedo Turkoglu for 20 games for violating the terms of the NBA and NBPA's Anti-Drug Program. The NBA reports Turkoglu tested positive for methenolone, an anabolic steroid. He will begin serving his suspension tonight in Orlando's game against Atlanta and will not be eligible to play again until March 27 when Orlando travels to Charlotte. There will...
As Andre Drummond recovers from a back injury suffered last week, he will be replaced by Andrew Nicholson in the upcoming Rising Stars Game during the NBA's ALl-Star weekend.  Drummond is expected to miss a month due to the injury, so it has opened the door for Nicholson to shine.According to Kurt Helin of ProBasketball Talk, Nicholson has been selected as Drummond's replacement...
Another knock-down shooter, Kyle Korver, also is not clear about the NBA's premise on picking players for the three-point shootout.
NBA News

Delivered to your inbox

You'll also receive Yardbarker's daily Top 10, featuring the best sports stories from around the web. Customize your newsletter to get articles on your favorite sports and teams. And the best part? It's free!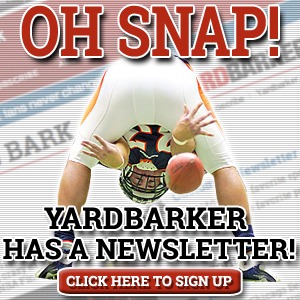 Latest Rumors
Best of Yardbarker

Today's Best Stuff

For Bloggers

Join the Yardbarker Network for more promotion, traffic, and money.

Company Info

Help

What is Yardbarker?

Yardbarker is the largest network of sports blogs and pro athlete blogs on the web. This site is the hub of the Yardbarker Network, where our editors and algorithms curate the best sports content from our network and beyond.