Found November 16, 2012 on Fox Sports West:
PLAYERS:
Kobe Bryant
,
Steve Nash
,
Pau Gasol
,
Dwight Howard
,
Phil Jackson
,
Frank Hamblen
,
Jordan Hill
,
Bernie Bickerstaff
,
Jerry Buss
,
Jim Buss
,
Mitch Kupchak
,
Magic Johnson
,
Antawn Jamison
,
Jodie Meeks
,
Chris Duhon
TEAMS:
Los Angeles Lakers
LOS ANGELES "Brown is a good coach 314 regular-season wins don't lie. He actually has a full season this year to show it. Let him." I wrote that at the end of last week's "Three Thoughts." I didn't know it was also going to be the end of Mike Brown. But I still stand by what I wrote Mike Brown is a good coach. He's just not the right coach for this Lakers team. It wasn't the second-round playoff beating by OKC last season or the 1-4 start to this season that doomed Brown. It was the fact that the Lakers had lost all eight exhibitions and 14 of the last 15 games most in a very ugly fashion. The players were getting tired of the long workouts and film sessions, including a nearly three-hour shootaroundpractice on the morning of an exhibition game in October. A team that was pretty good defensively for most of last season couldn't make any stops when it counted, even in practice games. For Brown, it was time to move on, maybe to a younger team with fewer immediate expectations. A group of young NBAers eager to learn the game and appreciate Brown's ability to teach. He is one of the hardest working men in the NBA, always showing up early to work and spending a long time at the complex looking for an edge, any edge, that might produce a win. Admirable with some organizations, but the wrong approach for a team loaded with older players, some of whom are nursing injuries.Short, organized and crisply run practices are best for the Lakers. That's what they'll get from new head coach Mike D'Antoni. Brown always talked about limiting Kobe Bryant's minutes, or Steve Nash's, Pau Gasol's or Dwight Howard's. It almost never happened. Even in exhibition games, Brown would often keep them in games far too long, risking fatigue and injurieseven in games that meant absolutely nothing from a win-lose standpoint. One of the first matters D'Antoni addressed at his Thursday news conference was him making a concerted effort to give his stars restwhenever possible. He admitted that sometimes it just isn't possible when the score is close and the game is on the line. But he's cognizant of the problem and will address it, unlike the tightly-wound Brown, who seemed more focused on the final score. Players' minutes is only one of the many potential stumbling blocks for D'Antoni as he steps into a Laker Nation which is still boiling mad at ownership for not bringing back Phil Jackson. D'Antoni has to change the entire basketball culture of a team that's been based around slower offenses for the past 12 seasons. There was the triangle under Jackson, the 3-point attack under Rudy Tomjanovich and Frank Hamblen and whatever offense Brown ran, including a variation of the Princeton offense this season. Brown's offense certainly played a major role in his firing. It's an offense that takes a long time to learn, can be confusing, and one that he and his staff were trying to implement in less than 30 days of training camp. The Lakers are a team put together to win immediately win a championship. They shouldn't be spending a lot of time trying to learn a new system. D'Antoni's offense isn't tremendously complicated and can be leaned in a couple of weeks instead of a couple of months. With dynamic offensive players like Nash, Bryant, Gasol and Howard getting the bulk of the minutes, and a strong bench, once the Lakers get comfortable and consistent with the new system, they'll probably average 100-plus points per game. "If we don't, then we're not doing something right," D'Antoni said. Then there's the Lakers defense, which has either been invisible or inconsistent so far. D'Antoni plans to funnel a lot of the action down low toward the dynamic Howard. Reserve forwardcenter Jordan Hill can also block shots, while Bryant and Metta World Peace have populated many All-Defensive teams. Maybe the main factor that arrives along with D'Antoni is a sense of just playing basketball again. It started under interim head coach Bernie Bickerstaff, who gave the players freedom to do some freelancing on offense and it paid off in back-to-back wins. D'Antoni's offense is brilliant in the fact that it has something for everybody. Nash passes the ball to Gasol 16 feet out. He likes the shot, he takes it. He doesn't like it, he kicks it out to Kobe. Same deal with him. There isn't the strain of always waiting for someone to get to a certain spot before the clock runs out. The pick-and-rolls will also be plentiful with Nash to Howard and Nash to Gasol. Fun is a word that been used around the Lakers a lot in the last four days. Winning, of course, is always fun. But just watching Laker basketball will be fun again. Who's Hot: Jerry Buss, Jim Buss and Mitch Kupchak for having the foresight and guts to hire a coach who will breathe some life into a franchise that has done horribly in the playoffs the last two seasons. If this turns it into a franchise where the players are having fun, Howard likely decides to stick around for the next six or seven years. Who's Not: The Lakers bench should headline this category, but the honor goes to the fans and the media who were merciless in spewing their venom and criticism toward management when it chose D'Antoni over Jackson. It was ugly and uncalled for, especially toward a family that always keeps the interest of the fans as part of every decision they make especially Kupchak, who convinced Howard and Nash to come to LA. Yet, Kupchak is now a bum because he admitted to wanting D'Antoni all along. Geez. Three Thoughts 1.Going from the sometimes overwhelmed Brown to the relaxed and assured D'Antoni should be a treat for the Lakers. While Brown seemingly had respect for everyone he encountered and was never rude or condescending toward the media, he always seemed to be one tense moment away from turning into salt. D'Antoni, on the other hand, is funny, self-deprecating with his humor and definitely changes the feel of a team led previously by Brown and the often dour, pompous Jackson. 2.Brown is one of the more decent people I've ever met in the sports world. He always had a hello and a handshake when you saw him, and would spend a minute or an hour talking to you, depending on the situation. It's hard not to feel bad for the guy, considering he had no training camp and a shortened season in 2011-12, then all the injuries to star this campaign. He never had a full season to show what he could do with the Lakers. However, firing him was the right move at the right time. Otherwise, the Lakers risked losing the whole season and something every bit as important Dwight Howard. 3.The Lakers' focus is always on winningtitles, but there's something else they must give a significant amount of attention to: making Howard so happy that he signs back with the team when he becomes a free agent. The big man, who forced his way out of Orlando, saying he needed something different in his life, has been completely non-committal about his future plans. He said from Day One that the Lakers are his "dream team" to play for and that he loves the city, the fans and the organization. Is that how he really feels, or is he saying the right things after being burned so badly he claims in Orlando? He and a few others know the real play, but I wouldn't be surprised if one of the points that brought D'Antoni into camp was his willingness to make Howard the future of the organization with the transition beginning now. Quotes of the Week "If you don't believe that Kobe badly wanted D'Antoni to be the Lakers' coach and went to bat hard for him, you're pretty nave." A source close to the negotiations who requested anonymity. "Maybe I'm not smart enough to know any different." D'Antoni on why he seems so relaxed stepping into the lion's den that is Laker Nation. "The reason I haven't tweeted in 2 days is because I've been mourning Phil Jackson not being hired as the Lakers head coach. My mother always taught me that if you don't have anything nice to say, don't say anything at all." Tweet from Magic Johnson. "The decision's been made that D'Antoni is the coach so we must support him. I appreciate him reaching out to me & look forward to speaking." Tweet from Magic. News and Notes Nash is at least a week away from returning to action. He's still mending from a non-displaced fracture in his left leg. Although they haven't said it, three of the happiest Lakers have to be Antawn Jamison, Jodie Meeks and Chris Duhon. D'Antoni isn't a punitive-punishment type coach, so none of them will be benched for a bad game or a bad shot. If Meeks missed a few shots, Brown would bury him on the bench; same with Duhon. D'Antoni will probably leave them out on the floor, believing that they might hit 10 in a row. Same applies to Jamison. D'Antoni met his wife, Laurel, while living in Milan, Italy. D'Antoni was on his way to becoming one of Europe's 50 greatest basketball players. Later, when he was coaching Benetton Treviso, Laurel D'Antoni ran business operations for the club. She also later worked on projects for NBA Europe. What's Next? Friday vs. Phoenix, Sunday vs. Houston and Tuesday vs. Brooklyn and Wednesday at Sacramento. D'Antoni's debut on the bench is expected to come Sunday against the Rockets. He's still recovering from knee surgery and is on crutches. Tower of Power? Should finally be on the way ... but still not yet.
Original Story:
http://www.foxsportswest.com/11/16/12...
THE BACKYARD
BEST OF MAXIM
RELATED ARTICLES
According to the City Council, Wednesday, Nov. 14, 2012, has been declared "Dwight Howard Day." Council members Bernard C. Parks and Jan Perry put forward the motion in Wednesday morning's City Council meeting. Howard will visit City Hall at 5 p.m. to receive the honor. The Lakers acquired the 26-year-old center from the Orlando Magic over the off-season. Through...
Playing for the Los Angeles Lakers has inspired a few changes in Dwight Howard. If you have been watching the team's their last two games, and as a DirecTV customer I certainly have not, then you may have noticed Howard has been rocking a new look. Yes, the big man has been wearing a headband the last two games. The headband trend first started on Sunday when Howard wore a stars...
Dwight Howard is to shooting free throws as I am to dunking; we both are horrible at it. So what does the best center in the NBA have in common with the Denver Nuggets? Free throws, folks or lack thereof. Dwight Howard is a 58.7% career free-throw shooter; enthusiasts often see the Hack-A-Howard strategy when [...]The post 2012 Denver Nuggets: The Dwight Howard Of Free Throws appeared...
 Check out Kobe last night tossing an alley-oop to the big man Dwight Howard against the Spurs.  Lob city has been in Los Angeles for the last couple years with Blake Griffin and Chris Paul, but now it's moving to a different part of the city with the Lakers.  Once Steve Nash makes his way back from injury we should see even more of this going down in the gold uniforms. ...
"OH NO HE DIDN'T!"As we've previously discussed, one of the latest post-NBA projects of legendary center Shaquille O'Neal is the Comedy Shaq Channel on YouTube, which he is apparently trying to turn into a new version of the classic Def Jam series. And that's great because he has a lot of funny comedians making videos for him, and he still has millions fans who...
Dwight Howard dunks amongst three Spurs on Tuesday. The By The Numbers recap for the Lakers' 84-82 loss to the San Antonio Spurs at Staples Center on Tuesday night. The Lakers are now 3-5, and next play home to Phoenix on night. 503 The Lakers regular season winning percentage against the Spurs after Tuesday night's loss. They're now 74-73 all-time against San Antonio, but...
With all the hoopla of Mike Brown's hiring, Mike D'Antoni's hiring and Magic's mouring; it may have slipped under the radar that Wednesday was Dwight Howard day in Los Angeles. Proclaimed by Councilman Bernard Parks and Council Woman Jan Perry, Snoop Dog read the proclamation and DH was serenaded by a gospel choir.  
The Rockets were not on Dwight Howard's preferred list of franchises he would welcome a trade to, but he didn't specifically have an issue with the team.
One of our twitter readers Mike Gomez brought this pic to our attention. Interesting. Funny how Rajon Rondo isn't allowed to "disrespect" the Laker legend Jerry West, but a Laker is.  Could have just been an accident, but if he does it again the NBA better be on Howard and the Lakers. Speaking of Howard and the Lakers the damaged goods they traded, Andrew Bynum, had...
New Lakers coach, Mike D'Antoni, held his first practice on Thursday a day after arriving in L.A.  Still on crutches due to a recent knee replacement surgery, D'Antoni was seen catching up with Steve Nash and sharing a laugh with Dwight Howard and Jordan Hill.  Of course the biggest issue was how D'Antoni would interact with Kobe [...]
Lakers News

Delivered to your inbox

You'll also receive Yardbarker's daily Top 10, featuring the best sports stories from around the web. Customize your newsletter to get articles on your favorite sports and teams. And the best part? It's free!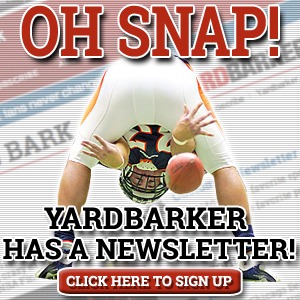 Latest Rumors
The Backyard

Today's Best Stuff

For Bloggers

Join the Yardbarker Network for more promotion, traffic, and money.

Company Info

Help

What is Yardbarker?

Yardbarker is the largest network of sports blogs and pro athlete blogs on the web. This site is the hub of the Yardbarker Network, where our editors and algorithms curate the best sports content from our network and beyond.