Found April 18, 2013 on Fox Sports Florida:
PLAYERS:
Ray Allen
,
Erik Spoelstra
,
LeBron James
,
Dwyane Wade
,
Chris Bosh
,
Brandon Jennings
,
Monta Ellis
,
Jim Boylan
,
Rashard Lewis
TEAMS:
Milwaukee Bucks
,
Miami Heat
,
Boston Celtics
,
New York Knicks
MIAMI The Milwaukee Bucks no doubt will look. But they might have a hard time finding bulletin-board material coming out of the Miami Heat camp.Heat guard Ray Allen said several players talked among themselves the other day. The message was simple as the team prepares to open an Eastern Conference first-round series Sunday against the Bucks.We talked about playoff flops of guys that thought they had it going and then they ran their mouths in the media, Allen said. And you can say its a foregone conclusion that Im moving on and then you dont move on. So this game will humble you and we all got to stay humble.Allen knows a bit about being a team that is a heavy playoff favorite. He was on the 2007-08 Boston Celtics, who went 66-16, seven games better than anybody else in the NBA. The Celtics lived up to the hype and won the championship.Now, the Heat, also 66-16, have joined those Celtics as one of just 13 teams in NBA history to have won 66 or more games. Miami, the defending champion, might be an even bigger favorite than Boston was five years ago.We shouldnt be afraid of that target, said Heat coach Erik Spoelstra, whose team had the best record by six games in the NBA and by 12 in the East. It will be different. Well never be the underdog (in the playoffs) and thats the way it should be. Our guys accept that responsibility and we know well have to prove it every single round.Its a different journey than the Heat had the previous two seasons. In 2010-11, they had the No. 2 seed in the East and the NBAs third-best record. Last season, they were No. 2 in the East and No. 4 in the NBA.In addition, the Heat had plenty of naysayers. There were doubts about how the Big Three of LeBron James, Dwyane Wade and Chris Bosh would mesh after being put together in 2010. There was talk about James inability to win a title and having choked during key moments.Well, theres no such talk now. The Heat are expected to romp to the crown.I dont think were concerned about being the underdog or being the No. 1 seed, Wade said. Its a lot that can be put on it if youre a No. 1 seed. I dont really buy into it. I just buy into being a good team and I think if youre a good team you can win at home and you can win on the road.The Heat lately have taken being a good team to ridiculous extremes. They closed the season by going 37-2, which included a 27-game winning streak.Now they get the eighth-seeded Bucks (38-44), who went in the opposite direction to close the season. Milwaukee had lost 12 of 15 before winning a meaningless game Wednesday at Oklahoma City, which sat out star Kevin Durant.James scoffs at the notion the Heat could be overconfident, saying thats just not our nature. Bosh says wanting to win a title is a driving force for Miami not to take anybody lightly.We know looking past teams, its disrespectful to the game, disrespectful to them and disrespectful to us, Bosh said. We dont want to disrespect the game in any way . We know if you underestimate somebody, you can get beat.It might be hard for that to happen against the Bucks. Yes, they generally have played the Heat well during the Big Three era. After dropping the first three in 2010-11, they had a stretch in which they won four of six over three seasons. But theyve been clobbered in the past two meetings, both coming during Miamis 37-2 run.Some Milwaukee players might be too concerned with their individual futures. Guard Brandon Jennings, who will be a restricted free agent this summer, said he could help his contract situation if he puts on a show in the playoffs. Also, Monta Ellis, Jennings partner in the Bucks well-regarded backcourt, might opt out of the 11 million due on his contract next season and become a free agent.In addition, theres uncertainty with the coach. Interim boss Jim Boylan is a long shot to be back after going 22-28 as the the replacement for Scott Skiles.Still, Allen might want to lend wisdom to his teammates about being a front-runner. As good as the Celtics were in 2008, they still needed seven games to beat a 37-45 Atlanta team in the first round of the playoffs and seven also in the second round to defeat a 45-37 Cleveland outfit that featured James.Thats the one thing now is that nothing is guaranteed, Allen said. Milwaukee is not going to say, Were here and were going to get beat in four games. That still could happen. And it make it easier the Heat will do their best not to provide the Bucks any bulletin-board fodder.Three reasons why the Heat will win the title1. One word: LeBron. The legends of the game step up in the playoffs, and James wants to cement his name on the list. After a fabulous regular season, which will result in James winning his fourth career MVP, James might just take his game to an even higher level.2. Other stars playing their roles. Wade and Bosh know James is the man, but they realize there will be times they really have to step up. It certainly helps that Wade looks close to full health after recently missing six straight games due to a knee problem.3. The Heat have more depth than the Mariana Trench. They have numerous players who can fill roles off the bench. Reserve forward Rashard Lewis said the Heat are so deep they could be a four or five seed in the East if they didnt have James, Wade and Bosh.Three reasons why the Heat won't win it (yes, it's a stretch)1. Injuries. It might take a serious one to team star. But even last year Bosh missed nine playoff games due to an abdominal strain and Miami still was able to survive.2. Physical play. Teams that were physical with the Heat, namely Chicago and Indiana, did have some success against them during the regular season. But Miami players say they have no worries about any foes using rough tactics against them.3. Three-pointers aplenty. The New York Knicks used the long ball to beat the Heat three of four times this season. In those three games, the Knicks made 51 of 107 3-pointers for 47.7 percent. It might take similar showings for New York to have a chance in a possible Eastern Conference finals match-up.Chris Tomasson can be reached at christomasson@hotmail.com or on Twitter @christomasson.
Original Story:
http://www.foxsportsflorida.com/nba/m...
THE BACKYARD
BEST OF MAXIM
RELATED ARTICLES
MIAMI What happened in Boston hit Ray Allen hard. The Miami Heat guard had played the previous five years with the Boston Celtics. With his mother having run three Boston Marathons and his wife two, Allen said he often has been at the finish line of the race, where two bombs went off Monday, killing three and injuring more than 170. One of the things that I have played over and...
Ray Allen may have been in Cleveland during Monday's horrific events, but the Boston Marathon tragedy hit close to home for the guard who called Boston home for five years. When he was with the Celtics, Allen went to the marathon several times as his mother has run it three times and his wife has completed it twice. On Wednesday, the NBA star told reporters there was no doubt in...
If he was still a member of the Boston Celtics, Ray Allen knows exactly where he would have been when a pair of explosions rocked the Boston Marathon. He'd have been at the finish line - where the bombings occurred. In the Miami Heat locker room on Wednesday, Allen told reporters that a friend of his family was among those who lost a leg in Monday's deadly explosions at...
For Ray Allen, the Boston Marathon bombing hit close to home. The former Celtic has a friend who lost a leg Monday and was also close with Krystle Marie Campbell, the 29-year-old who lost her life in the explosion. According to the Palm Beach Post: Allen has a family friend who ran the race Monday, and is in intensive care after losing her leg. Another close friend owns a restaurant...
With his 270th three-pointer of the season, Golden State's Steph Curry broke Ray Allens' all-time NBA single season record for most threes made.
MIAMI (AP) — If he was still a member of the Boston Celtics, Ray Allen knows exactly where he would have been when a pair of explosions rocked the Boston Marathon., http://juicedsportsblog.com/sports-news/news/friend-of-ray-allens-among-those-hurt-in-marathon-yahoo-sports
Stephen Curry is just two three-pointers shy of breaking Ray Allen's single-season record of 269 made threes.
OAKLAND, Calif. — Stephen Curry is two shots shy of setting a new NBA standard, and the question circulating around the Golden State Warriors locker room ahead of the season finale at Portland on Wednesday night is when — not if — he will break Ray Allen's single-season record of 269 3-pointers. "He should be done with that by the end of the first quarter," guard Jarrett...
Looking for a reason not to pick the Miami Heat to win another NBA title? Don't check the odds, where the Heat are such an overwhelming favorite that it might as well be Tiger Woods against a weekend hacker. Definitely don't bother with the Heat's results, which show exactly three losses since the start of February. And certainly don't look on the court, where...
I decided to watch a few random videos from the world of sports that I thought yinz would enjoy. Simple as that. Kate Upton doing the Cat Daddy This never gets old and I figured you wouldn't mind seeing this again. Number of times I've watched this Kate Upton Cat Daddy video: probably 20. It's not creepy until you get to 100. Mike Modano getting dropped while in a neck brace...
It is unclear how much drama there will be in the Eastern Conference playoffs. The Miami Heat were the dominant team throughout the season, highlighted by their epic 27-game winning streak. It seems inevitable that they will march through the playoffs and then finally be tested in the NBA Finals. However, the New York Knicks and The Indiana Pacers might have something to say about...
The 2012-13 regular season is over and it is time for playoff basketball.  The question that has been asked all season will be answered: Can anyone stop Lebron and the Heat?  The Heat will need to stop the trend of the overall #1 team not winning the NBA Finals.   1) Miami Heat - Lebron, Wade, and Bosh are going to try and deliver on their promise of multiple championships. ...
NBA News

Delivered to your inbox

You'll also receive Yardbarker's daily Top 10, featuring the best sports stories from around the web. Customize your newsletter to get articles on your favorite sports and teams. And the best part? It's free!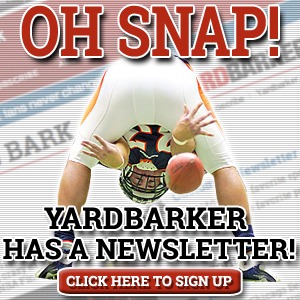 Latest Rumors
The Backyard

Today's Best Stuff

For Bloggers

Join the Yardbarker Network for more promotion, traffic, and money.

Company Info

Help

What is Yardbarker?

Yardbarker is the largest network of sports blogs and pro athlete blogs on the web. This site is the hub of the Yardbarker Network, where our editors and algorithms curate the best sports content from our network and beyond.