Found January 24, 2013 on Fox Sports Southwest:
For someone who seems to be extra careful about how he looks, Russell Westbrook sure doesn't seem like he cares how he looks. On the court, anyway. One of the best dressed, according to GQ magazine, Westbrook should consider a make-over to repair what has to be a decreasing public image. But first, let's get this straight: Westbrook is one of the best players in the league. A true talent who impacts the game in a way no other guard in the league does. He shoots a lot, but he also wins lots of games. But with a simple, "Say Yes to the Press," approach Westbrook would go from one of the most-criticized players to one of the most-liked. A smile wouldn't be a bad idea, either. And then somehow those 3-of-16 shooting nights, like he dropped off against Golden State Wednesday night, would be a lot more easy to live with. But instead, Westbrook continues to sabotage himself when there was an easy way to help himself instead. Instead of folks talking about his recent streak of four-consecutive games going for 30-plus points, Westbrook is goaltending shots from the Nuggets' mascot then throwing the ball into the stands. Huh? Why the heck would a guy who makes Nick Saban look warm and fuzzy decide to pull a stunt like Westbrook did, blocking shots that could have won the Denver fans some chips and cheese. It doesn't help. Not that Westbrook cares. He seems to enjoy playing the heavy and seems to detest the interview process. It hasn't affected his game in the least. He's a lock for another All-Star game appearance and he and Kevin Durant have the Thunder at the top of the Western Conference standings. Westbrook is averaging more than 22 points per game and is going for 25.6 over the past 10 games. He's gone 12-for-35 the past two games, but as is always the case with Westbrook, you live with it. He wins more games than he loses. Can't really argue with the results, but you can question the process. Durant shines first on the court and then again off the court. Westbrook prefers to do his shining on the court and turn out the lights when the game is over. Or in the case against Denver, during a timeout. Who's Hot We could go with Kevin Durant each week in this spot, but what fun is that? How bout Reggie Jackson? Jackson is a pure playmaker. When he plays, he creates. Against Golden State, he had five points, six rebounds and three assists in just 12 minutes. Last week, he had eight points, seven assists and six rebounds in 20 minutes against Denver. Jackson has two turnovers in the last five games. Who's Not Jeremy Lamb. With the increase of playing time for younger players, Reggie Jackson and Perry Jones, it seems like Lamb would be up next to ascend. It hasn't happened. He isn't getting the minutes, grumbled and then back-peddled about a trip down to the D-League, and hasn't been great. He has played three times in the last 10 games. He has a total of two points in that stretch. In the 10 minutes he played against Denver, Lamb had three fouls, a rebound, two points and a turnover. Three Thoughts 1. Good win for the Thunder against the Clippers on Tuesday as the teams with the best record in the Western Conference met, and it counts, but it isn't a good barometer of where these teams are. Chris Paul didn't play and that's just too bad. The Thunder are 2-0 against Los Angeles this year and in the first game Paul went only 2-of-14 for nine points. You take Chris Paul out of the game, it's not the same team. The Thunder rolled the Clippers, just like they should have. The teams meet once more this season, March 3 in Los Angeles. 2. The Thunder's old habits are coming back. Too many turnovers. In losses this week to Denver and Golden State, the Thunder had 43. In the two wins on this road trip, with one game to go at Sacramento, the Thunder had a combined 33. OKC is 29th in the league in turnovers with 15.9 per game. Only Houston commits more. The Thunder had three turnovers in the last four minutes against Golden State. 3. We've hit the halfway point of the season. Time to start looking ahead, and if I'm the Thunder, I'm thinking the standings as they are now would be a good thing. Facing Houston (currently eighth) in the first round would be a way better matchup than taking on these Golden State Warriors who are sitting fifth. Houston can score, but Golden State beat OKC with a mix of good teamwork, defense and chemistry. The Warriors will be a tough out for anyone. The Thunder are tied with San Antonio for the top spot in the West. NOTES Tough enough to go on a six-game road trip, but the Thunder started it with a pair of overtime games, going 1-1. Their game against Golden State Wednesday came down to the last possession, so they haven't exactly been easy games. Kevin Durant had an amazing stretch of going 41-of-42 from the free throw line against Dallas and Denver. He then went 14-of-15 against the Clippers and Golden State. Bad acting by Kevin Martin. The NBA fined Martin 5,000 Wednesday for flopping. He had already been warned once, but when he did it against Denver, Martin got dinged. The scream and the fall were probably what did him in. Martin is just the third player to get fined under the new rule this season. If he does it again, Martin will be fined 10,000. Franchise record 15 three-pointers by the Thunder against the Clippers. Five came in the fourth quarter. Quotable "Our design was to get me a shot coming off toward the corner. But they had two on the ball. They left Perk. I just got to make a better read. I thought he was going to dive. But I got to hold onto that ball. That's all on me. I can't put Perk in that position. When I seen two on the ball it kind of caught me off guard. I got to be quicker on my toes. I got to make better plays." - Kevin Durant to the Oklahoman on his bad pass turnover in the closing moments in the loss to Golden State. Up Next The Thunder finish up their six-game road trip with a game at Sacramento on Friday and a Sunday game against the Lakers before coming back for a Thursday game against Memphis. Tower of Power Well, a 2-2 road trip isn't bad and the win against the Clippers is good, but the fall-apart at Golden State wasn't. Still, at this point, who's playing better than OKC? No one. They're still the best in the Western Conference. Follow Andrew Gilman on Twitter @theandrewgilman
Original Story:
http://www.foxsportssouthwest.com/01/...
THE BACKYARD
BEST OF MAXIM
RELATED ARTICLES
THUNDEROUS
Kevin Durant takes Matt Barnes one-on-one and finishes with the HUGE flush. Durant's big jam came during the 4th quarter of Tuesday night's game and put the Thunder up 101-85 at Staples Center, as they were in total control over the Clippers and would eventually walk away with the 109-97 win against a strong Western Conference foe. Durant finished with 32 points, 7 assists and...
One of the more underrated players in the NBA has to be Golden State guard Stephen Curry and last night, he put together a solid performance in a win over the Oklahoma City Thunder.In the third quarter of play, watch as Curry shakes Russell Westbrook to get the basket and a few seconds after decides to celebrate with a shimmy shake:
Yesterday, we started off a new series in the WFNY Stats & Info column. Today, I follow up on some of the same themes. After looking at breakdown of the Cavs relatively improved play in their last 15 games, I couldn't resist looking into how it compared to the Oklahoma City Thunder in 2008-09. As I wrote at great length in The Diff on Wednesday, that was Kevin Durant's second...
Who's the best player on the planet? The misconception about the "All-Star Break" is that it signifies the midway point of the NBA season.  In reality it is only the official, unofficial (if that makes sense) half way point of the season.  By the time the All-Star game is played most NBA teams would have played between 52-55 games in a 82 game season.  It doesn't take...
How was your Tuesday night? Not as good as Floyd Mayweather's. Money decided to head down to the Staples Center for some NBA action between the Clippers and Thunder and obviously landed courtside seats to take in the action. He placed a few casual bets last night to make the game a little more excited, since apparently Blake Griffin, Kevin Durant and Russell Westbrook just isn't...
What's an NBA player to do away with a few days off before facing a Los Angeles opponent?  Party, of course.  After Sunday's OT loss to the Nuggets, Thunder teammates, Kevin Durant & Russell Westbrook touched down in LA and hit up GreyStone Manor in West Hollywood:
The Los Angeles Clippers dropped one against the Oklahoma City Thunder Tuesday evening when they didn't have answer for Kevin Durant who went 9-of-11 in the second half. Just look at this booming dunk of his that sent him sailing over the Clippers.The post Kevin Durant's Thunderous Dunk Vs Los Angeles Clippers (Video) appeared first on The NBA Mistress.
Kevin Durant: Prettyyyyy, prettyyyyyyyyyyyyyyyyyy, pretty good at basketball. On Tuesday night at Staples Center, the NBA's leading scorer dropped 32 points on the Clippers in the Thunder's 109-97 win. 24 of Durant's 32 points came in the second half, with two of those 24 coming on this awesome dunk over Lamar Odom: Nice crossover on Matt Barnes, too. Thigh...
SACRAMENTO -- The Oklahoma City Thunder shook off their first-quarter malaise and raced to 105-95 victory over the Sacramento Kings Friday night before a crowd of 15,022 at Sleep Train Arena. Kevin Durant shared Thunder high-scoring honors with former Kings guard Kevin Martin. Each had 24 points in Martin's first game in Sacramento in a Thunder uniform. He came to Oklahoma...
OKC thunder Guard Russel Westbrook went to Instagram showing the versatility of his style, keeping his ensemble simple with two shirt and tie combinations. This is a different Russell, were used to seeing loud colors and printed shirts.New York Knicks superstar Carmelo Anthony was all smiles as he posed for a photo with legendary fashion photographer Terry Richardson, Melo opted...
LOS ANGELES (AP) -- Coming off a loss two nights earlier in Denver, the Oklahoma City Thunder were more interested in bouncing back with a win than making any statements against the Clippers. Kevin Durant scored 32 points, Russell Westbrook added 26 and the Thunder won 109-97 on Tuesday night in a matchup of teams with the two best records in the NBA. "We've got 82 games...
OAKLAND, Calif. -- The Golden State Warriors closed Wednesday's game on a 15-5 run, turning a 94-89 deficit with 4:35 to play into a dramatic 104-99 victory over the Oklahoma City Thunder. After Russell Westbrook dropped in two free throws to put the visitors up by five, Golden State scored on six of its next seven possessions to rally into its first victory over the Western...
NBA News

Delivered to your inbox

You'll also receive Yardbarker's daily Top 10, featuring the best sports stories from around the web. Customize your newsletter to get articles on your favorite sports and teams. And the best part? It's free!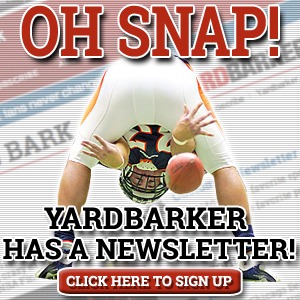 Latest Rumors
The Backyard

Today's Best Stuff

For Bloggers

Join the Yardbarker Network for more promotion, traffic, and money.

Company Info

Help

What is Yardbarker?

Yardbarker is the largest network of sports blogs and pro athlete blogs on the web. This site is the hub of the Yardbarker Network, where our editors and algorithms curate the best sports content from our network and beyond.